It's been a busy couple of weeks with us all adjusting to the back-to-school routines. No more sleeping in and no more late nights and lots of blurry eyes in the mornings.  Anyone else already tired of making lunches and constantly washing that favourite t-shirt that's on repeat? Hey, it makes him happy. I've also been putting in small unexpected things in his lunch bag everyday to remind him that I'm thinking of him so that daily lunch bag doesn't become too routine.
I've been thinking about how simple gestures in life can make others happy and how others have done the same for me. I started to think about my friend who had unexpectedly dropped off a cake at my door for no reason. My neighbour who mowed the lawn one day when hubby was away on a business trip. My local bakery including an extra donut in my order with a wink and a smile. I love these thoughtful gestures and I often try and do them myself.
My parents taught me to do things with my heart. So, with that in mind I thought of my friend Erin who had just experienced a challenging few weeks. As a single mom with two young boys I know that life isn't a cake walk for her but she tries her hardest to always look for the positive in any situation. Back-to-school season had arrived but aside from getting everything ready for the kids she also had the warm and fuzzy feelings when her kids begged for a dog. So, they went through the process and welcomed a new puppy into the mix. Adorable, yes. Chaotic? Absolutely. All the warm and fuzzy feelings of being a dog owner soon washed away with round the clock barking and cleaning with no help from her kids. Well, within days she realized that it wasn't the right decision for this time in her life and had to give the puppy away while consoling her kids. My heart ached for her painful realization that yes, we do have limitations and stepping back takes as much courage as it takes to move forward.
I wanted to surprise Erin with a pizza… because, you know, any day is better with pizza!  And it totally made her day!  I just learned that when you order a pizza from Pizza Pizza using Visa Checkout, you will automatically receive a code for a free pizza that you could either keep for another rainy day or give it to someone who you think could use a surprise pick-me-up! Remember, it's the little gestures that can make someone's day! Well, she was very touched by the thought and dinner was taken care of for one tired evening with her boys. Now, how can YOU give someone special a free pizza?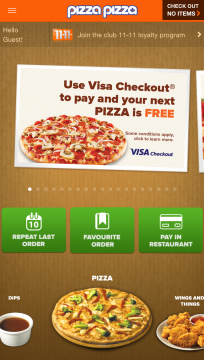 Visa Canada and Pizza Pizza are offering  a special opportunity from now until November 1: everyone who orders online at www.pizzapizza.ca or through the Pizza Pizza smartphone ordering app using Visa Checkout will automatically receive a code for a free medium two topping pizza. I mean, who doesn't love pizza, especially when it's free? Remember, life is #BetterWithPizza.
Here are the specific details to claim YOUR FREE PIZZA code: http://bit.ly/1isYG6B
Visa Checkout is the online checkout service that allows everyone to securely store their shipping and payment information without ever having to re-enter the information when shopping online. With Visa Checkout, you simply enter your username and password, and click a button to complete the purchase. So easy!
So, who could use a pick-me-up in your life?
This post was sponsored by Visa Canada, but the opinions and images are my own.