As a foodie family we're often asked where we like to eat out in the city. Since we enjoy eating out A LOT, we have several favourites and are constantly trying out new ones. La Societe  (131 Bloor Street West, Toronto)  is a French bistro that we all love. Located in the beautiful Yorkville area, the restaurant brings the charm of classic French cuisine to the vibrant city. In the summer, the restaurant has two outdoor patios that have proven to be coveted tables. It's  great place to take the family for lunch, brunch or dinner. Our favourite dishes there are Coq au Vin, Steak et Frites and Moules Mouliniere, of course. And if you've got a date night, splurge for the incredible multi-tier platter of fresh seafood and a few glasses of Veuve Cliquot!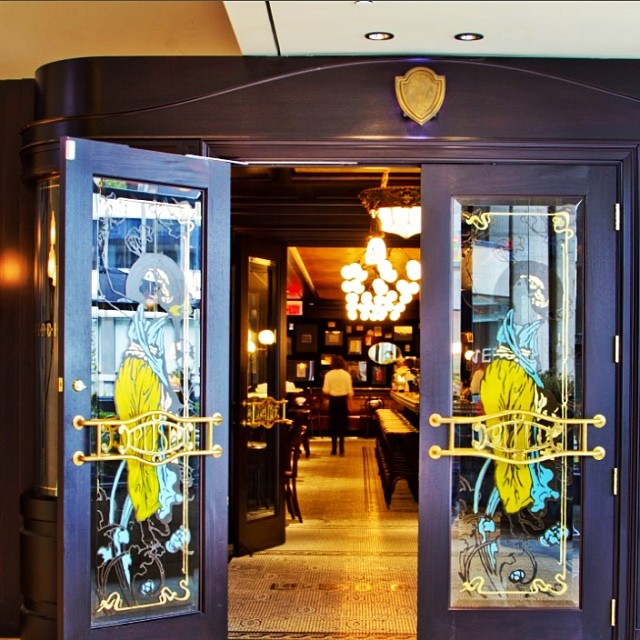 We're always happy to meet with chefs and staff to find out more about a restaurant. It gives us a deeper appreciation for what happens behind the scenes. After all the television food shows we're exposed to, we can't help but crave to know the people that make food their passion and career. Executive Chef Romain Avril  joined the team at La Societe less than a year ago and has subtly made his mark on the menu. He recognizes the core fans of the restaurant and their love for classic french dining but brings his touch to bring it to the next level. It's subtle and almost playful the way he approaches food. Even my Coq au Vin gave way to a more modern approach but still kept everything I love about this dish…only now I can't get enough of it.   He's also introduced some unique dishes that are reflective of his fun personality – hello, foie gras hot dog! Which Chef Avril says is his mash-up love for street food and high end food. I recently had a chance to sit down with Chef Avril to get to know him better…
Your accent is French, oui?
Haha! Yes, I'm from France and spent my childhood there. My family lives on the west coast of France.
Where do people eat out in Paris?
Those who eat in Paris are more high society. Most people live outside the city because it's too expensive but travel in but plan for a full day in Paris to include shopping and eating.
What do you think of Kids' menus?
I don't do them at the restaurant but I can accommodate to adapt a dish to a child's preference. You don't really see kids' menus in restaurants there except for the odd tourist spot to cater mostly to North Americans. You may find a salad and a croque monsieur.
What do you think about kids playing on tablets and devices in your restaurant?
I personally don't have a problem with it. I understand that parents need to do something to keep kids sitting and that's okay for me if it means the families can eat something healthier and better quality. But in France? No. Definitely you wouldn't see these at the restaurants. But restaurants definitely expect children to be well behaved and quietly seated at the dinner table. They are traditional that way.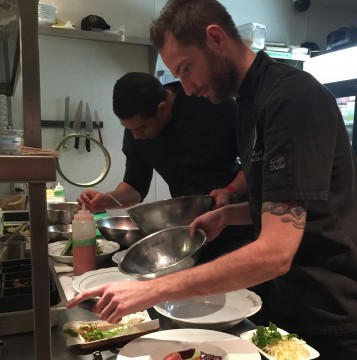 What do you love about being the Executive Chef at La Societe?
It's a very beautiful restaurant and very comfortable. The decor is very much like the restaurants in Paris. You feel like you're there! And the kitchen has everything and I can do whatever I want so it just couldn't be any better. It's mostly traditional French cuisine but I've brought my own slight twist to the menu.
What are your plans for the holidays?
Actually this will be my first real Christmas here in Canada and I'll be spending it with my girlfriend's family. It's going to be a big dinner as her family is coming also from out of town. They are Italian so I'm pretty sure we'll have lots of pasta! I'm going to be cooking with my girlfriend's mother so it's going to be great! Lots of cooking! I don't know what htey are expecting from me but I'm going to bring my ideas into it. But of course we'll still have turkey .We'll have lots of cookies and baking too!
I need to ask you, what's the one kitchen gadget every home chef should have? I need ideas for my wishlist!
That's a very good question! I would have to say the KitchenAid Mixer (by the way, this is not sponsored) but I really think everyone should have one with all the options. It really is a must have on your list!  I'm also big on drinking fresh juice so a good juicing machine is definitely good to have as well!
What are your thoughts on all the "foodporn" that people like to show on social media?
Haha! I don't mind, really. I post up photos of my own food on social media @chefromainavril on Instagram, and it's nice when people want to show a dish because they like it so much. It's a compliment.
Here is a great recipe that Chef shared with us, just for you!
DUTCH PLUM CAKE by Chef Romain Avril of La Societe ,Toronto
Ingredients:
1 ¾ cups of flour
3 teaspoons of Baking Powder
¾ teaspoon of salt
½ cup of shortening (vegetable oil)
1 cup of sugar
1 egg
Vanilla extract
¾ cup of milk
Plum compote:
500g plums
¼ cup of sugar
1 teaspoon of cinnamon
Method:
1.     Stir flour; baking powder and salt together (in a small bowl)
2.     Cream shortening gradually adding sugar (in a larger bowl)
3.     Add egg and vanilla and beat until fluffy
4.     Stir in dry ingredients alternating with milk
5.     Pour in greased pan & top with apples/cinnamon or plum compote.
6.     Bake in oven at 350 degrees for 50 – 60 minutes in a Bundt pan or other
Altered Version: add an extra egg; add ¼ teaspoon baking soda and add ½ cup of flour
Method: eggs/oil/sugar/vanilla/milk + dry ingredients.
Thanks so much Chef Avril!