The first dusting of snow dropped last week so I was inspired to start planning the holidays. Yes, I said snow! It's early but secretly I've always loved the beauty of the first snow as long as I'm cozy indoors and curled up to a warm mug of coffee. Ask me again end of January.
For my family, part of our planning for the holidays always includes what we can do, as a family, to give back. We've always encouraged our kids to "do" as well as "give" because doing is just as important. There are many great ways to teach young kids the spirit of giving during the holidays; my personal favourite is the Treats for Toys program with Kellogg's Rice Krispies… and it's a great indoor activity to do together on a cold day! You know those are coming!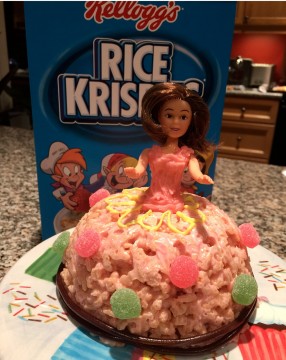 This holiday campaign is simple:
1. Create your Rice Krispies toy-shaped treat.
2. Take a photo of your creation and upload it to the RiceKrispies.ca website.
3. For each upload, Rice Krispies will donate toys to children in need with the help of the Salvation Army. The campaign ends on December 21, 2014.
4. Remember to share with your friends and family on social media and use #TreatsForToys so we can see!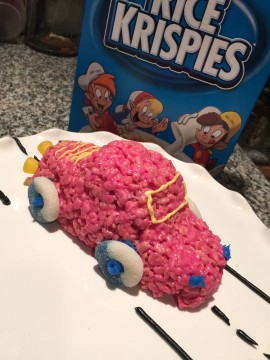 HANDY TIPS TO MAKE YOUR OWN #TREATFORTOYS:
Check the site ricekrispies.ca for some inspiration and tutorials on some popular toy shaped treats.
On the princess' dress and the race car I've created a base colour by adding a few drops of food colouring while the marshmallows are melting in the pot before adding the rice cereal.
I've lined my bowls with plastic wrap before dropping in the warm Rice Krispies and marshmallow mixture so I can easily remove when it's cooled.
You'll want to press down the mixture gently while it's still slightly warm to give it an even shape. I use the back of a stainless silver spoon that I've just quickly run under cold water to avoid sticking. Let the fully cool before removing the bowl and plastic wrap.
Before removing the plastic wrap you can also use your hands to shape into whatever you wish without getting your hands sticky!
By the way, you can always find the original Rice Krispies Squares recipe printed inside every box.