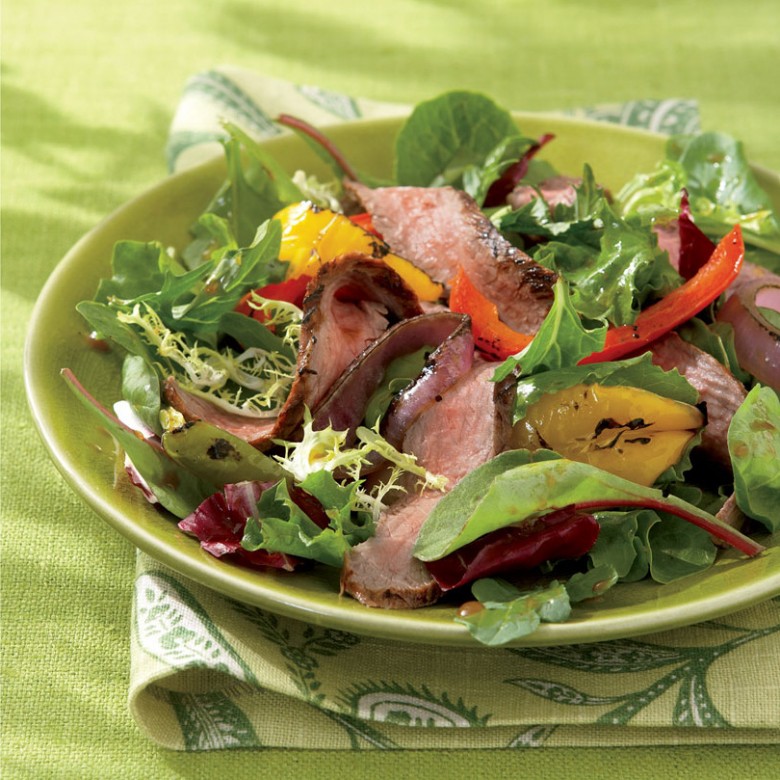 Add a little spice to your next salad with a bit of jerk seasoning on your flank steak. With less than ten ingredients, this salad is a quick and easy way to get your greens (and proteins) in!
Ingredients
¼ cup extra-virgin olive oil
4 tsp lime juice
2 tsp jerk seasoning
1 tsp soy sauce
450g beef flank marinating steak
1 each sweet red, green and yellow pepper
1 small red onion
¼ tsp each salt and pepper
8 cups mixed greens
Method
In shallow bowl, whisk together 3 tbsp of the oil, lime juice, jerk seasoning and soya sauce. Remove 2 tbsp and set aside. Add steak to bowl and turn to coat. Let stand for 15 minutes. (Make-ahead: cover and refrigerate steak and marinade separately for up to 8 hours.)
Place steak on greased drill over medium heat; close lid and grill, turning once, until medium-rare, 10 to 12 minutes. Transfer to cutting board and tent with foil; let stand for 10 minutes before thinly slicing on angle across the grain.
Meanwhile, halve and seed sweet peppers; cut each half into three pieces. Cut onion into ½-inch (1 cm) thick slices. Brush peppers and onion with remaining oil; sprinkle with salt and pepper. Add to grill and cook, turning once, until softened, 12 to 15 minutes. Separate onion into rings.
In large bowl, toss greens with reserved marinade. Arrange on four plates; top with peppers, onion and steak.  
Love this recipe? Enter for you chance to win the Canadian Living: 150 Essential Salads and try out the Crispy Tortilla Ancho Salad!