It's not everyday you get invited inside the test kitchen of a big food company but Nestlé Canada opened its doors for a tour and the opportunity to ask their team of dietitians about the company's commitments to health, nutrition and wellness, with a focus on children and families.
During my visit, I had a chance to see firsthand where products are researched, developed and tested. As we toured the kitchen, we chatted about their recent changes that have been quietly happening.
I read Nestlé's report on global commitments for improving health and wellness within their product roster. "There are some pretty lofty commitments," I mentioned. But the dietitians I met with that day seem pretty serious about ensuring the company's products meet Nutrition Foundation criteria, a global standard created by WHO and the Institute of Medicine. They plan to do this by guaranteeing better choices are attainable for families not only here in Canada, but around the world.
"You may not think we need dietitians when it comes to chocolate  and ice cream," says Kate Cole, Nestlé Canada's in-house dietitian. "But when you hear our product improvement commitments, I'm sure you'll understand why it's important. Our global aspiration is to be the leading health and wellness company. We know we have some bold plans to live up to."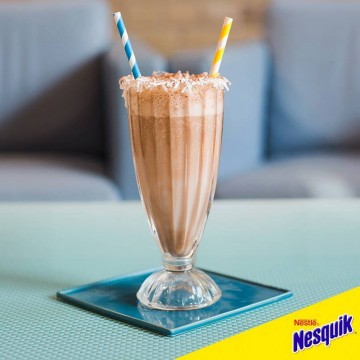 Globally, Nestlé is the biggest food company in the world. Categories include confectionery, beverage (e.g. Nescafé, Nesfruta, Carnation Hot Chocolate, Nesquik), Nestlé Nutrition (infant formula, Gerber baby food), Nestlé Health Science (nutrition products specific to treat or prevent disease), Nestlé Professional  (restaurant food), Nespresso (high-end coffee boutiques and machines), Nestlé Waters (Pure Life, Perrier, San Pellegrino),Pizza and frozen meals (Delissio, Lean Cuisine, Stouffers), Ice Cream (Haagen Dazs, Skinny Cow, etc.), and Purina pet foods.
"We are on a journey as our global vision to be the leading health and wellness brand," says Kate. "Here in Canada, nutrition, health and wellness are part of everything we do to become the number one company in the country to help Canadians lead happier and healthier lives."
Okay, but candy and ice cream? Aren't we talking about treats here?
Yes, said the dietitians, and they admitted that their changes aren't making chocolate and ice cream healthy, but they feel they have a responsibility to help Canadians make mindful choices. They also know these choices cannot compromise taste.
The company is taking a hard look at how they improve their reality. "What are we going to do with our products? How do we make them better from a nutrition perspective, but also how are we going to communicate that with our products," says Kate. "We want to help Canadians improve their understanding of how our products can be consumed as part of healthy diet."
So, what is Nestlé doing? Some changes are already being noticed.
One big initiative involves children's nutrition, a concern for many parts of the world and also here in Canada. In 2012, Nestlé made a commitment to discontinue any children's product that no longer met, or couldn't meet, the Nutrition Foundation's criteria.
"We've had 33 products that we either had to reformulate, reduce size and portion or discontinue even if they were profitable for us as a company," says Kate.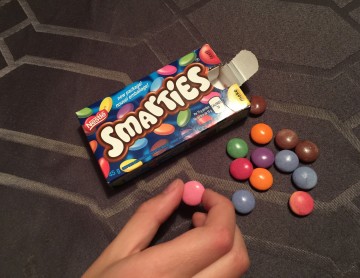 An example is the newly re-packaged Smarties. The regular sized serving box is now portioned. Instead of one big opening there are three.
Wait. I don't want to be told how much I can eat. And the company recognizes it. "The point is not to tell you how much you eat, but rather encourage you to pause and think before continuing on," says Kate. "Ultimately, the choice is really yours." Each section of the box contains 15 Smarties. Holiday treats, like hollowed chocolate Easter treats filled with Smarties have also been reduced in size to meet the Nutrition Foundation standards.
What's also interesting to note is the change in colours of Smarties. All artificial colours have been removed, so what you'll now find is the same tasty chocolate treats only not as vibrant.
But what about the chocolate bars? The team cited one of their best sellers, an oversized bar that was a profitable product for the company. It didn't meet the Nutrition Foundation's criteria, so Nestlé decided to discontinue it.
You've got my attention Nestle. What else is going on?
"We're really proud of our recent partnership with University of Toronto," says Kate. "We've taken the most recent data that Health Canada has available on what Canadians are actually consuming and we're doing a really big study that has been conducted for the past two and a half years. We're about to see the results shortly. We're looking at what Canadians are actually consuming across every age category and every eating occasion. We'll be able to see what consumers are eating and how it relates back to Canada's Food Guide."
I'm curious! Stay tuned for more!
*This post is sponsored however all opinions expressed are my own. Thank you to  Nestlé Canada for inviting me into your R&D kitchen!