I can rock the charcuturie board. Just ask any of our dinner guests. Heck, I'll even throw together one on the weekends for us to just enjoy as our family lunch. Our local grocer has the standard Genoa Salami, the proscuitto, and the terrine. It's all good and nice.  But sometimes we are interested in finding something a little more unique. More artisan style and not mass produced.
I  had  recently discovered an incredible selection of artisanal cured meats from Carnivore Club. Of all things to receive in my Fashion Week goodie bag, this was one that definitely wasn't expected! It's one thing that I've checked out the latest men's luxury lifestyle sports shoe line, Piloti, (more on that later) which already had my boys excited but to come home with artisanal meat? They were over the moon!
So, what is the Carnivore Club? It's the world's first curate cured-meat of the month club and it's here in Canada! Each month members receive a box with 4 to 6 carefully selected meats from a featured artisan producer. The delivery also comes with a "Meat Eaters Handbook" that tells you what you've received.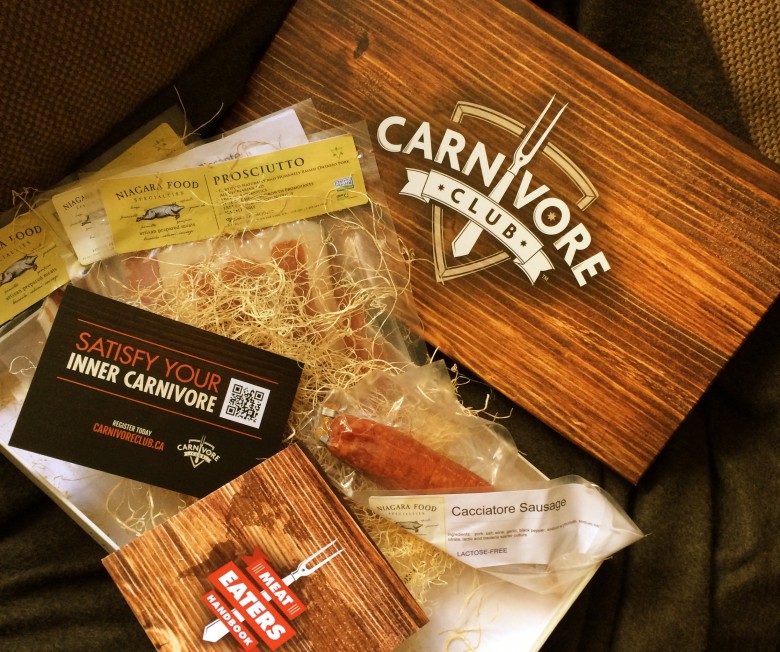 The box I received focused on a delicious assortment by Niagara Food Specialties – a family business that  began curing prosciutto and other meats  by traditional techniques. They have been supplying product to some of the top restaurants in the Niagara region and Toronto. They are also members of the Slow Food Niagara, part of an international organization that promotes the sustainability of local food production and maintaining food traditions. Their products are certified organic or have been on a naturally raised program.
I was curious about this new monthly club and had the opportunity to speak with Carnivore Club creator, Tim Ray…
How did this all start?
Carnivore Club launched in September 2013 via our Indiegogo campaign. The idea was born out of the realization that there is a renaissance in old world artisan cured meats with many trendy restaurants featuring amazing platters with unique, hand-crafted meats. For example, Black Hoof. What a great category to create a premium subscription service around!
We wanted to champion the discovery of small artisan producers, their products and their stories. Carnivore Club is the journey to discover someone new and showcase their best creations, every month.
I wowed my friends and family with the best charcuterie platter ever! How do you source the monthly offerings?
Trust me, it's very tough! We aim to find the hard-to-find, technology adverse artisans who are focused on making really cool products within their local community. Once we find someone we believe is amazing, it starts with a phone call, and a visit to taste their best-in-class meats! I love my work. Once they pass the mustard (no pun intended) the rest is history and we begin to craft a monthly box that we think will impress our savvy carnivores.
What's your goal in offering this kind of yummy service?
Our goal is twofold, we wanted to create a fun company that caters to the hard working, urban professional that loves cured meats and charcuterie, but has little time to discover new products outside of a trendy restaurant setting. To these people we are delivering a meaty Christmas morning experience every month.
Secondly, for the man or woman foodie that has everything, Carnivore Club is an excellent gift giving option. We are the gift idea that's guaranteed to be enjoyed, not re-gifted.
Have you gone really "wild"?
Have you ever had Water Buffalo Braesola? Duck Breast Proscuitto? Or Venison and Cranberry Pate?
Whoa! No but I'm game. So, any big hits (or misses)?
There are always favourites and misses that we love hearing about from our members. Everyone has different tastes, so it's tough to impress everyone with everything, every month. We try to ensure that good variety so that everybody will absolutely love a couple things in each month's box.
How would you describe your clientele?
Amazing. Really, really amazing!
Do you source globally? Any challenges with that?
Yes, we definitely dedicate several boxes each year to imported meats from Europe. We execute this by working with the experts in the biz who's business it is to find and import the very best cured meats and sell to trendy restaurants across the country.
What's my commitment as a subscriber?
There is absolutely no commitment. We offer the ability for members to subscribe to one box at a time for $55/ month. We also offer a recurring monthly subscription for $50/month with a 3 month commitment.
Three words that describes your inner carnivore?
Adventurous, Endeavoring and Hungry!
I LOVE this! Definitely a great gift idea for Father's Day or Birthday… I can think of a few people this would be PERFECT for!
For more information link here:  www.carnivoreclub.ca