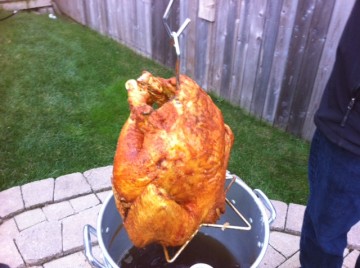 The Parkers have had some dangerous Thanksgivings over the last few years. No, we don't play football, go skydiving, or drink too much moonshine and talk about our "real" feelings around the table. Nope… we deep fry our turkey.
I will admit there is nothing better than the smell of a turkey in the oven for 7 hours but deep frying a bird is amazing. It's like anything in life I guess, you have to take the good with the bad. What you lack in a fantastic aroma parading through your house, you gain in time spent drinking. Although I will say, be responsible and please don't drink and deep fry! No matter how good you deep fry a turkey, it never tastes that good when you're eating it in the Emergency Room.
I was a little nervous the first time I did it but now its tradition. You know what they say… once you go deep fry you never go back. (Sorry, never was a very good poet.)
So just in case any of you are feeling a little frisky and want to give it a spin here's a quick lesson on how to do so.
1) Deep fry outside.
2) Be sober.
3) Make sure your bird is 100% not frozen; she has to be thawed. I'm no scientist but I read that frozen turkey and hot oil do not get along.
4) Put the bird in the empty container, then fill with water. Make sure the bird is covered but there is still room at the top of your container.
5) Take the bird out and measure the water mark; that will be how much oil you put in. You don't want to fill the oil to the top then plunk the bird in. (Don't forget about water displacement, kids!)
6) Dry off the bird. To be safe, chuck a little flour in the cavity to make sure you dry up any remaining wet bits. Also spread a little pepper on the outside for flavor.
7) Heat the oil to 350° degrees C.
8) Put your bird on the stand that comes in the kit, slowly lower it down with the hook that also comes with the kit.
9) It takes about 3-4 minutes per pound to cook.
10) Turn off deep fryer.
11) Eat the turkey.
12) Change from jeans to sweat pants.
13) Fall asleep on the couch.
I don't know how I got into this, but one day on the way home from work, I just decided to buy a big ol' deep fryer a few years ago. And ta da – A Parker Thanksgiving Tradition!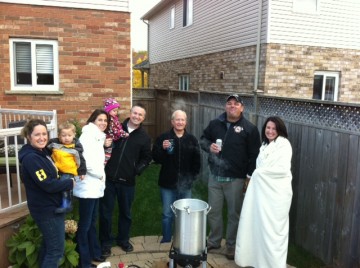 I hope you have a wonderful, safe Thanksgiving!