In all my years as a single mom, there's one thing that truly behooves me: cooking for a small family.
I grew up in a family of six, and even though there's just me and two picky little eaters at home now, I haven't yet managed to figure out how to cook for the appropriate number of people and the size of our appetites. I end up buying groceries for a family with 12 teenaged boys instead of two school-aged kids. I make soup in a huge pot and end up eating it for a week or giving away mason jars full of soup to friends and family. I still want to feed my kids healthy homemade foods, which puts me in a pickle. Having recently met Lauren Mozer, Owner/Executive Chef of elle cuisine, I couldn't resist asking her: What are your best tips when cooking for small families?
"Making meals at home can be a very therapeutic experience if you plan properly and enjoy cooking," says Mozer. "The nutritional value of your food is in your control when you cook it yourself."
But she knows that it can often be harder to cook for a small number. Here are a few of Lauren's tips for cooking for small families:
Avoid batch cooking if possible. One chicken can easily feed a family of four (unless you have growing teenagers with large appetites). When you shop, be mindful of how much of each ingredient your dish/recipe requires.
Plan your week strategically: if you buy onions and garlic for Monday's dinner, make sure you have another meal that week that uses the same ingredients. This will help with food cost and waste. If a recipe requires half a head of cauliflower, make sure you fit the other half cauliflower into a dish later in the week, in some other creative way (example: roasted cauliflower and cauliflower soup)!
Use leftovers in unique and creative ways. Use your leftover chicken to make chicken tacos, or use your leftover roasted vegetables to make a roasted vegetable risotto.
Certain recipes are so straightforward that it actually is easier to cook them in batches. For example, a basic marinara or tomato sauce (that only has three ingredients) takes the same amount of time and ease whether you're making a large stock pot worth or a small pot. You might as well make a ton and freeze in family-sized portions for a quick meal on a busy day.
Lauren Mozer's Basic Marinara
(makes approximately three litres of sauce)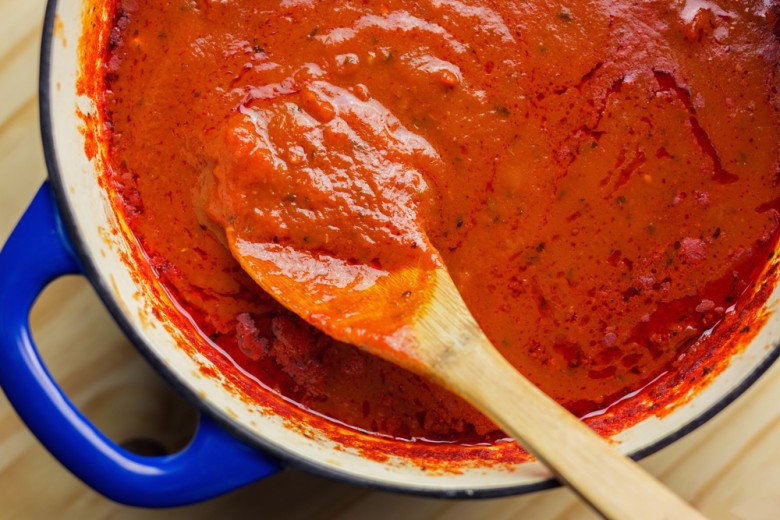 2 cans tomatoes (whole)
1 pc large onion (or two small onions), chopped
4 cloves garlic, smashed
½ cup olive oil
1 bunch basil
In a sauce pot, saute chopped onions and smashed garlic in olive oil until fragrant. Add canned tomatoes. Use a potato masher or wooden spoon to break apart the tomatoes.
Bring to a simmer and add the bunch of basil (whole). Simmer for 30-45 minutes. Remove basil and discard.
At this point, you can choose to puree the sauce with a blender or hand blender for a smooth consistency or keep it chunky depending on your personal preference.