Throughout the year we've been introduced to numerous beverage machines. Weird right? I remember when the only beverage machine around was the fountain machine and I didn't know anyone who had their own.
We've tested out several and with the holidays in mind, we know that these machines will make for perfect gifts for family and friends. So here's a run down of our favourites and why…
KEURIG 2.0 K500 BREWING SYSTEM
The evolution of one-touch coffee machines have come a long way. The latest entry is the Keurig 2.0 that pretty much does it all. You can make one cup or a full carafe of coffee with this pod system machine. It will also make a hot chocolate or pour out hot water for tea if your prefer. There are over 20 brands for individual servings and carafe servings including Timothy's, Tim Hortons and even Laura Secord Hot Chocolate and  over 125 varieties that can be used on this machine. You can even make a chai latte! (But be aware that the previous k-paks won't work on this newer model.)
Settings allow for custom control based on the size of your mug. Set the timer for when you want the machine to get brewing before you even rub your eyes and get out of your pajamas. The large water reservoir is great for not having to worry about refilling too often. The Keurig is an easy to use machine that I'm thinking the grandparents will love as they enjoy their morning coffee but entertain often. No need to pull out separate machines. Okay, and I also love how this machine has different light settings to suit your mood from a design perpective. Hey, it's the details that I love, you know?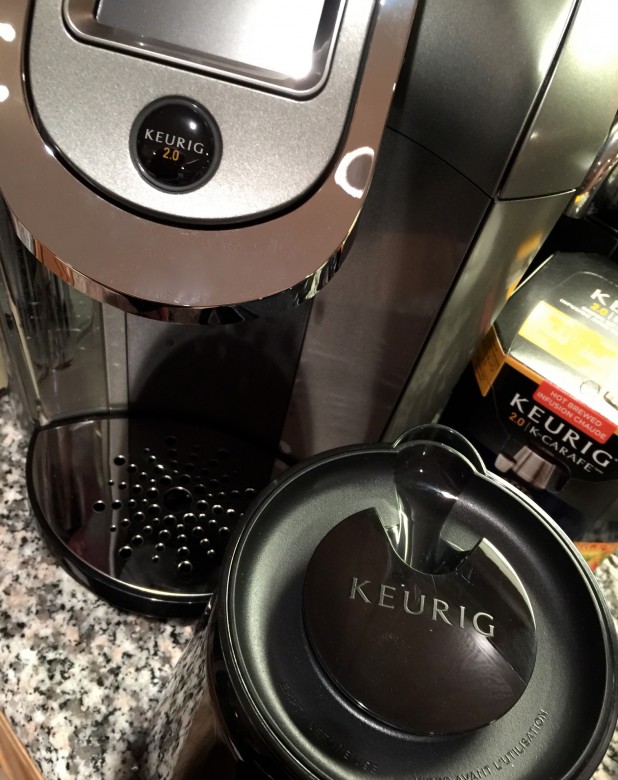 We know that families can consumer a lot of soda pop especially with teens in the house… plus their friends. Let's admit that we as adults sometimes enjoy a refreshing carbonated drink. I know I do! What SodaStream brings is soda making convenience at home.
The sleek, modern design of the machine doesn't take up much space and looks great in any kitchen. I love the many different flavour options AND there is less sugar compared to off the shelf brands. This year, SodaStream introduced a free from artificial flavour line of syrups like Kiwi Pear that has quickly become a favourite in our household. The machine is perfect for parties as well. You don't need to stock up with bottles and cans anymore. The machine includes a carbonation canister that can be easily exchanged at various retailers when empty. There are several styles available including the new "Play" machine with bold colours: blue and red as well as white and black.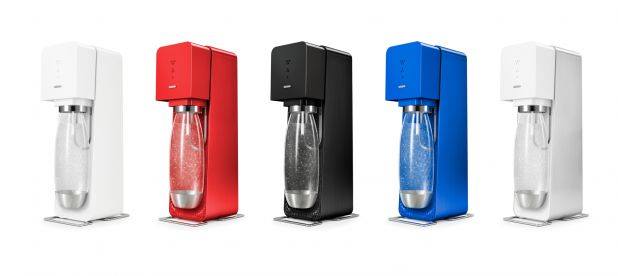 Whoever said water had no taste hasn't had really good clean filtered water. Strauss Water is an in-home machine that attaches directly to your water supply and triple-filters for a purer glass of water. The essential minerals stay in but bacteria and chlorine are removed.
I was raised drinking hot tea and even just a cup of hot boiled water all my life; in many asian cultures this is part of a daily healthy regime. The Strauss machine offers both hot and cold options and the convenience of purified water at home is too good to pass up. In fact, 99% of bacteria is removed with the system. It also helps eliminates plastic bottles and dollars spent on store-bought water. You can set the temperature and volumes for the water options and it's more energy efficient than waiting for the kettle to boil.
Child safety mode helps keep little ones from playing with the machine. You'll never have to worry about service either. Strauss offers appliance servicing based on a subscription series that includes set up in home and office and ongoing maintenance when needed. You also won't have to worry about remembering when to change filters and such as they will be on top of it.  The stylish design comes in two models and several colours.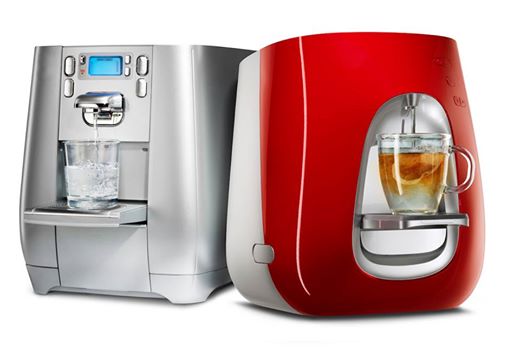 While a one-touch machine is ideal for many caffeine guzzlers, the Saeco Minuto Super Automatic is for the person who  has a refined taste and prefers a truly traditional espresso (like, sitting in a palazzo at a cafe in Italy type of espresso) and the person who desires the convenience of a one touch machine. I can totally relate.
I like stronger brews frothed with milk while hubby likes a double espresso straight up. When we entertain, we'd love the ability to offer what each guests wants and this machine takes care of that all-in-one. This dual pressure machine lets you easily switch also from espresso to coffee. For the person who turns up their nose at pod systems, the SAECO MINUTO is the first machine to offers the convenience of fresh ground coffee. Seriously fresh. In fact, it will grind the right amount of  beans just before brewing to offer the freshest cup of java in the easiest possible way.
Once customization settings are in place, the machine does become a simple one-touch system remembering your preferences. While it takes a little time to set your customization (you can set the strength of coffee, short or long, etc) it's delivers a pretty impressive cup. Of course, I would recommend using high quality coffee beans to start. Illy espresso beans were used in my trial run and every cup delivered everything I wanted as a cappuccino lover. The machine also comes with a removable milk carafe that offers that perfect frothy milk finish.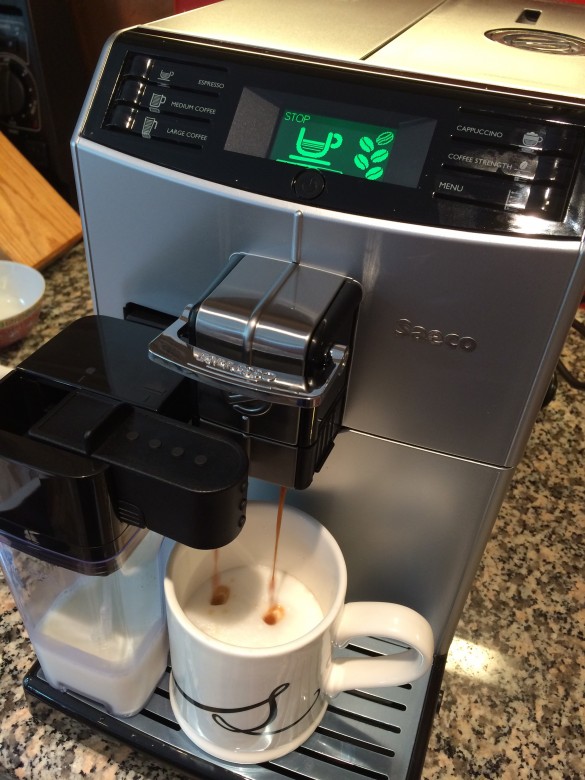 HAMILTON BEACH BIG MOUTH JUICE EXTRACTOR
This juice extractor should be on every wish list. This year we've seen an increased interest in fresh juices with many "raw juice bars" popping up across the country but they can get quite expensive. This machine is ideal to save time and money when it comes to juicing. The benefits of getting the most nutrients out of vegetables and fruits is a no-brainer. The Big Mouth Juice Extractor is a powerful machine that can deliver fresh nutrients within seconds. Don't confuse it with a blender or a smoothie maker—they whip air into your juices to make them lighter. You'll get even more juice here.
This juice extractor removes the extra pulp from fruits and veggies to give you the best tasting juice ever. And hey, you can use the pulp in your recipes later. The extra large opening means less prep work on your part and as the new year rolls around you'll be craving some goodness after all that stuffing and turkey and midnight cookie binges.