Tequila has become one of our most favourite drinks of choice either on it's own or mixed into cocktails. The name tequila, was named after a small town in the Jalisco state in Mexico. According to the experts, tequila means "the place of harvesting plants."  Made from the agave plant, history tells us that the Spaniards who landed in Mexico decided to try what the locals were drinking but thought of using European distilling techniques and that's when Mezcal was discovered (the original form of tequila).
I was surprised to learn that most tequilas aren't true tequilas. According to Tromba Tequila, "most tequila shot at some seedy hour of a very long night is actually made form 51% agave and 49% low grade sugar cane distillate. It tastes like paint stripper." And that's not tequila. Real premium tequila should be sipped or enjoyed in cocktails.
So that "lick, shoot, and suck" tequila you had in university or at some all-inclusive hotel in Cancun… you're beyond that! Time to appreciate the really good stuff.
Here are a few delicious recipes to celebrate National Tequila Day (July 24th) provided by my friends at MILAGRO CANTINAS (amazing authentic Mexican eateries in Toronto) and TEQUILA TROMBA (available nationally at liquor stores)!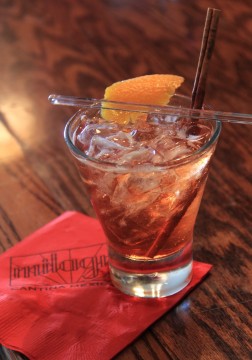 MILAGRO CANTINA'S Rosa Canela Cocktail Recipe
Recipe by Chef Arturo Anhalt
1 ounce Hornitos Reposado Tequila
1 ounce Jack Daniel's Tennessee Whiskey
¼ ounce Martini Red Vermouth
½ ounce pomegranate juice
¼ ounce dark agave syrup
1 cinnamon stick, whole
1 twist of orange rind
2 cups ice cubes
Steps:
1. Chill a tumbler cocktail glass.
2. In a steel cocktail shaker, pour in spirits, juice, and add the cinnamon stick and ice. Shake well
3. Using a strainer, pour mixture into chilled glass. Add in some fresh ice cubes. Garnish with orange rind  and cinnamon stick. Cheers!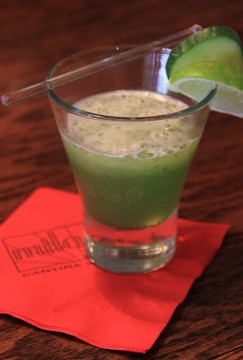 MILAGRO CANTINAS Santa Sabina Cocktail Recipe
Recipe by Chef Arturo Anhalt
1 ounce Cazadores Añejo Tequila
1 ounce St. Germain Elderflower Liqueur
¼ ounce Martini Dry Vermouth
¼ cup English cucumber, diced
¼ ounce dark agave syrup
2 cups ice
1 English cucumber
1 lime
Steps:
1. Chill a martini or wide-rimmed cocktail glass.
2. Pour spirits and agave nectar into electric blender. Add diced cucumber and puree on high for 30  seconds.
3. Place ice and cocktail mix into steel cocktail shaker. Shake well.
4. Using a strainer, pour mixture into chilled glass. Garnish with cucumber round and lime wedge. Bottoms up!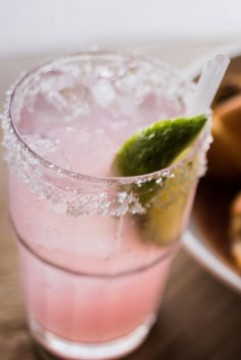 TROMBA PALOMA
45 ml Tequila Tromba Blanco
200 ml Grapefruit soda
Fresh Lime
Salt
Steps:
1. Build all ingredients over ice in a tall glass.
2. Garnish with a squeeze of fresh lime and a pinch of salt. Enjoy!
TEQUILA TROMBA PRICKLY PEAR SORBET for Adults
Recipe by Chef Alejandro Wizer
15 prickly pear
6 cups water
3 cups sugar
3 cups glucose
4 ounces Tequila Tromba Blanco
1 cup fresh lime juice
Steps:
Peel the prickly pear and put in a pot with the sugar, glucose, and water.
Bring to a boil and let it boil for 10 minutes.
Puree and strain.
Add lime juice and Tequila Tromba Blanco.
Put mixture in an ice cream machine and follow the manufacturer's instructions.
Remember to please drink responsibly! And be a good host, make sure you've got lots of guacamole out too!