Stumped on what to serve as an appetizer at your Thanksgiving celebration? You can't go wrong with finger-foods and bite-sized portions of favourite holiday flavours, such as apples, cranberries and sweet potatoes (bonus points if it's on a stick!). These yummy and healthier options are sure to be a hit with kids and adults alike, and you won't feed guilty about indulging in dessert later on!
Sweet Potato Bites
Sweet potatoes are packed with vitamins A and C and high in beta-carotene. The naturally sweet spud doesn't need much seasoning and can be cooked in a variety of ways. I like this idea, found on Babble, of baking them as bite-sized cubes and serving them on a toothpick. It's a tasty appetizer that will vanish off the plate before you know it.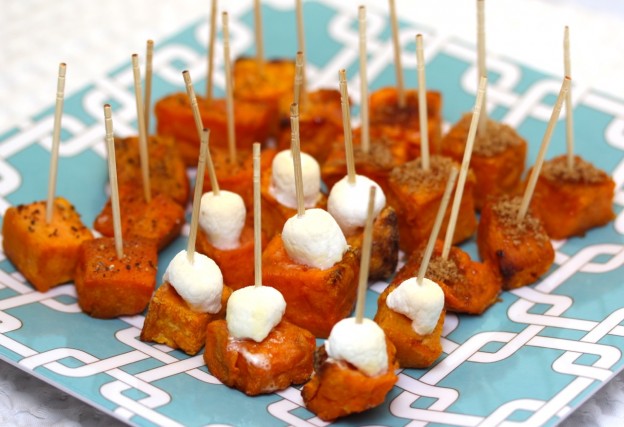 Turkey Fruit Platter
Fruit just seems so much more appealing when it's in the shape of a cute little animal. In this case, it's a turkey from Clean & Scentsible that's caught my attention. It uses a pear as the body with an arrangement of strawberries, bananas and grapes for feathers. For easy serving, the fruit can be skewered (fondue optional!).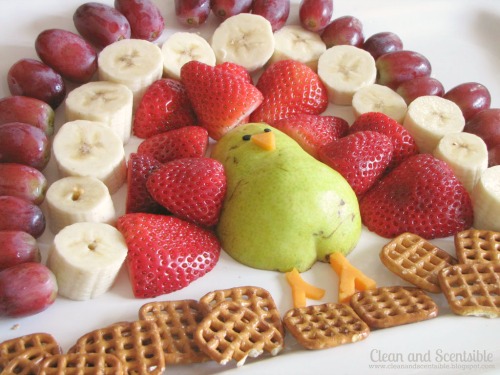 Turkey Cheese Snacks
Sticking with the theme of food with faces, I present these cute cheese turkeys, as seen on Living Locurto. Made with calcium-rich Mini Babybel cheese and healthful almonds, it's a snack that you can feel good about serving. Kids will gobble these little guys right up!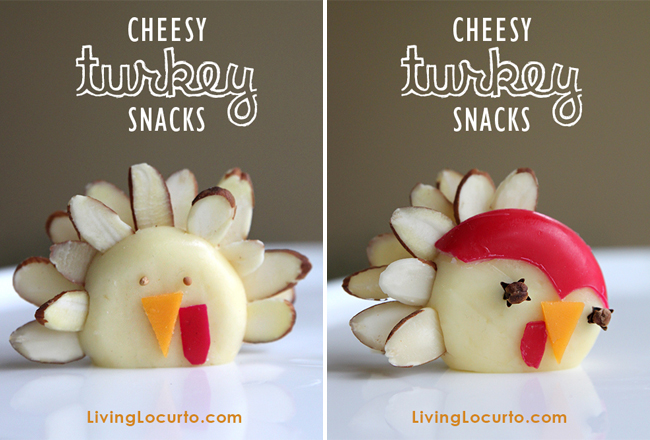 Fruit Cornucopias
An easy alternative to a fruit platter is to make colourful melon and berry-filled cornucopias, like these ones from We Three Smiths, to hand out before or after dinner. Use waffle cones as the "horn of plenty," and fill them with your choice of fresh fruit.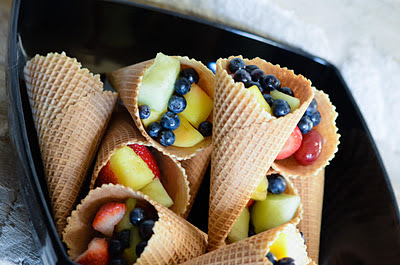 Pumpkin Patch Dippers
An edible pumpkin patch set-up, like this one from The Little Style File, is the perfect way to get your kiddies to eat their vegetables. Carrots disguised as pumpkins in a hummus spread make for a tasty appetizer to place on the kids' table.
Baked Apple Chips
Apples are in season at this time of the year—a perfect opportunity to take the kids on an apple-picking trip at your local farm. This super-simple recipe from The Endless Meal turns your freshly picked apples (or the ones you already have on hand) into crispy and satisfying apple chips. They're perfect to nibble on before dinner and will appeal to the little ones, too.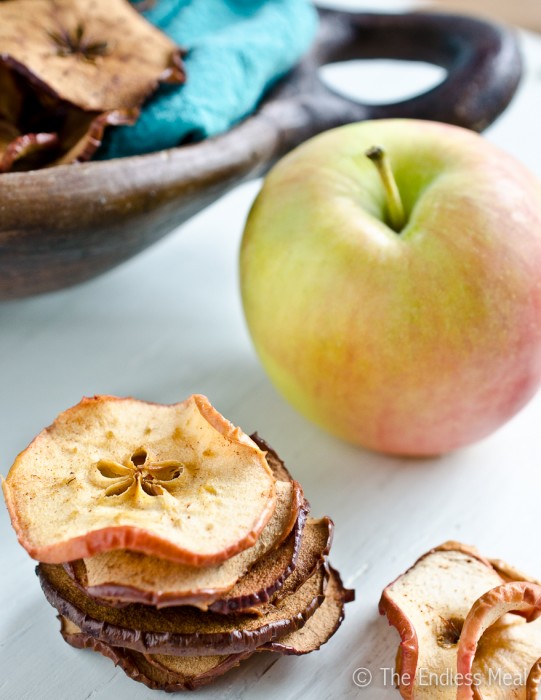 Cranberry Crostini
Cranberries are a staple for any thanksgiving celebration, so it's only natural that they be included in this round up. This recipe from Cookie and Kate mixes fresh cranberries with the zest of an orange, atop a whole-grain crostini with goat cheese. Sounds delicious, doesn't it? Better yet, cranberries offer numerous health benefits and whole-grains are an excellent source of fiber.