If I am honest, being healthy and staying fit is a daily struggle for me. Some days going for that after work run seems like way too much effort and dialing for take-out is way easier than cooking up a healthy, balanced meal.
Just last week, after an extra-long day in the office, I skipped my exercise plans, ordered a pizza and called it a day. Not the best choices, I know, but I was exhausted. Fast forward to the next morning, and I regretted my choices; my energy was down, my jeans felt just a little tighter… it's just no good.
I have come to the realization that I deserve to feel my best and that starts with me. I need to take a few small steps to making healthy choices to avoid the post pizza (or chips, or cookies) binge guilt.
So what can I do? Time is always working against me. Do I wake up forty-five minutes earlier in the morning to get my exercise in and prep meals beforehand? Who's got the time?
Those are pretty lofty goals for most of us. I mean, the reason I fall of the healthy living wagon is because I am so busy! It's just too easy to skip the gym or grab a bag of chips or a muffin from the café across the road instead of making a healthy snacking choice.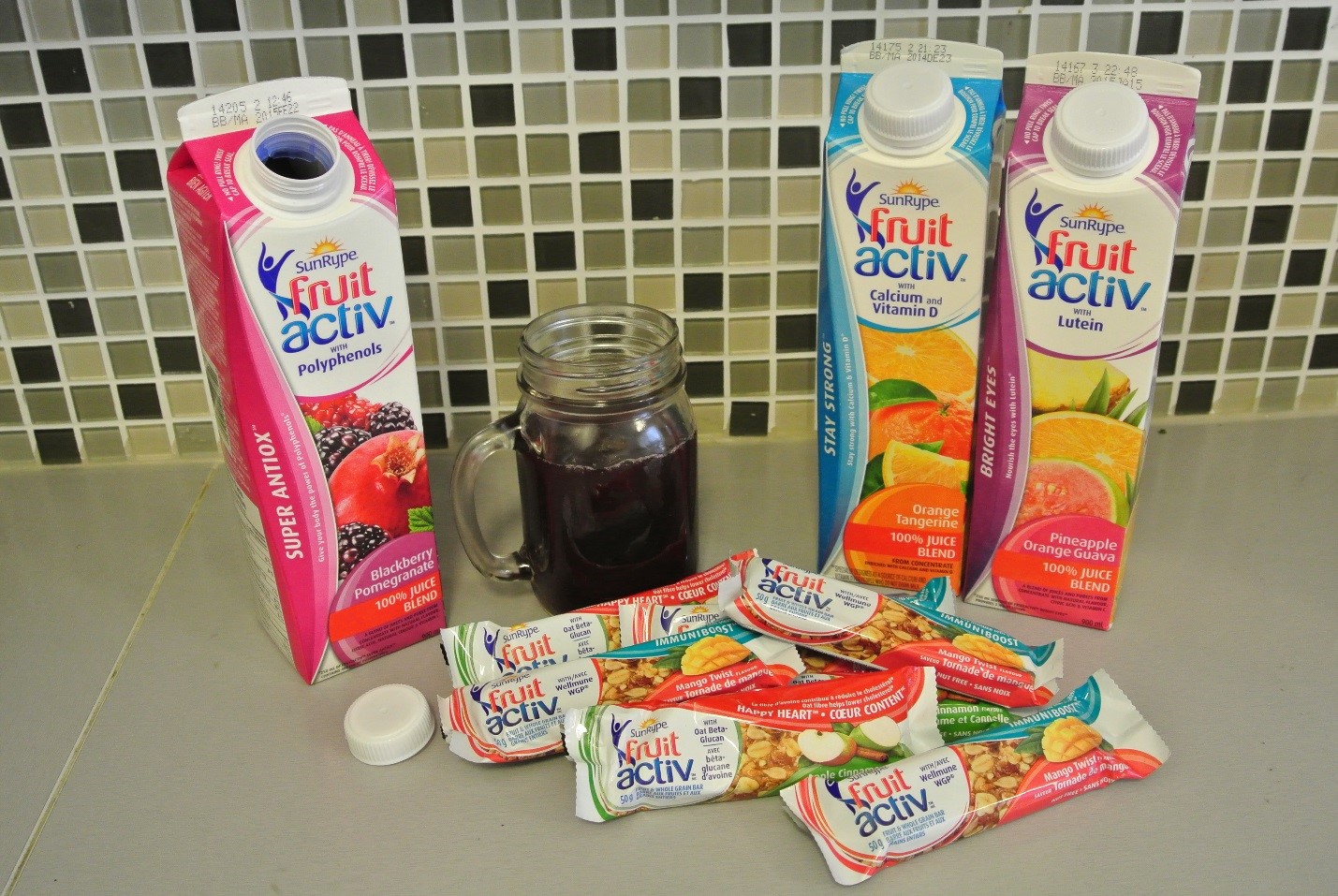 That's why I love the new SunRype FruitActiv bars; they are easy to throw in your purse, diaper bag or lunch box to have on the go. They come in two different benefit types and four flavours so there is something for everyone. The Happy Heart bars have 25% of your daily recommended fibre and come in two great flavours, Apple Cinnamon and Peach Vanilla. My personal favourite is the Immuniboost bar in Mango Twist (it also comes in Orange Squeeze). I love that the combo of fruit, whole grains and beta-glucan helps boost my immune system… and it tastes great!
SunRype FruitActiv also has a line of juices, and my favourite is helping me in an area of health that I am sorely lacking: calcium. I am not a milk drinker, not even in my coffee or tea! And as I get older, I worry about my bone health. Enter Orange Tangerine – Stay Strong FruitActiv juice: a great source of calcium and vitamin D with a great orange and tangerine taste that I can enjoy. No more forcing down milk for me!
There are also some other amazing flavours like Blackberry Pomegranate (with polyphenols—nature's own antioxidants), and Pineapple Orange Guava, which contains lutein, a natural antioxidant that helps nourish your eyes as you age—and tastes delicious too.
As I try to get myself back to my healthiest "me", I'm glad I have SunRype FruitActiv in my pantry and fridge to help me reach my nutritional goals. Now, if only they could get up at 6:00am for me and go for a jog!
Disclosure: This post was brought to you by SunRype, however the images and opinions are my own. For more information, please visit www.sunrype.ca.