You know it's going to be busy this after school when the kids will be rushing home after being loaded up with treats at the school Halloween party. I am SOOOOO going to be more organized this year and have a frightfully good dinner ready! I came across these two recipes that were very appealing….and sound so, so yummy!
ROASTED HARVEST SOUP WITH WALNUT PESTO is perfect on its own with a fresh loaf of bread or as a starter!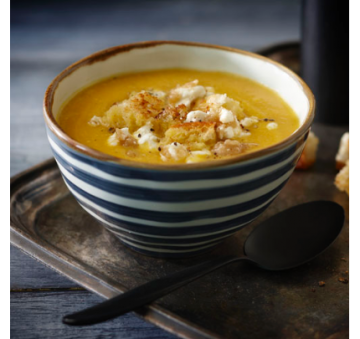 Ingredients:
1 lb (500 g)  carrots, peeled and chopped
1 lb (500 g)  parsnips, peeled and chopped
1  large leek, white and light green parts only, chopped
1  large onion, chopped
1  large ripe pear, peeled, cored and quartered
3  sprigs fresh thyme
6 tbsp (90 mL)  extra virgin olive oil
1-½ tsp (7 mL)  salt
½ tsp (2 mL)  freshly ground black pepper
4  slices good quality Italian bread, each ¾-inch (2 cm) thick, cut in cubes
½ cup (125 mL)  crumbled goat cheese
1/3 cup (75 mL)  PC black label Walnut Pesto, stirred
2 cartons (each 900 mL)  PC Blue Menu Chicken Broth
¼ cup (50 mL)  35% whipping cream
Instructions:
Preheat oven to 425F (220 C).
On rimmed baking sheet, place carrots, parsnips, leek, onion, pear and thyme. Drizzle evenly with 3 tbsp (45 mL) of the olive oil. Sprinkle with ¼ tsp (1 mL) each of the salt and pepper. Using hands, toss to combine. Roast for 45 to 50 minutes, turning twice, or until softened and golden brown.
Meanwhile, in small frying pan, heat remaining 3 tbsp (45 mL) olive oil over medium heat. Working in batches, fry bread cubes, turning often, for about 2 minutes, or until golden brown all over; transfer to bowl and set aside
In small bowl, gently stir together goat cheese and 3 tbsp (45 mL) of the pesto until combined; set aside.
Place half of roasted vegetables in blender. Pour in 2 cups (500 mL) of chicken broth. Purée until smooth. Transfer to large saucepan. Repeat with remaining roasted vegetables, 1 cup (250 mL) water and 1-2/3 cups (400 mL) chicken broth.
Heat soup over medium-high. Stir in remaining carton (900 mL) of chicken broth, remaining pesto and remaining 1-¼ tsp (6 mL) salt and ¼ tsp (1 mL) pepper. Bring to a boil; reduce heat and simmer uncovered for 15 minutes. Stir in cream. To serve, garnish with croutons and goat cheese mixture.
What about this eeeeerie entree? My kids love seafood so I'm thinking I'll  surprise them with BLACK SPAGHETTI  (made from durum wheat and natural spring water and infused with traditional italian cuttlefish ink and lemon juice) Mix 'n match your seafood to your family's liking or maybe save this one for mum and dad time with a bottle of vino….after the kiddies are tucked into bed!
Ingredients:
½ cup (125 mL)  extra virgin olive oil
1  onion, diced
1- ½   PC Sweet Long Peppers, cored, halved and diced
½ tsp (2 mL)  salt
¾ cup (175 mL)  pitted kalamata olives, halved
3  cloves garlic, minced
2 tbsp (25 mL)  PC black label Peperoncini Piccanti
3 lb (1.5 kg)  littleneck clams, scrubbed and well rinsed
2 cups (500 mL)  dry white wine
1 pkg (454 g)  PC Raw Zipperback Black Tiger Shrimp – Jumbo, thawed and peeled with tails left on
1 pkg (500 g)  PC black label Nero Di Seppia Spaghetti
½ cup (125 mL)  chopped fresh parsley
Instructions:
In large heavy-bottomed saucepan or Dutch oven, heat ¼ cup (50 mL) of the olive oil over medium heat. Cook onion, stirring, for 3 minutes. Add sweet peppers and ¼ tsp (1 mL) of the salt; cook, stirring, for about 4 minutes or until very soft. Add olives and garlic; cook for 1 minute. Stir in piccanti until combined.
Increase heat to high. Add clams; cook, shaking pan gently, for 2 minutes. Pour in wine; bring to a boil. Cover and steam for 1 minute. Add shrimp; cover and continue to cook for 4 to 5 minutes or until clams open wide and shrimp are cooked through. Remove from heat and discard any clams that do not open.
Meanwhile, in large pot of boiling salted water, cook spaghetti for 7 to 9 minutes or until tender but firm. Drain, reserving 1/3 cup (75 mL) of cooking water. Add spaghetti to clam mixture, tossing to combine. Transfer to large serving platter; toss with remaining ¼ cup (50 mL) olive oil, remaining ¼ tsp (1 mL) salt, parsley and some of the reserved cooking water, if desired. Serve with additional piccanti on the side, if desired.
 What are your dinner plans for Halloween night?
This post is not sponsored, nor was I compensated. I am a big fan of PC Black Label line of fine foods and thought these looked yummy!