The smell of canola isn't strong, but it is distinct, and there it was wafting on the wind on the breezy Saturday we found ourselves at Georgian Hills Vineyards. It was one of many bits of idyll in that magical place, where for the few hours we were there I found myself relaxing, watching the clouds roll in across a lush green and yellow landscape. Ontario, I think I love you, you pretty lady.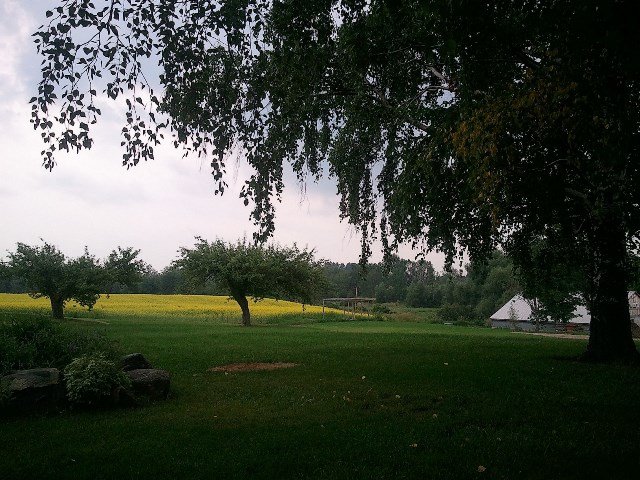 When I die I want to be buried under that languid-looking tree. Water me with Seyval Blanc twice per day.
Anyway, I had meant to tell you about Georgian Hills Vineyards and how perfect it would be as a romantic destination on a romantic getaway with someone you wanted to be romantic with. Actually, it's a beautiful place and I'll bet if you had your wedding pictures there they'd be doubly gorgeous. And if I didn't live on the other side of the country, I'd be getting away there as often as possible. Possibly even with Spouse.
We sipped on (and on, and on), and the snacks kept coming.
Our guide and companion for the afternoon was Robert, who's expertise was matched by his knack for storytelling. He led us through the vineyard, showing us grapes at varying stages of maturity, then led us onto a patio where we sat and considered the view while he fetched our first taste of wine and a plate of exquisite nibbles.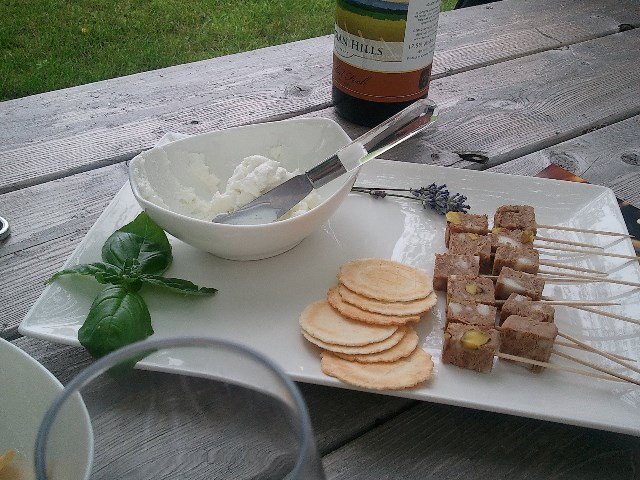 The wine was crisp and cold; we started with a pear sparkler and potato chips, which was a fitting antidote to the sticky heat. We then moved onto the Riesling, and it was bright with green apple and redolent of peaches. I was content. There was cheese. It was very good cheese.
The whole place was like a deep sigh, in the best possible way.
Robert took us through each wine, asking us to sniff and sip and describe what we were tasting, and his enthusiasm for the wines and his work and this place was infectious – I was sold with my first sip, and the story had barely unraveled. When the breeze stopped blowing, we moved to a picnic table under a tree beside the canola fields and the vineyard, and we sipped on (and on, and on), and the snacks kept coming.
"This is lovely," I kept saying, but no better word would come to mind. The whole place was like a deep sigh, in the best possible way.
The rest of the white wines were excellent; my favourite was the Seyval Blanc – it was peachy and clean, the kind of thing you'd drink on your balcony on a hot summer night with a bit of cheese and charcuterie. There were red wines, and they were great too; in winter, I imagine I'd have wanted them all with roast lamb or meatballs, but in summer all I can think about is a cold glass of white. We finished with chocolate and strawberries and sweet Vidal, which is like Ice Wine but they can't quite call it that yet. It would be utterly seductive if drizzled over a bit of black currant sorbet after one of those dinners that goes on long after dark.
Whether you experience those rolling Georgian Hills with your partner as a romantic getaway, or just bring a taste of it home, I am certain you'll fall all kinds of in love. Maybe it was the wine, or the yellow fields blowing fragrant in the breeze, or those fat drops of rain that followed us back to our hotel at the end of our little interlude, but there's something about that place that's going to live on in my memory.