Kale has taken centre stage in the green leafy vegetable aisle at my local grocers. It's touted as a super food and rightly so! Kale is packed with anti-oxidants and anti -inflammatory properties according to my friend and chef Andrew Muto. I tried to serve it to my family the other night replacing our usual go-to green salad but unfortunately they all veto'd the bitter tasting vegetable. It's not so much a taste to acquire but something you probably need to doctor up a bit. Baby Kale is much easier to handle but in both cases, my favourite way to enjoy Kale is either baked tossed with a bit of olive oil and sea salt and eaten like chips. I've also tossed a few leaves into my home-made smoothies.
But back to my friend Andrew. As a "Wellness Chef" he often translates complicated information about food & health into practical recipes that appeal to those with an active lifestyle. He's also the Food Editor for "Sweat Equity" and "Sweat RX" Magazines. I had a chance to ask him a few questions about Kale and why all the hype?
Why the recent craze over Kale?
Andrew: Kale is engulfed with Nutrition from Antioxidants, to Vitamin K. Research has shown it to assist – among other things – in the battle against certain Cancer, high Cholesterol. It is also supports detoxification. People have now discovered it's full benefits when really, the history of Kale shows that since the middle ages people used it as a staple food for nourishment!
How should we introduce Kale to our families? Obviously I did it the wrong way. 
Andrew: Don't make Kale a "weird" food by using outlandish recipes from Gurus on the tops of mountains. Black Kale has been used in Europe for centuries – much in recipes that we are familiar with. In fact, all Kales can be found in cultural diets around the globe. Remember, we're trying to make healthier food choices, but we still need to enjoy the taste of our food. Make it real people!!
Add Black Kale to some of your favourite recipes where it calls for spinach or other greens.
There have been some people who've mentioned that kale is a little harder to digest. Any thoughts on this?
Andrew: All Kale is considered Wild Cabbage (Kale is from the Brassica family). Kale is grown all over the world. In Africa, Asia, Greece, the Netherlands & Italy to name a few places. The kind of Kale we see in the markets today is Scots Kale (Green & Purple) or Curly Kale. These hearty Kales flourish in cold climates (like Scotland). Then there is Black Kale or Lacinato Kale that grows in Tuscany which is more like a dark green almost black cabbage (in fact it's called Cavalo Nero in Italian – black Kale)
If you research, very few if any of these cultures eat the hearty Kale raw. They use Kale in soups, stews, stir fries, sautes, bakes and such. I even tried to get my dad to eat raw Curly Kale and accused me of feeding him "Goat Food!" because in Italy, that's what they fed animals! To this, research shows that heating Kale for 5 minutes actually helps to release more Vitamin K from the deep cells of the plant….more reason to cook it!
Yes, more & more people are having issues with Kale because they are treating it like a delicate salad. You can't just toss Kale. If you insist on eating the tough Kale leaves, let it marinade in lemon & Olive oil for 30 minutes or more….some people even massage the Kale to soften it and make it easier to digest.
The best advice I can give is choose Baby Kale for Salads and smoothies. It's more tender and gentle than the full grown Kale and much more easy to digest!
What's your favorite way to enjoy Kale?
I love mixing Baby Kale in my salad… adding fresh Ontario Yellow Beets, Celery root & other local root vegetables. I will even quickly saute baby kale with garlic and toss it into a plate of Organic Spaghetti with Ricotta cheese & Walnuts!! A typical northern Italian Dish!! Simple and fast
I will also use Black Kale in my stews – adding it in in the last 10 minutes of cooking to retain its nutritional magnificence!!
ANDREW MUTO'S BABY KALE, RED PEPPER, GOLDEN BEET SALAD
This salad combination will super size your iron as it is very high in Vitamin C. Try making this salad your own: use different coloured peppers to give more health promoting Phytonutrients to your beautiful body; use the Super green blend with baby chard, Kale & field greens; If you don't like Apple Cider Vinegar, squeeze the juice of fresh Lemon or even a Blood Orange; Add different types of seeds!
Use your imagination and the tastes of your family to make this recipe your own! Create Healthy Food….your body will love you for it!
RECIPE:  Serves 4-6
Ingredients
2 handfuls of Baby Kale or Super Greens
1 Yellow, Red or Orange Bell Pepper, cut into strips
2 small Golden or Yellow Beets, peeled cut into strips
1 piece Leek, white part, sliced
4 leaves Purple Cabbage, sliced thin
¼ piece Celery Root, peeled slice thin
1 Small piece of Garlic, minced
2 tbsp Apple Cider Vinegar
1 tbsp Extra Virgin Olive Oil
Salt to taste
Pumpkin & Hemp seeds, lightly toasted
Method
Heat a little oil in a pan and toast seeds starting with pumpkin…add the garlic, salt & then Hemp. Let it cool. Add all vegetables in a bowl and toss with Vinegar & Olive Oil. Put in a serving bowl & top with seeds & a little unprocessed salt!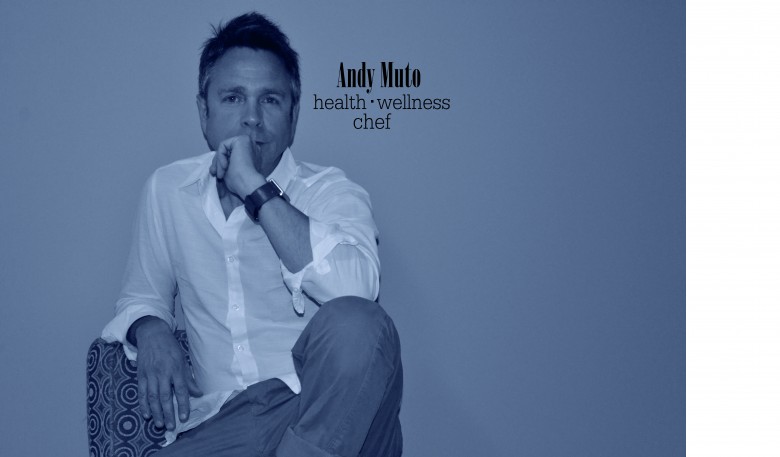 Visit Andrew Muto at his Create Healthy Food Facebook page for more information and more recipes. Andrew also hosts interactive and food demonstrations. You may be interested in his upcoming fun learning event…
"Is Wheat Really Evil?" will serve up a taste of traditional Italian dishes made with whole grains, legume flours and gluten "less" grains.  This event will be held on Tuesday, February 18 at 6:30  pm to 8:30 pm at FORTINOS Woodbridge Community Room (just north of Toronto) . Tickets are $30 per person.  Andrew will demonstrates how to make Spelt & Buckwheat Gnocchi, Organic Pasta with Pistachios, Gluten Free Pizza Crust and Chocolate Mousse. To RSVP called Adriana at Fortinos at 905-851-5642 ext. 120