It's Sunday evening at approximately 6pm. My legs are still sore from running the Toronto Women's 10k yesterday. My eyes feel puffy from too much chlorine and not enough sleep. My head is achy after an afternoon of sun and sangria. My tummy is cursing me for indulging in one-too-many caramel-filled churros at Pedestrian Sundays in Kensington Market.
I quietly tiptoe up to my room for a little nap, hoping that my kids will "forget" about supper. Sadly, this is not the case.
"MOMMY!  WHAT'S FOR DINNER?!? I'M STAAAAAARVING?"
Alas, the show must go on…
Faux Pho
Ok. So I know this is a giant leap away from traditional Vietnamese Pho. But it's quick, it's healthy, it's filling, and it's fun for the whole family.
Ingredients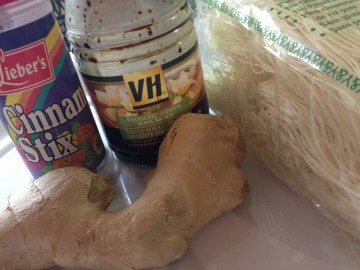 Broth:
6-7 cups chicken or beef broth
1 cinnamon stick
2 dice-sized cubes of fresh garlic
2 tbsp low-sodium soy sauce
1/2 tsp sugar
1/2 pkg vermicelli (rice) noodles
Toppings:
Shredded carrots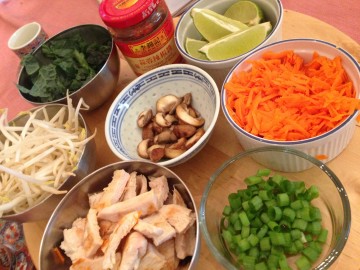 Cooked chicken, diced
Sliced mushrooms
Chopped up greens, such as kale or bok choy
Green onions
Bean sprouts
2 limes, quartered
Garlic chili sauce
…and whatever else you think would rock this dish
Directions
1. In a saucepan, combine the broth, ginger, cinnamon, sugar, and soy sauce. Bring to a boil and then simmer for about 20-30 minutes. This is just enough time to get the rest of your toppings all sorted out.
2. Cook the noodles according to the directions on the package. When cooked, put about a cup into each serving bowl.
3. Bring the soup back up to a boil and then ladle over the noodles.
4. Serve and garnish as you wish.
5. Slurp and relax, knowing that once again Supermom came to the rescue.