We're counting down the weeks to spring and some of us are really hoping it comes soon! We're envious of the West Coast where flowers are already starting to bloom. But when I think of Spring I'm often daydreaming to the streets of Paris. What is it about that city?
I had dropped off some macarons to Shoana Jensen the other day and we started chatting about Paris. You may recognize her as the Lifestyle Expert on the very popular television show CityLine. She's as lovely in person and always full of energy. I love her segments on CityLine as she always brings viewers thoughtful and inspirational ideas. I often bump into Shoana at events and she's totally fun! But we started talking about travelling and …oui, Paris. Le Sigh.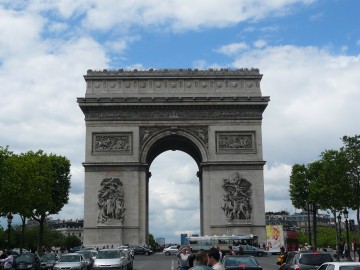 When was the first time you had visited Paris and what left an impression on you?
I went to Paris with my hubby in 2009. Without a doubt the city is fabulous – architecture, art, history, shopping, food… but wine was our thing!
If you had a week in Paris, what would you do?
All of the obvious tourist things are boring to suggest. I would definitely say making the quick train day trips to Versailles to see the palace and Epernay to see the Champagne houses are a must do!
Any favourite movies set in Paris that you love?
I am sure there is but I just can't recall one… my hubby loves National Lampoon's European Vacation… so I'll say that! Ha ha!!
Why do you think Paris is often called "the city of love"?
Even though it is a big city, everywhere you go it always seems intimate… perfect for stealing a kiss!
Foie Gras, Croissants or Macarons?
It's a toss up between Croissants and Macarons… they taste totally different in Paris than they do anywhere else. I am not saying better necessarily… just different!
First three words that come to mind..to describe Paris?
Wine, beauty & history.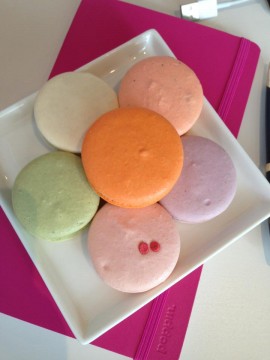 So, what if you can't get to Paris? She's inspired me to bring a little Paris home! I'm not going to give away any of her tips but you should tune into CityLine next Tuesday, March 11th at 9:00 am and 4:00 pm! You may just catch me in the audience as they talk about fusing food with travel!
Visit www.cityline.ca for more details on upcoming shows!
By the way, I've been asked once again to be an Official Macaron Day Ambassador for Toronto! Macaron Day is March 20th, 2014 and is celebrated around the world in cities like Paris, Melbourne, New York, Montreal, and others! You can follow my macaron addition adventure on twitter and instagram at @theculturepearl 'cause you know I WILL represent!
Visit www.macarondayTO.com for full details. Free macarons will be offered by participating patisseries across the city. Donations and part proceeds of Macaron Day Toronto sales will go to the Red Door Shelter.
Big thanks to CityLine and Shoana Jensen for this fun interview…and thanks to Butter Avenue for providing macarons for the show segment!