It's Spring Break in Ontario, which means half my Facebook feed is friends and family posting about sunny days, beaches and hot temperatures (those I choose to ignore). The other half of my friends are posting about sugar shacks and maple syrup festivals. Those I enjoy. As a family, we've  enjoyed many a trip to the maple syrup farms around us, and this year's long, cold winter promises a fantastic harvest.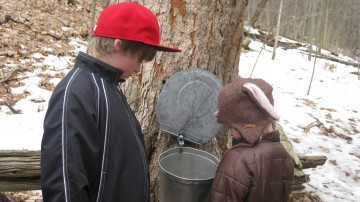 The sap is running and Canadians love their maple treats. Here are some fun maple facts for you.
Canada is the world's largest producer of maple syrup, making maple a truly representative taste of our country;
Maple syrup is a pure, natural food made through a simple, traditional process with no additives;
Maple syrup's distinctive flavour is developed during processing by using a careful reduction process that intensifies the flavours of the natural sugars in the sap;
Some of the common characteristics used to describe maple can include brown or burnt sugar, caramel, toasty, woody, malty, sweet and slightly smoky;
Like Canada's other signature products – ice wine and whiskey – some maple producers are taking an artisanal approach to making maple syrup in small batches and even maturing it in bourbon barrels like a fine spirit.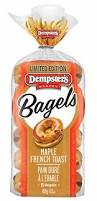 If you won't make it to a sugar shack yourself, there are still ways to bring that maple flavour home with you. Dempster's has just introduced a limited edition Maple French Toast Bagel, available at major grocery store chains across Canada and retail for $2.97 – $4.99 each.
Our family loved the Dempster's Maple French Toast Bagels on their own! Simply toast them to achieve a crispy outside, with a fluffy inside; or take it a step further and spread with a little (salty) butter for that sweet-savory combination that so many Canadians love. Other ways to build on the sweet/savory combo at breakfast would be to add another bagel topper such as:  Peameal, bacon or ham, sliced aged Cheddar, thinly sliced tart apple, peanut or almond butter or cream cheese (blended with a little bit of cinnamon).
They're available only until May 22, so enjoy them now!