What do you use your microwave for? Immediately reheating leftovers, defrosting, and making popcorn comes to mind but how often do we use the microwave for cooking. Most of us have dabbled in the past with cooking but realistically, I had tried several times and found it took more time to determine the cooking time than I would like to admit to. Most microwaves also give us uneven cooking and reheating situations with hotspots or dried out edges.  That's a worry for me. I don't need the hassle and worry about partially cooked food. So, I haven't used my previous microwave for those reasons. But earlier this year, Panasonic introduced the latest innovation with the Cyclonic Inverter Microwave – the first in 20 years! I had first taken note of it when I saw some buzz about it at the Consumer Electronics Show in Vegas earlier this year.
What's the difference? The most noticeable change and worth learning about is this: traditional microwaves radiate energy in straight lines and are unable to reach all food surfaces evenly. With the new Cyclonic technology the microwave energy is gently and evenly delivered in a circular pattern which gives better cooking results.
I was recently offered to test this new microwave first hand and this is why I've recently made the upgrade…
It can actually cook meals from start to finish. Yes, from appetizers, main dishes, sides and desserts! I've been treating it like a second stove or oven especially when I've got a few dishes going and when company is coming over. Thanksgiving was a real test.  It's on these days that I use to wish I had a second stove or oven to deal with all the side dishes.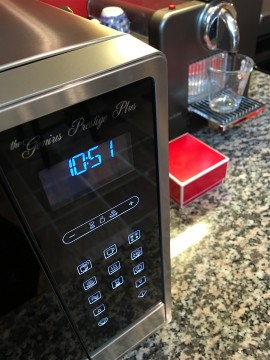 You may never consider putting fish or chicken into your microwave! Say what? We often don't think about cooking in a regular microwave. Have you tried? Things get rubbery and tough and blah. But with this Panasonic Cyclonic Microwave you actually get a moist and tender dish made quickly (in the case of chicken, the texture is more like braising). No one will believe you made the dishes so quickly in a microwave. The actual cooking space can also accommodate larger dishes when you're making something like a sweet potato casserole for 4 to 6 people.
The updated Genius Sensor is hands-down my favourite feature of this smart microwave. Programmed in are 20 most common foods like quinoa, omelettes, oatmeal, rice, potatoes, soup, and yes, leftovers. The sensor will also beep and tell you when and if you need to stir as long as you have the proper ratio when popping in. I tested out the rice feature and it turned out perfectly. Bonus: cleaning up is way easier than a pot on the stove.
No more hot and cold spots! The Cyclonic technology cooks food evenly all around. So, no more worries of dishes unevenly cooking and cooling off too fast! Dishes retain heat remarkably well. That rice I had cooked in there? It was done 10 minutes ahead of the rest of my meal and I let it sit inside the microwave until we were ready to eat. When it was time to serve, it was still hot. By the way, there's a Keep Warm function that is also handy for people like me who have a hard time keeping food warm while I finish up the rest of the meal or waiting for the family to get to the dinner table ready to eat.
More energy efficient. Not only does it prepare meals faster and doesn't use much energy to warm up,  this microwave uses LED lights making it more energy efficient. Regular microwaves use halogen lights.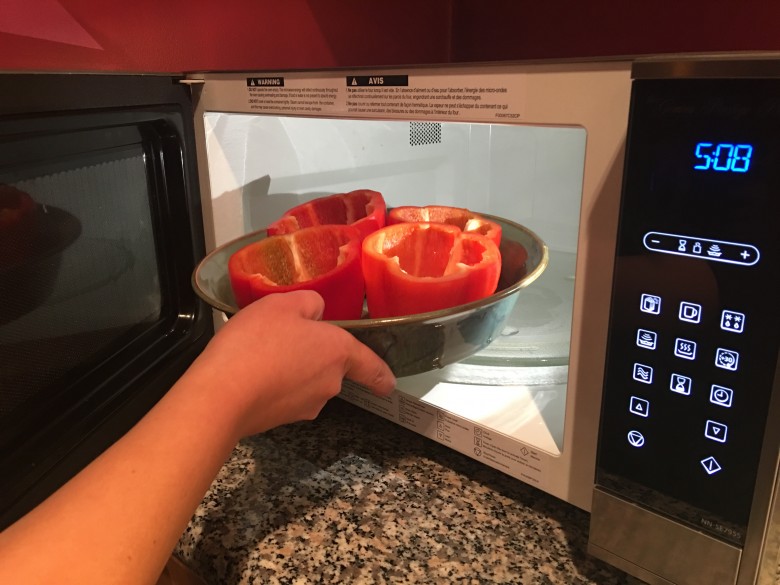 You can still adjust your power levels and times for whatever your needs and preferences.
I've been playing around with the new microwave and experimenting with recipes made from scratch. Yes, it was fast and easy to make a sweet potato casserole, rice, and desserts like this season's best fruit crisps. For sure you can still make dishes on your regular stove/oven but with the Cyclonic, it saves you time and delivers you fast and fresh goodness—it's like having a kitchen assistant! You can get more details and specifications at Cookwithcyclonic.ca
Recipes to try…
Warm Chai Spiced Steel Cut Oatmeal (1 serving)
A warm bowl of Oatmeal is perfect and not just for breakfast! It's a great after school snack before the kids head out to hockey practice and easy to switch up by adding your own favourite fruit, dried fruit, coconut, chocolate chips etc. Versatile and simply done in a pinch for those days of rushing around. Chai spices warm up your senses and a twist on the usual.
Ingredients:
1/2 cup steel cut oats
2 1/2 cups boiling water
pinch of each ground cardamom, ground cinnamon, ground coriander, ground turmeric
1 tsp honey (extra to taste if desired)
2 Tbsp milk
1/4 tsp vanilla extract
Optional toppings: candied ginger, fresh pear, raisins
Directions:
In a microwave safe bowl stir together oats and water. Cook uncovered on MEDIUM-HIGH for 15 minutes.  Remove from microwave and stir.
While hot, stir in milk, honey, vanilla and spices.
Top with favourite toppings and a touch of cinnamon if desired. Serve warm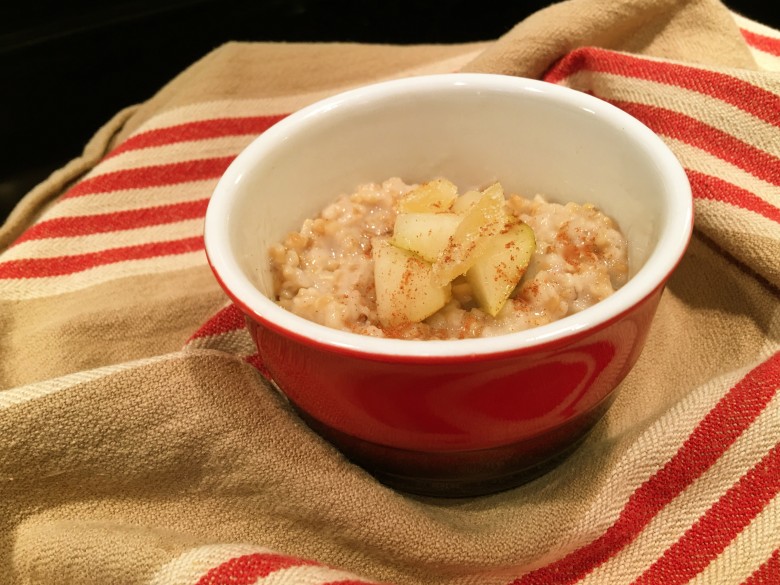 Mexican Inspired Hot Corn Stuffed Red Pepper (serves 4)
Street food is very trendy now as we are discovering more global food offerings. This Mexican inspired corn dish is an easy side for everyday or for entertaining. It's colourful and tasty.
Ingredients:
4 red bell peppers, top cut off, seeds removed (remove the stem and dice up the discarded red pepper part for mixture)
2 cups fresh or frozen corn (if frozen, quickly defrost for 30 seconds in microwave)
3/4 cup cherry tomatoes, halved
1/4 cup onion, chopped
1 tbsp butter, melted
1 tbsp chipotle hot sauce or 1/4 tsp cayenne pepper
salt and pepper to taste
lime wedges
1/2 cup finely grated cojita cheese (or finely crumbled feta, or asiago, or parmesan)
1 tbsp cilantro, chopped (garnish)
Directions:
Prepared red peppers in a microwave safe casserole dish. Microwave on HIGH for 3 minutes. Remove from microwave. Drain any excess moisture and pat dry. Return to microwave dish.
In a separate bowl, toss together corn, diced pepper, tomatoes, onion, chipotle hot sauce, salt & pepper and butter.
Carefully spoon corn mixture into hot red peppers and return to microwave and cook for an additional 2 minutes on HIGH.
Remove casserole dish from microwave and squeeze in fresh lime to taste. Top with a teaspoon of cheese (or mix it in) and garnish with cilantro. Serve immediately.
Tropical Fruit Crisp (4 servings) 
Cooler temperatures are upon us and we love a little tropical reminder to get us through the fall. The good thing about fruit crisps is you can experiment with various fruits and what's in season. Apple and cinnamon crumbles, pear and ginger, they are all good. This one is created by Abbey Sharp and I had first tried it in her kitchen. I quickly went home to recreate it and it's a family favourite. I use individual ramekins for individual presentations.
Ingredients:
Filling:
1 cup pineapple, finely diced
2 banana, sliced
4 cup ripe mango, diced
2 tsp butter, melted
2 tsp coconut sugar
2 tsp whole wheat flour
pinch each of cinnamon, nutmeg and lime zest
Topping:
2 tsp ground flax seed
8 tsp coconut sugar
4 Tbsp rolled oats (large flake)
4 tsp whole wheat flour
4 Tbsp unsweetened flaked toasted coconut
4 tsp butter
pinch each of cinnamon, nutmeg and lime zest
Non-fat or low fat Greek Yogurt (or coconut or vanilla bean ice cream) for serving if desired.
Directions: 
In a small bowl, mix together the filling ingredients. Transfer evenly to four small microwave safe ramekins.
In a bowl, mix together all the topping ingredients. Sprinkle on top of the filling. Place in microwave and cook for 3 minutes on HIGH. *Note: you can always adjust cooking time based on your personal preference. That 30 second button comes in handy if you prefer a hotter dish!
Serve warm with, or without, a dollop of yogurt or ice cream on the side.