A good salad is a symphony of flavours and textures and Canadian Living: 150 Essential Salads has rounded up the best of the best. This Crispy Tortilla Ancho Chicken Salad has a serious kick! Substitute chili powder for the ancho chili powder for more sensitive palates. Or serve it with a side of sour cream to cool things off.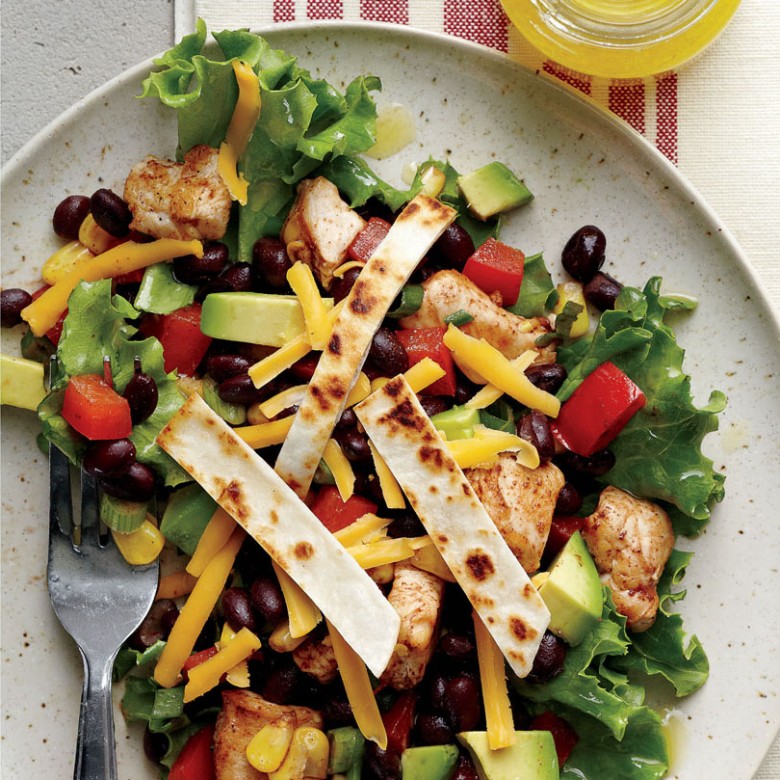 Ingredients
3 small flour tortillas, halved and cut crosswise in ½-inch (1 cm) wide strips
1 tbsp vegetable oil
450 g boneless skinless chicken breasts, cut in ¾-inch (2 cm) cubes
1 sweet pepper, chopped
2 cloves garlic, minced
1¼ tsp ancho chili powder
¼ tsp pepper
Pinch salt
1 cup rinsed drained canned black beans
½ cup frozen corn kernels
2 green onions, chopped
1 tbsp lime juice
4 cups torn leaf lettuce
½ cup shredded old Cheddar cheese
1 avocado, pitted, peeled and chopped
Honey Lime Dressing:
3 tbsp olive oil
2 tbsp lime juice
2 tsp liquid honey
Pinch salt
Directions
Toss tortilla strips with 1 tsp of the oil. In large non-stick skillet, cook strips over medium-high heat, tossing often, until golden, about 2 minutes. Transfer to bowl.
Add remaining oil to skillet; cook chicken, sweet pepper, garlic, chili powder, pepper and salt, stirring often, until chicken is no longer pink inside, about 4 minutes.
Stir in beans, corn, green onions and lime juice; cook until warmed through, about 3 minutes
To make the honey lime dressing, in a large bowl, whisk together oil, lime juice, honey and salt.
Add lettuce to dressing; toss to coat. Spoon chicken mixture over lettuce mixture; sprinkle with cheese and avocado. Garnish with tortilla strips.