I don't know what it is about fish tacos. I am completely obsessed with them. It maybe because I have fond memories of breezy warm travels to southern California or on some tropical island in the Caribbean enjoying them surfside with a icy cold bevvy.
I can still picture the mouth-watering dish at a sea side grill in Turks & Caicos. With the pretty and unhurried beach and impossibly blue waters serving as a backdrop, I remember thinking that this was the ultimate moment in paradise.  We went back to the same restaurant three times!
Here at home I crave the fish tacos at local spot Gourmet Gringos, my favourite food truck company that became so wildly popular that they've also opened a couple restaurants. Here the fish tacos are next level. Lightly battered with the right crispiness and a hint of spice.
Then the El Catrin in the Distillery District  had me at hello with their recipe. I don't ever have a desire to stray from the fish tacos at these two restaurants at home. Yes, they are THAT good!
My kids love fish tacos as well.  So, we tried out Jamie Oliver's Brilliant Fish Fillet Fingers made with Alaskan Pollock and we found a fun and easy way to make fish tacos at home!
CRISPY FISH TACOS (Serves 4)
Ingredients:
8 Jamie Oliver by Findus Frozen Brilliant Fillet Fish Fingers
4 soft flour tortilla shells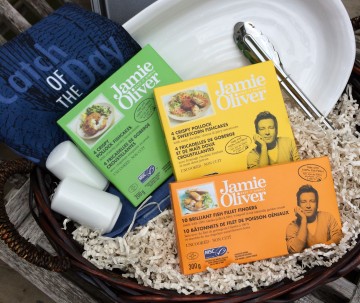 1/2 cup shredded green cabbage
1/2 cup shredded red cabbage
1/4 cup slivered carrots
1/4 tsp cayenne pepper1/2 cup of mayonnaise
1/4 tsp ground cumin
salt and pepper to taste
Optional: chopped green onions, thinly sliced jalepeno peppers (seeds removed)
Instructions:
1. Bake fish fingers according to packaging.
2. While fish is baking, prepare the slaw. Toss together shredded red and green cabbage and carrots in a medium size bowl.
3.  In a small bowl combine mayonnaise, cayenne pepper, ground cumin, salt and pepper and mix well.
4. Add sauce mixture to cabbage and coat evenly.
5. Warm up soft tortillas in microwave when fish fingers are fully baked.
6. Break up the cooked fish fingers with a fork into pieces while still warm (or leave intact if desired)
7. Assemble fish tacos with fish fingers and  cabbage mixture. Squeeze a bit of lime if desired!
Option: My older son has an infinite love for Sriricha hot sauce and mixes a tablespoon of mayonnaise with a ¼ tsp of Sriricha as a condiment. You can use this sauce to mix this sauce with your slaw instead of the above for a more "east meets tex-mex" flavor.
SIDE SALADS: Easily put together your own salad or if you're having guests over and want an easy to prepare but a beautifully presented salad try this: Layered Corn, Black Bean & Rice Salad or this Avocado Corn Salad 
A recent study conducted by The Canadian Aquacultural Industry Alliance reports that, on average, Canadians consume just 101g of fish or seafood a week. This is almost a full serving short of the Canada Food Guide recommended two 75g portions of fish or seafood a week.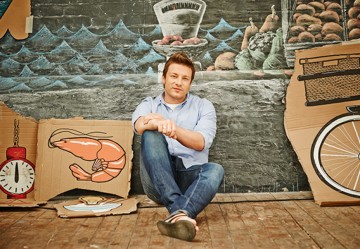 Why did I use this particular brand of fish products? Jamie Oliver is challenging Canadians to eat more fish with the release of his new  delicious and "ethical" fish products available at Sobeys in Canada.  Made with Marine Stewardship Council (MSC)-certified Pollock, Jamie Oliver's line includes: Crispy Pollock Fishcakes, Brilliant Fish Fillet Fingers and Crispy Pollock & Sweetcorn Fishcakes.  When it comes to fish in Canada, Alaska Pollock often swims under the radar. The mild, white-fleshed fish is high in protein, low in fat and contains heart healthy omega-3 fatty acids.
For yummy recipes by Jamie Oliver, visit sobeys.com 
Oh…the fish cakes are great too! We made these and they are perfect as a snack, appy or a meal!