Cravings are mysterious and powerful things. The other day my daughter came down to the breakfast table, and when I asked her what she felt like eating, she looked at me quizzically and said, "What I really feel like is chicken wings." She didn't get chicken wings for breakfast, but it did make me realize that with the start of school and hockey seasons, maybe she needed an amplification in protein in her diet.
I really think the crazy cravings we have are our body's way of telling us what's missing in our day to day consumption. My mother tells the story of having been quite ill for some time when she was younger and by the end of her convalescence she craved raspberries so badly that she ate an entire pint at one sitting. Again, her body must have needed the Vitamin A or C that comes in those berries.
Lately my cravings have been running towards the veggie end of the spectrum. Summer's barbecues have given me my share of steak, ribs and burgers. I've more than indulged in baked potatoes, pasta salads and flat bread pizzas. I think my body is telling me that I need to tip the scales (so to speak) and get more vegetables into my life, so I find myself dreaming and craving Greek salads, roasted beets and my new favourite recipe, Spicy Blacked Corn Salad.
When I'm out and about, it's harder to find those vegetables I crave. There may be a sad looking tomato on my burger, or a piece of iceberg lettuce on my chicken sandwich, but there are few options that load me up with vegetables… until now.
McDonald's Canada has recently added two new meatless options to its menu; the Signature McWrap™ Mediterranean Veggie and Santa Fe Veggie.
I sat down recently to taste test both and was quite impressed. The Mediterranean Veggie is jam packed with roasted garlic hummus, feta cheese, tomatoes, cucumbers, red onions, shredded iceberg lettuce, lemon-seasoned crispy onion seasoned with lemon and a creamy Mediterranean feta sauce. Eating this was like biting into a Greek salad in a wrap and I was pleasantly surprised by the intensity of all of the flavours. This isn't token feta cheese; this is a key component of the sandwich.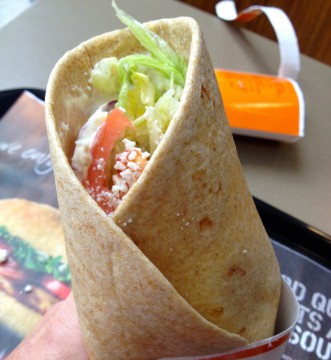 The Santa Fe Veggie is made with fire-roasted corn, black beans, a blend of light cheddar and Montery Jack, tomatoes, red onions, shredded iceberg lettuce and crunchy tri-colour tortilla strips, mixed with chili lime glaze and a Southwest sauce.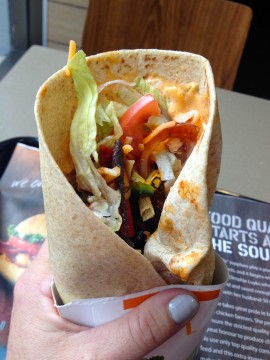 Both wraps deliver on taste big-time and the other pleasant surprise is how they offer a substantial meal. Not little snack wraps; these were big enough that I'd have trouble finishing one at a single sitting and it would certainly satisfy me for an entire afternoon.
The new veggie Signature McWrap™ is priced at $4.39, presenting real value for the amount of vegetables you get. It is alsoserved in an innovative package that makes iteasy to eat on-the-go by tearing off the top and eating right out of the box and my van (which operates as a dining room during hockey season) says thanks!
I'll definitely order one of these the next time I'm at McDonald's. Of the two, I liked the feta in the Mediterranean, so it was my favourite. I know they're a good way of getting the veggies I'm craving into my diet. Now if only I could figure out what my constant craving for Cheetos means that I'm missing in my diet. Perhaps I need to download some old time Britney Spears songs?!
This post is sponsored, but all opinions are my own.