Are you like me? Can't start the day off without enjoying a cup of coffee? I usually wake up to the aroma of a fresh brew as hubby gets up earlier than I do. It's a comforting smell that is much more effective on me than any alarm clock.  I love a full-bodied coffee, or like hubby says, "the one that can grow hair on your chest," and I'm learning more and more about one of the world's most consumed beverages. But a few questions came into mind recently. Do I actually taste the coffee? And, have I ever thought about where coffee comes from or the process of getting it from farm and into my big mug?
Recently, I was introduced to Ethical Bean Coffee while visiting one of the gifting lounges during TIFF and then met with them personally as I was interested in learning more about their …ethics! Ethical Bean is a Vancouver based company that is committed to not only  sourcing fine coffee beans, but are also committed to social responsibility, global awareness and environmental accountability.
Lloyd Bernhardt and Kim Schachte opened their eyes to a new world when they first visted Guatemala in 1999 during an adoption process for their daughter. While on this journey, the couple fell in love with the people and their culture. They met with farmers in the coffee industry and were inspired to do something to better the lives of the families in the coffee industry.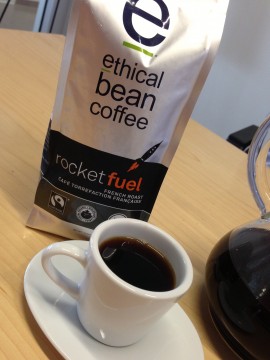 In 2003, the couple launched the Ethical Bean Coffee company from their home city in Vancouver.
Bernhardt recently travelled to Toronto to meet with media in a one-on-one interviews. This alone speaks volumes for the care in which this company takes. Each interview included a fresh brew of coffee from their selection as well as a "bespoke" cup made by the company's certified coffee specialist, Aaron De Lazzer.
"We strongly believe in fair trade and we are a transparent company," Bernhardt says. "When you purchase, and enjoy our coffee, and it's really great coffee, you know that the people harvesting the beans can support their families, and  that's important to us. We want to know that they are taken care of. When you're buying organic it's not only for your health, but for the health of the farmers in the fields. You know that they aren't being exposed to chemicals. Their health, and the health of their environment, is positively taken care of. At the same time we pay a fair price for the coffee and that's important to us."
Aaron De Lazzer is Canada's first Certified Q Grader and coffee expert and with over 16 years of experience he explains the process in which he selects which coffee beans make it into the Ethical Bean Coffee's roasters. I was surprised to learn about "cupping" with Aaron. No, it's not THAT kind of cupping. But it's what professional coffee tasters do when they are critically tasting and evaluating coffee. It's his job. Cupping is experiencing and tasting the coffee and, according to their website, "happens behind closed doors". No distractions are allowed. No phones. No scents. The cupping ritual is something that is taken whole heartedly and with a calm state of mind and body.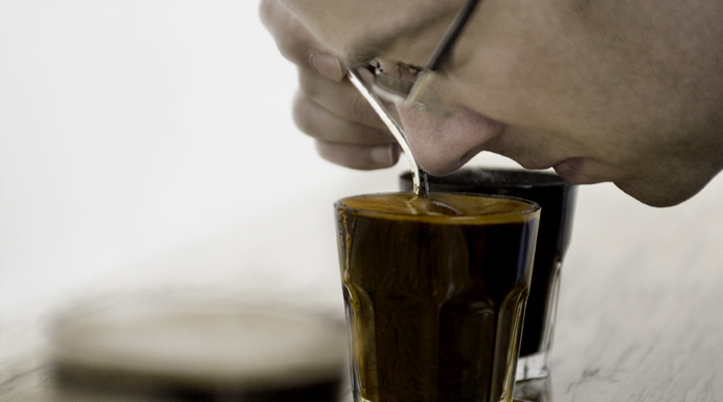 "It's very much like wine tasting, there's a lot of spitting and smelling," explains De Lazzer. But it's also a very simple process that doesn't require much more than the fresh roasted beans, fresh ground, a kettle, and water.
At the interview, we ran a standard machine brew that we would have at home with Ethical Bean. Slowly the room filled with that fragrance of delicious coffee that makes me want to just curl up with a blanket and read the morning newspaper. I selected the RocketFuel beans — well, you know, I'm that kinda girl.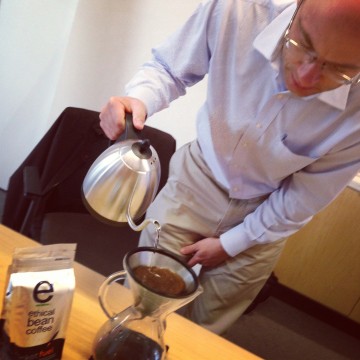 The second brew was a "bespoke" cup made using a Chemex coffee maker. Aaron carefully crafted in the handblown water kettle. This carafe like kettle was invented in 1941 by Dr. Peter Schlumbohm PhD. a chemist who originated from Germany and eventually settled in New York. Schlumbohm designed the water kettle using non-porous glass and today is still used by coffee lovers around the world. I watched Aaron craft the coffee and it was an art in itself. The Chemex requires a bit of patience but the end result is truly delicious and worth it!
Taking the time to enjoy and taste really great coffee was a real treat for me on this day. It's even better knowing that this company follows through with what ethical really means.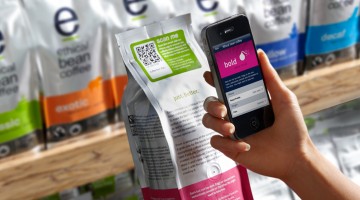 Oh… one more thing, I wanted to mention that they have an Ethical Bean Coffee iPhone app that you should check out. When the company says they are fully transparent in their ethics, they really mean it! Each bag of coffee includes a QR Code that will tell you not only about that particular roast, but it trace the origins of that specific bag. It includes where the beans are from, certification so you know that the bag is 100% fairtrade and organic, and other great information.
For more information visit their website at Ethical Bean Coffee
I'm curious to know… how many cups of coffee do you drink each day?
I'm usually 2 or 3.
If you've ever wondered what it means to the people who harvest the Fairtrade, organic coffee beans. Here's a quick video clip with one of the farmers who supply Ethical Bean.
[youtube id="B7gGky01TIA"]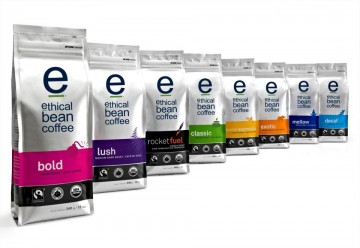 This post is not sponsored, nor was I compensated. As always, all opinions expressed are my own. This experience really made me think about the coffee I'm consuming each day and where it truly comes from. Speaking of… going to brew one now!