The blue sky and white buildings and the big blue sea. That's the image I get when I hear Chef Peter Minaki speak about his motherland. It sounds totally perfect right now, right? This creeping up of winter air has me wishing for warmer weather already!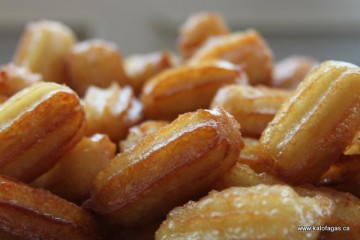 Chef Minaki gave us a taste of the Mediterranean, literally, at the recent launch event for his cookbook EVERYTHING MEDITERRANEAN. And like any good Greek cook, we didn't leave hungry. That glorious night had my taste buds doing the happy dance as dish after dish stopped in front of my hungry eyes. Chef Minaki offered up fresh dolmades, lamb appetizer meatballs, comforting pumpkin soup, Touloumbes (think churros drenched in honey) and well, you get the picture. It was an endless parade of yummy goodness that I couldn't wait to make at home!
I had a chance to speak with Chef Minaki after his emotional evening. That's what I love about this culture, no holds barred when it comes to emotions! His parents were there and tears of joy were flowing.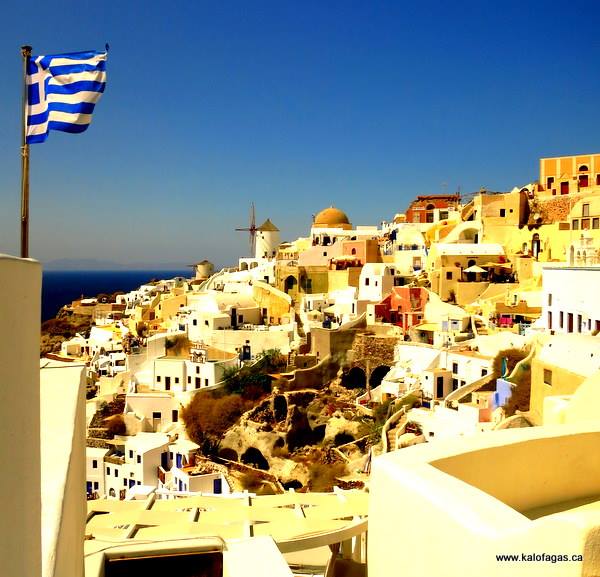 What do you want people to know about Mediterranean cooking?
We all know it's healthy, lots of olive oil used, little cream and fresh, seasonal ingredients are key. Look beyond souvlaki and spanakopita and try something different. Greeks love lamb, we love whole fish, and we enjoy vegetarian main courses and we eat lots of cheese.
You had mentioned that when you cook, there's sometimes no measurements when it comes to creating the dishes — it's more traditional cooking by taste/eyes, like many other cultures. Can you share some of those fun greek cooking terms with us?
Well, getting exact measurements from my mom for baked goods was difficult. I would ask her how much flour was needed and her reply would be, "as much as needed". She was wrong and she was right. She doesn't need measurements as bread and other recipes with flour are about the feel of the dough. A talent that one has to hone. She was right in that flour measurements can vary, depending on how dry or humid it is that day and even different flours behave differently.
What are your personal favourite Greek dishes, that you can't get enough of?
Slow-roasted leg lamb for Sunday dinner, Dad's Rice Pudding.
What did your mom/dad teach you about eating and/or cooking ?
Have fun when you cook and cook what you want and hopefully others will like it too! Even in these busy times when it is hard for the family to eat together, try to assemble your family for at least Sunday dinner and invite an a friend or two to join the family for dinner. Sunday dinners are relaxed, you can indulge and they can go on for hours!
For someone who's never been to Greece, where would you recommend to go/see/do?
Athens is the obvious place the to start…the capital and heart of the country but then head to the mountains, visit wineries, go to seaside towns where there is never any doubt that you are eating the freshest fish and seafood.
Visit museums, go to the farmer's markets, look at what the locals are eating and try some of that. Look for open kitchens where specials of the day on offered on a hot table.
Favourite restos in Toronto (when you're not cooking – Greek or otherwise)
I enjoy visiting Holychuck Burger, Megas Restaurant on the Danforth and Carmen's for Tapas.
Tell us about your supper club (where/when they happen)
My Supper clubs happen at various venues in the city. Some more intimate dinners are at Aphrodite Cooks studio and lately I've held some dinners at the Burroughes Building on Queen west. My Greek Supper Clubs offer guests authentic regional Greek cuisine.
GYPSY'S BREAKFAST Serves 8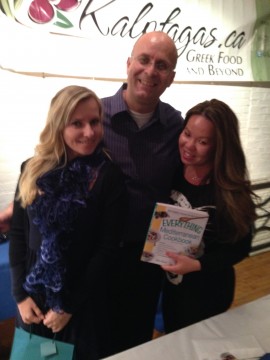 INGREDIENTS:
1 cup diced cured sausage
1/4 cup water
3 large potatoes, peeled and diced
1 large onion, peeled and sliced
1 large green bell pepper, stemmed, seeded and sliced
1 large red bell pepper, stemmed, seeded, and sliced
1 teaspoon smoked paprika
3/4 teaspoon salt, divided
1/2 teaspoon pepper
1/2 teaspoon fresh thyme leaves
1 cup grated Graviera or Gruyere Cheese
4 tablespoons extra-virgin olive oil, divided
8 large eggs
1. In a large skillet over medium-high heat, add the sausage and water. Cook for 3 minutes or until the water evaporates and the sausage is crispy. Add the potatoes and stir to coat them in the sausage drippings. Reduce heat to medium and cook for another 5 minutes.
2. Add onions, peppers, and smoked paprika. Cook for 3 more minutes. Season with 1/2 teaspoon salt, pepper, and thyme Reduce heat to medium-low and cook for 10-15 minutes or until the potatoes are fork-tender. Sprinkle them with cheese and take the pan off the heat. The residual heat will melt the cheese.
3. In another skillet, add 2 tablespoons oil and fry each egg to your liking (sunny-side up or over-easy). Season the eggs with the remaining salt.
4. To serve, place a scoop of the vegetables onto each plate and a fried egg on top. Drizzle with remaining oil. Serve hot.
Note: Use your favourite sausage, vegetables, and cheese. This hearty breakfast goes well with a smoky Spanish Chorizo.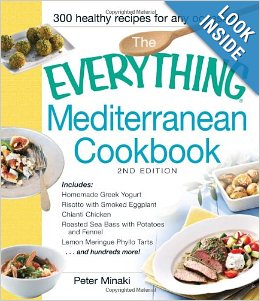 **This recipe was provided with permission by Chef Peter Minaki from his book EVERYTHING MEDITERRANEAN 2nd Edition.
You can check out his website at Kalofagas.ca
By the way, you'll definitely want Chef Minaki's recipe for a GREEK MESS!
Oh, and I just realized that he's also available to cook in your kitchen for dinner parties! You know what I'm thinking? ….hmmmm!!!!
EVERYTHING MEDITERRANEAN 2nd Edition is available at Chapters Indigo and online at Amazon.ca