Hanging out at the amazing Delicious Food Show in Toronto recently was definitely a fun time and good thing I went hungry! The morning media breakfast created by the amazing chef Rob Gentile and Buca Restaurant not only tantalized our eyes but also filled our bellies! There was an entertaining roster of celebrity chefs including Mario Batali, Tyler Florence and Chuck Hughes. It was interesting to find out more about their personal lives.
Mario Batali was raised in Seattle but attended school in Madrid to study Spanish theatre of all things! Soon after graduating, he enrolled in Le Cordon Bleu in London for his first formal culinary training but after a few show months, he withdrew to apprentice with London's legendary chef Marco Pierre White. Subsequently, he did intense training in Northern Italy and learned the essential skills of traditional cooking before returning to America to establish what has now become the Mario empire of eateries and markets including 10 restaurants in New York, 4 in Las Vegas, 2 restaurants in Singapore… the list goes on. His bright orange Crocs are firmly on the ground and definitely have him running.
For over 15 years, Chef Tyler Florence is known for hosting Food Network's Food 911, How to Boil Water, Tyler's Ultimate and The Great food Truck Race. This writer, chef and TV personality was born in South Carolina and started in the restaurant business washing dishes when he was 15. Florence told Travel and Leisure magazine, "The chef was a god to me: He drove a Harley, and women stopped by to see him every night. I thought, 'that's what I want to do.'" Then as teen, a trip to Paris opened the doors further and inspired him to become a chef, one of the most celebrated chefs in the world in fact.  In 2003, People magazine named Florence the "sexiest chef alive." (No kidding!) In 2011, Florence published the book Start Fresh: Your Child's Jump Start to Lifelong Healthy Eating in an effort to inspire parents to cook fresh food for their kids.
Chef Chuck Hughes is familiar to many Canadians as the charismatic host of Food Network's Chuck's Day Off also shown on the Cooking Channel in the US. This French-Canadian chef is co-owner of Garde Manger and Le Bremner located in Old Montreal. He's also hosted a travel and cooking shows Chuck's Week Off: Mexico, and Chuck's Eat The Street, where he travels the world in search of great foods. This tattooed chef (yes, you'll find a lemon meringue pie, lobster and bacon on his arms) enrolled in culinary school and started working in some of Montreal's hottest restaurants before taking the leap of faith and opening his own with his best friends. Interesting fact, the defining moment of his career was the year when he walked into New York City's Kitchen Stadium and became the youngest Canadian chef to win Food Network's popular Iron Chef America. He also became the only Canadian chef to beat the legendary Bobby Flay — his secret ingredient was Canadian lobster!
So, what were we curious to find out when these well-known chefs gathered at the Delicious Food Show? How do we get our kids interested in exploring foods and what they feed their own kids of course!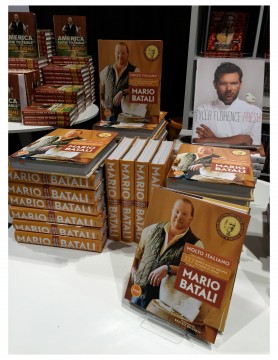 Chef Mario Batali passionately suggests to us parents to get the kids to invest a little more time and get involved. Take the kids along to the farmer's market, the fish market or the butcher to learn and see where food comes from. "Don't just take them to the kids' sections but expose them to the people who are behind the counter," said Batali. "Then you'll find they will be intrigued by it and it's different look from what they may be use to. Then go home and find a recipe to cook together. You can start as easy as apple sauce. Identify colours and variety of apples and they'll start to see the vast picture and the potential and capabilities of food. If their in the kitchen with you and involved in the process and in the market they will be more intrigued. Their curiousity will encourage them to try new foods if they are involved."
Batali also suggest that we don't fall into the trap of getting our kids to only choose from the kids' menus, but let them experience other options in restaurants. "I don't offer a kids' menu in my restaurants because I can't stand chicken fingers as their only out," said Batali. "I mean I love chicken fingers but don't just let them choose from the child's menu but allow them to be a part of the larger experience."
He recalls his younger son, Leo growing up and there was a traditional dish which is considered "gifts of the chicken" which was everything other than the breast, leg, and thigh. "When you asked him at age 12, 'what's your favourite thing to eat?' he wasn't going for shock value, but he would actually say testicles! It definitely separated him from the other kids that had peanut butter sandwiches every day," said Batali.
Chuck Hughes, who's a father of a teenager, mentioned that his son, who has travelled the world with him ever since he was young, was exposed to many different dishes. "We would spend our summers travelling together. One summer we just packed our bags and headed to the South of France and just seeing, touching and eating without a question, has transformed him to a fine young man who's not afraid of any menu, cooking or dish whatsoever. Because of that, I think I've done my job," says Hughes.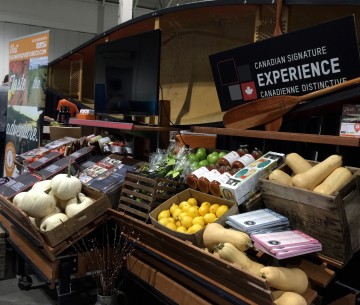 Hughes goes on to tell us that we have to put our foot down and understand that we are in control of our kids' nutritional well-being. That could even mean getting rid of desserts if that's becoming a crutch during meal time. "Children learn to exploit your patience and they do it really, really well. They know if they can stall, whine, and complain, you'll eventually cave and give them what they want, right? You know they are adorable and they can pull your heartstrings," said Hughes. "But make them finish their meal and give them the option. Let them know there's nothing else for dinner, no other food, no dessert and they can have what you're eating right now or choose to leave the table so the rest of the family can continue eating." Hughes says that this tactic has worked for his family because eventually his kid understood that he's hungry and will return to the table realizing that dinner isn't so bad after all.
Hughes also agreed with Batali about restaurants and kids' menus. "If you only let them choose hot dogs, chicken fingers and french fries that's all they are  going to want for the rest of their lives. Introduce them to other dishes and vegetables and put your foot down and know you're doing the right thing."
Tyler Florence has a 9 month old so he laughs as he mentioned that his baby really doesn't have much to say about what he's eating. "These past nine months have been great as I've started cooking at home," said Florence. "I was always a can of sardines kind of guy at the end of the night of cooking. So, I'm starting to learn my own kitchen and cooking without salt, butter and olive oil and really cooking all-natural food and rediscovering food in that sense. When you're working in kitchens all the time you get into the motions of doing things so it's good now that I'm thinking that maybe I don't need that extra salt. Oh, and I'm pureeing the hell out of everything! Now we're fighting for his food…and eating his food half the time because it's delicious!"