As parents, we find ourselves rushing around for most of our waking moments. Time goes quickly, especially with a busy schedule, and we've learned to adapt quickly to whatever comes our way. After all, what fuels us, drives us.
Here's a typical morning in the life of this busy mom!
5:16 am: Ugh. I'm up. Why do I naturally get up earlier than the alarm clock? I love my sleep, but this morning I knew I had to get my son up early for his swimming practice so we can leave at…oh, crap. He needs to leave at 5:30 am, which means it's not early anymore. Okay, breathe. I quietly rush into his room and in that sweet mom tone, I whisper "Honey, it's time to wake up. YOU HAVE 15 MINUTES TO GET OUT THE DOOR!"
So much for that calm voice…
7:15 am: My little one is opening his eyes, bright-eyed and chipper (thank goodness). He stumbles to get dressed, asks if I signed his field trip forms and wonders where his gym clothes are. Oops. They don't look dirty and hey, if they can wear the same stuff for weeks on Survivor then it's not so bad, right? Oh, and he needs money to go with that field trip form. Uh, honey, how about you grab that cash from your piggy bank and I'll pay you back later?
Mantra: don't sweat the small stuff.
8:30 am: He's out of the door and I have a couple hours before my doctor's appointment. I've just got enough time to apply one of those at-home face masque sheets so my skin appears more refreshed—but then I realize that someone didn't take their lunch bag to school. Okay, I'll come clean—I forgot to pack a lunch for him this morning. Speaking of lunch, I didn't have breakfast yet and it's taking every ounce of me to not open that bag of popcorn-to-go. But there's no time now…
9:15 am: I'm racing down the street (literally) in my sneakers and bump into a group of neighbourhood moms headed to their yoga class in coordinated athleisure wear, the embodiment of Zen and chill. I notice they aren't wearing black leggings and oversized t-shirts anymore and make a mental note to buy new yoga wear so I can Nama-slay. "Where are you rushing off to?" one asks. "You're always so busy!" I give them a smile and say "Follow me on Instagram to see!" They probably think I'm meeting Mark Wahlberg instead of where I'm actually headed—a doctor's appointment. I quickly check my phone calendar to see what else is on my itinerary for the day. Dropped off the kid's lunch bag at the office and was given some side-eye.
That would have made a good Instagram post…
10:00 am: I'm on the train heading downtown for my doctor's appointment. Arrived right on time and got called into the examining room. "So, you're here for your annual 'woman's check up'."
WAIT. WHAT?
No…no…no…this must be a mistake. I thought it was a follow-up appointment for my foot, which I injured when I jumped in the pool. For the record, I just started my first EVER swimming lessons. So, to have a "sports injury" already makes me feel like an imposter. But I'm owning it…
10:45 am: Well, I couldn't get out of that one but the doctor did send me to a sports clinic for physiotherapy. I STILL haven't eaten and I'm feeling sluggish. I need something fast and, wait…coffee!
I rush down to the food court area. It's not quite lunchtime but by now I'm really hungry. Everything sounds good but isn't necessarily good FOR me. I'm trying to be "mindful" of what I eat and drink so I keep telling myself that I don't need empty calories. It isn't easy when you're in a rush, but this morning a few words on food labels caught my eye at Second Cup: Revitalize! ReEnergize! and 'Better For You'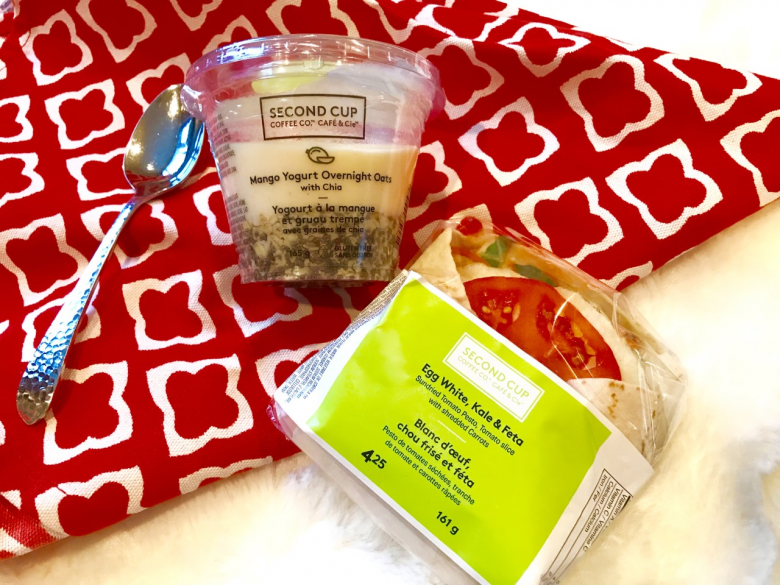 Curiosity got the better of me. That, and I desperately needed some caffeine. I checked with the two ladies at the cashier who told me that it's part of a new range (look out for the green labels). "They're great grab and go options especially if you're rushing around," explained one.
They both gushed about the two new ReVitalize smoothies. The Strawberry Banana Glow with Flax and the Green Mango Boost with Protein both use a whole banana, have no artificial colours or flavours, and are made to order. I order one then check out the Egg White, Kale and Feta Wrap—only 210 calories? Huh! I also grab a Mango Yogurt Overnight Oats with Chia and pop it into my handbag for after my physio appointment. What about the coffee? The ladies at Second Cup inform me that they now have more options, so I order up a Vanilla Bean Latte made with almond milk, and make that half-sweet. Yes, I am that person.
I'm feeling good after enjoying the healthier alternatives, and they were right—this creative menu has great options that are nutrient-packed, fast, healthy, totally satisfying and made with high-quality ingredients! When eating better fits into my lifestyle and is this convenient, it's a no-brainer.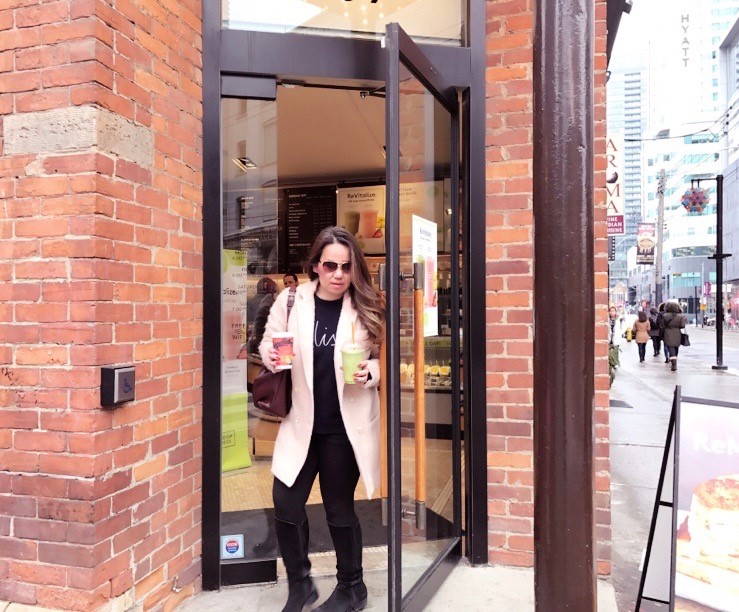 This post is brought to you by Second Cup but the opinions and images are our own.