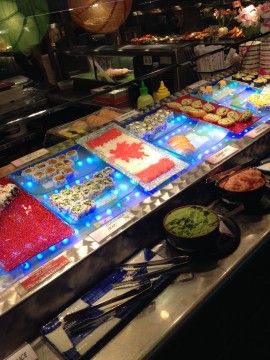 Our family just completed a fun, baseball-filled road trip. Over the course of a week, we traveled to Indianapolis, Chicago, Cincinnati and Cleveland to check out ballparks and baseball games. We did a little sightseeing and a lot of eating during that time, but when five people have that much time together in a car, each restaurant decision is fraught with stress. My husband might feel like pasta, when I'd feel like seafood. One kid would want pizza, while the others felt like bbq. We enjoyed crepes in Indy, deep dish in Chicago, and delicious Mexican in Cincy, but at no stop was EVERYONE happy.
When we arrived home to a completely empty kitchen, it seemed like a great time to hit up the Mandarin summer buffet. A buffet truly offers something for everyone, and I knew we'd all leave happy.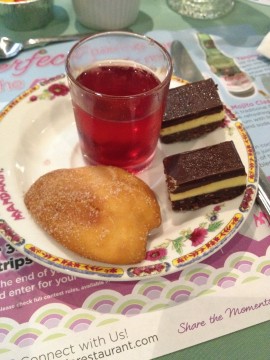 Mandarin has introduced a special Canada Day menu this month, and there are some  fun limited-time recipes including a delicious maple glazed salmon. It's all about fun eating, and their interpretation of Canadian menu items included a poutine bar, fun little tortiere tarts and a BLT sushi.
I loved this "moose paw", my cranberry jello shooter and (of course)  nanaimo bars!Of course, I think the dessert bar is everyone's favourite, and there were some delicious Canadian dishes there too.
Mandarin offers something for everyone, and we all left very happy (and very full).
Visit Mandarin from July 2 to 31 for their special Canada Day menu.