Mother's Day  is just around the corner and I don't really want it sneaking up on me like it does each and every year. That weekend is full of love from my own kids but also for my mom, mother-in-law, sister and friends. I know, I know, us moms should be celebrated each and everyday but hey… it's a special day and our families want to do something so, why not? I'm all for being treated and NOT HAVING TO DO THE DISHES.
You know how we eat out A LOT, right? So, here's my list of brunch places that are offering something just a little more special, or a little bit different, for Mother's Day!
THE RECTORY CAFE is located over on Wards Island of the Toronto Islands. Take the ferry over to Wards Island and escape the city for an easy family brunch and followed by a family walk. We just visited over Easter Weekend at the recommendation of my sister-in-law and although the menu is not massive, each dish is outstanding! Try the Pulled Mole Chicken sandwich, it's amazing! www.therectorycafe.com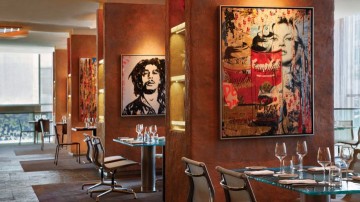 FOUR SEASONS HOTEL is saying "Moms the Word" in May with their first ever Mother's Day Brunch. At Vinci, they will roll out the food stations, bring in the entertainment and transform event spaces into chocolate and macaron rooms! With special areas for children and an extensive buffet, this is sure to become a family tradition for years to come. Located in the Vinci Ballroom from 10:30 am to 4:00 pm.  Buffet Only. Kids 5 and under eat free. All moms will also receive a $50 spa credit for a massage or facial. Four Seasons is located at Yorkville and Bay. Call 416-964-0411 for reservations or visit www.fourseasons.com
CAFE BOULUD is also located at Four Seasons Hotel Toronto, and will feature a 3-course prix fixe menu for both brunch and dinner. Brunch from 10:00 am to 3:30 pm. Dinner 5:30 pm to 10:00 pm. Children's menu also available. Call 416-963-6000 or book online.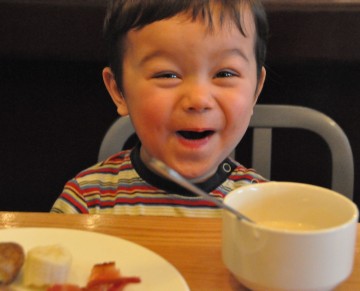 GLADSTONE HOTEL will be offering an Acoustic Family Brunch Buffet in the Ballroom (10:00 am to 2:00 pm) with live acoustic bluegrass music as well as a regular brunch menu in the Cafe (8:00 am to 4:00 pm). To make it a bit more special, they'll be offering one complimentary "MOMOSA" for moms. Located at 1214 Queen Street West.  www.gladstonehotel.com
DESTINGO ITALIAN KITCHEN + BAR will host a special prix fixe menu for Mother's Day brunch and dinner. If Eggs Benedict or Ricotta Pancakes are tempting your taste buds then Destingo will satisfy your cravings. The menu also includes house made Agnolotti stuffed with fresh lobster that is absolutely delicious! It's casual atmosphere is perfect for multi-generational gatherings too. Destingo is located at Queen and Bathurst. www.destingo.ca
LAMESA FILIPINO KITCHEN is a great little hotspot is worth venturing to. It's a blend of Canadian and Filipino flavours – traditional with a modern twist. We recently enjoyed weekend brunch there with the boys and they keep asking to go back. Order their crispy pata to share and don't be afraid to ask the server what unfamiliar ingredients are. The Halo Halo was a real hit! The restaurant is located at Queen and Bathurst. www.lamesafilipinokitchen.com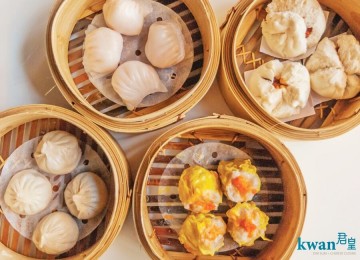 KWAN DIM SUM  is a new comer to the Yonge and St. Clair area. We often venture up to Richmond Hill for great dim sum at Premiere or to Yorkville as Dynasty is still one of our favourite spots but KWAN is worth a visit. We took the boys there last month and it was great. Decor is lovely and it's spacious. Servers are attentive and will help you if you're not familiar with dim sum. If you've never tried dim sum, it's traditional chinese brunch and and served "tapas" style. www.kwandimsum.ca
BRUNCH AT HOME is always a wonderful option and hopefully someone else will do the clean up! Just keep it simple! My secret is all in the presentation. Pretty plates and napkins make even the simplest meals look good. Add in a vase of fresh flowers it's all good!  This really easy recipe for Mini Raspberry Pain au Chocolat is something that even the kids can help make and you only need 3 ingredients.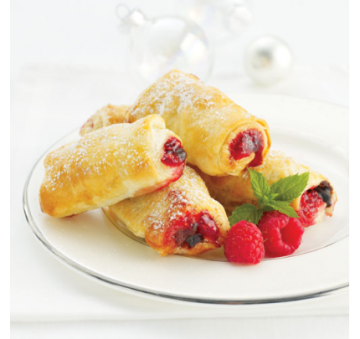 Mini Raspberry Pain au Chocolat  (Courtesy of President's Choice)
Ingredients:
1 bar (300 g) PC Extra Dark Chocolate
1 pkg (450 g) PC Butter Puff Pastry, thawed but cold
1 jar (235) PC Organic Fruit Spread – Raspberry  (or substitute with other  fruit spread like Apricot or Blueberry)
1 egg
Instructions:
1. Move oven racks to top and bottom third of oven. Preheat oven to 400F (200C)
2. Following rows of chocolate bar, use sharp knife to cut 24 squares from bar. Save rest for another use.
3. Unroll one sheet of puff pastry onto work surface. Sue parchment paper to line rimmed baking sheet; set aside. Using sharp knife, cut pastry into three equal strips. Cut each strip into for equal pieces, to make 12 pastry rectangles.
4. drop 1/2 tsp (2 mL) jam on one half of pastry rectangle. Place 1 square of chocolate at shorter edge of pastry on top of jam; roll up tightly, making sure pastry overlaps. Place on baking sheet, seam side down, pressing pastry overlap to close. Repeat with remaining pastry squares.
5. Make 12 more pain au chocolate with remaining sheet of puff pastry, on a second baking sheet.
6. Beat egg with 1 tsp (5mL) water. Brush tops of assembled pastries with egg wash. Discard remaining egg wash.
7. Place one sheet on top rack and other on bottom rack. Bake for 10 minutes. Switch baking sheets top to bottom and rotate back to front. Bake another 5 minutes or until golden brown. Cool for 15 minutes to serve warm, or serve at room temperature. Sprinkle with icing sugar before serving, if desired.
Do you have any favourite brunch spots? I'd love to know!