I'm melting in this heat! Okay, I'm using any excuse to get to my favourite ice cream shops in the city. While there are our go-to's nearby for ice cool treats (hello, Menchies and Baskin Robbins!) there are also a few places that are worth getting in the car or jumping on public transit for. Heck, we've even made several spur of the moment half-day outings with the kids. Here are some really cool spots to check out!
SWEET OLENKA'S: (225 Augusta Ave. Kensington Market and others) has a great selection which includes a stellar line-up of vegan and non-vegan goodies. Flavourful ice creams are coconut milk based, so perfect for those who are lactose intolerant too. Keep an eye on seasonal flavours like Peach Crumble, Lychee-Mango, Rhubarb & Peach, but everyone also harmoniously raves over the Chocolate Chip Cookie Dough.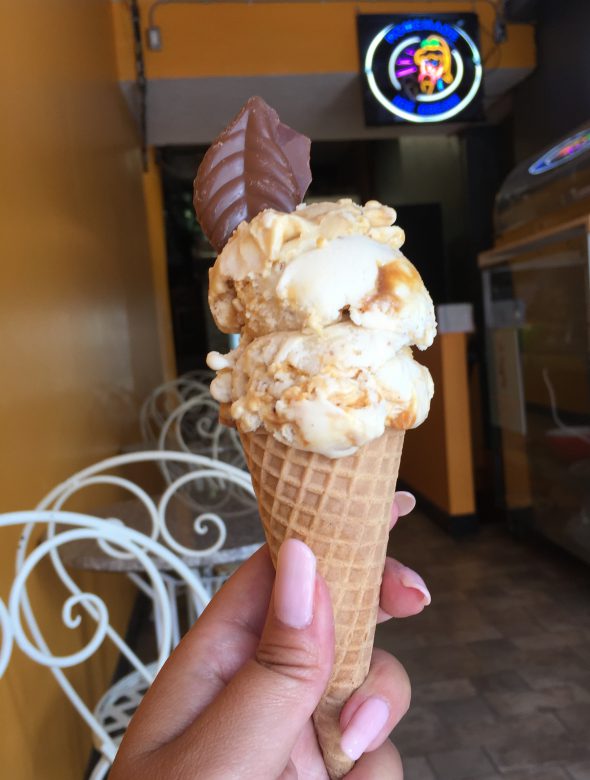 SOMA CHOCOLATE: (Distillery District) Freshly churned gelato is made daily in their "gelato lab" at this location. Seasonal ingredients are sourced through 100 km Foods Inc. Flavours rotate and include Blood Orange, Sicilian Lemon Sour Cream, Roasted Almond, Whisky & Chocolate, and more.
THE SWEET ESCAPE: (Distillery District) When my friend Jen first introduced me to the lovely couple who owns this little "sweet escape," I wanted to try everything. There aren't a billion flavours to try but they've poured a concentrated effort into their daily offerings. I'm a sucker for anything Earl Grey. The bergamot scent always brings me back to my memories of walking through Versaille and stumbling upon a small ice cream vendor who created that flavour.
KEKOU GELATO HOUSE: (13 Baldwin St. and 394 Queen Street West) Think Asia meets Italy in this delicious shop. Everything is made in house with traditional techniques. Flavours lean towards tastes like HK Milk Tea, Vietnamese Coffee, Tsing Tao Peach, Durian, and Ginger Milk. The Queen Street location offers soft serve with flavours like Jasmine Tea Almond Tofu.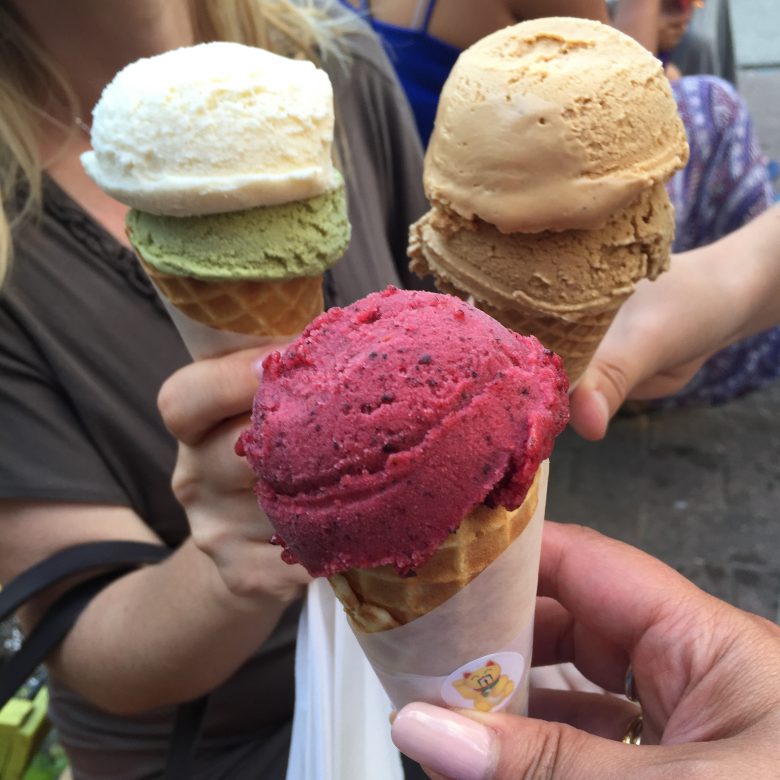 BANG BANG ICE CREAM & BAKERY: (93a Ossington Ave.) This location is great if you haven't visited the Lower Ossington area for a while. Strolling in the 'hood, you'll find a whole new crop of retailers and cafe. But just one visit to this ice cream shop will make you want to try everything on their daily menu. Popular flavours like Burnt Toffee, London Fog, and Key Lime Pie go well in their popular Hong Kong styled egg waffle cones. Ice cream cookie sandwiches are heavenly too.
DUTCH DREAMS: (36 Vaughan Road, St. Clair West) this 25-year-old establishment feels like walking into a sweet fun factory! Waffle cones are dipped in chocolate and then covered in sprinkles, cotton candy, and chocolate bits. Flavours run from the familiar to local creations like Drake's Peanut Butter Chocolate. Topped with fruit for, you know, balance…
ED'S REAL SCOOP: (2224 Queen St. East, 920 Queen St. East, 189 Roncesvalles Ave.) It's hard to walk past Ed's as the waft of freshly made waffle cones are beckoning you. The homemade ice cream flavours are all bursting with flavour and summer brings out some special seasonal choices—adults go for  Sangria Sorbet (made with real wine) or Mojito Sorbet (made with real rum). If you're lucky to be at the right time, you may also find Guinness.
ARCTIC BITES: (21 Baldwin Street) This Thai inspired ice cream is poured onto an icy surface, scraped and rolled into curls that are freshly made on site. Enticing flavours that have us rolling with happiness include "Taro with a Twist"; a fun combination of Taro & Coconut with Mochi Balls, half a waffle cookie, and a condensed milk drizzle. So good!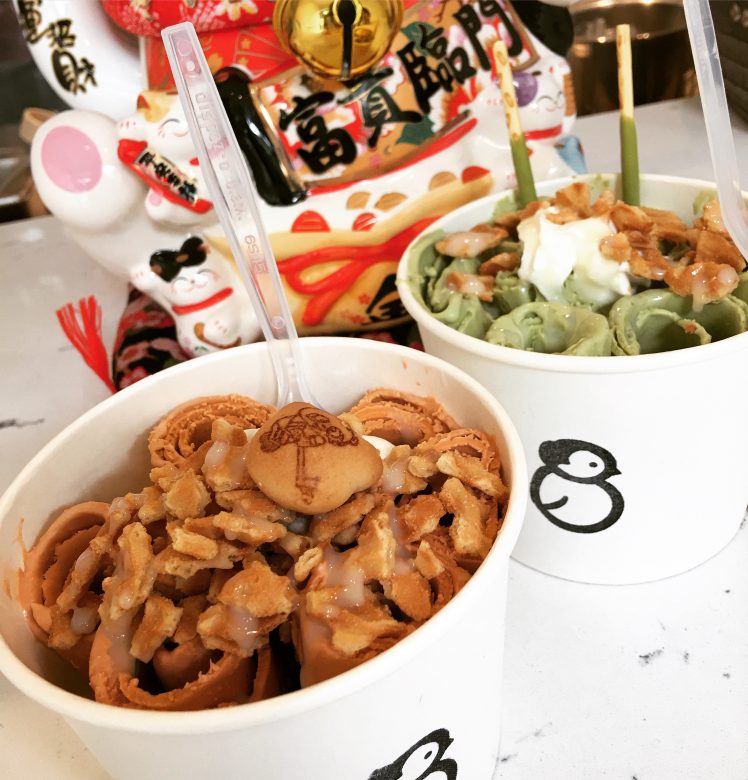 SWEET JESUS: (106 John Street, 780 Queen Street East, 130 Eglinton Ave. E) This soft serve ice cream shop seems to be drawing longer and longer lines for their fun and over-the-top themed cones. Krusty the Kone pays homage to the Simpsons with its crazy cotton candy flying off the sides making it a social media sensation. They're doing a steady stream of business and the line ups won't let up but hey, it's summer. Chill.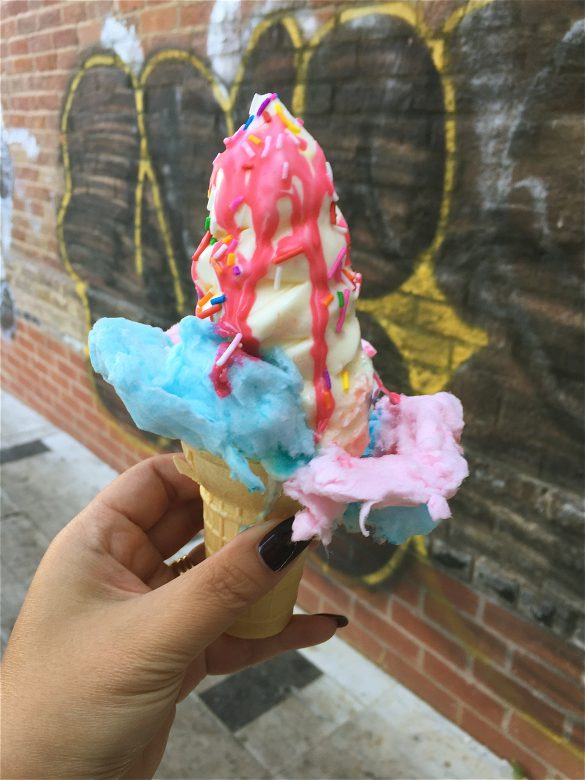 GREG'S ICE CREAM: (750 Spadina Avenue) For nearly 30 years, Greg's Ice Cream claims to be the first to make premium, all-natural ice cream in the city. He continues to use local ingredients to this day. An all time favourite is Roasted Marshmallow.
SUMMER'S ICE CREAM: (101 Yorkville Avenue) Strolling in this quaint and upscale village with a homemade ice cream cone in hand is dreamy. For more than 20 years the family run business has created some pretty cool flavours, and banana cream is one of our faves, as is "Toronto Pothole". With it's proximity to the fancy hotels, you may even spot a celebrity here.
TSUJIRI: (147 Dundas St. W) This 155-year-old Japanese traditional tea brand touts the best quality matcha green tea in Japan. Here you can expect line-ups for their delicious soft-serve ice cream, shaved ice, milk floats, and sundaes. The company has more than 20 shops around the world.