I admit to starting my mornings off with a cup of coffee, or two. There's something about that smell of coffee brewing that already is a pick me up whether I'm home or away. Chef Ricardo agrees. It's that morning ritual that can set the mood for the day. Of course, the morning I met him he had already consumed three but then we started off talking about delicious ways that the beverage is consumed around the world. There's nothing like a cool Vietnamese or Thai style coffee made with sweetened condensed milk on a hot and humid day. We both sighed.
I knew we were off to a great start to the morning coffee date at the Nespresso Cafe in Yorkville (Toronto) as he had time before flying back home to Montreal. I'm pretty sure I was only to have half hour with him but when the conversation of family, food and travel is this good we both ignored the clock.
Chef Ricardo Larrivee (ricardocuisine.com) is a renowned chef, magazine editor and television personality. He's warm and friendly and his passion for food and drink go beyond the empire that he and his wife has built. The day before I met him, he had met with Martha Stewart. Yes, one degree of separation from the domestic maven for me. But as most of you may know, I'm interested in finding out the everyday life of people like Chef Ricardo. He's definitely a loveable person in real life.
As a father of three teen girls, he can certainly relate to many of us and our busy lives. I had a chance to chat about family life and how he gets his family moving right from the moment they wake up.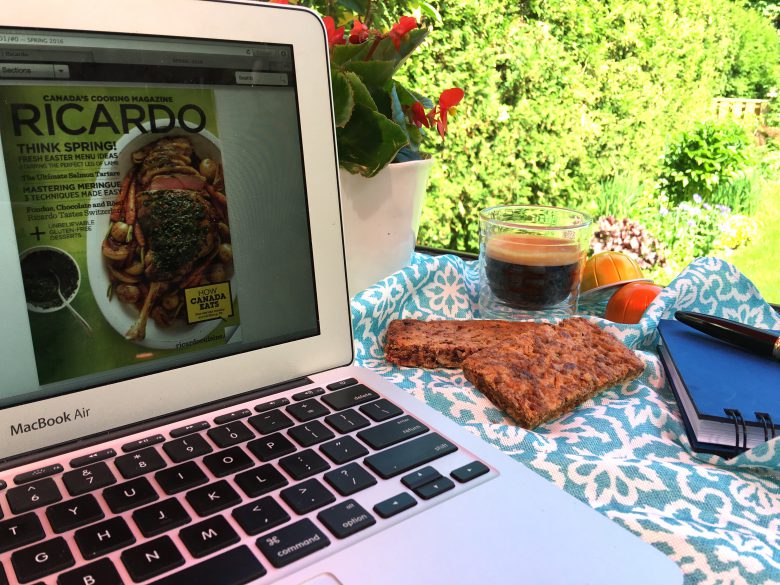 Me: Breakfast is always a rush in my household and everyone grabbing what they can to get out the door. How is it in your home?
Ricardo: We talk about the importance of breakfast and, well, to be honest, coffee is breakfast for many of us.(laughs) Even for our children the smell of coffee in the house means it's morning time.
Me: Okay, I admit the same. But I'm not a big breakfast person myself. However, I know it should be healthy, but…
Ricardo: I'm a chef and not a nutritionist, I have a team that helps with that aspect but we did a huge survey across the country to find out what's important to people. Health came first then time and then money when it comes to feeding their families. We asked Canadians who they were and what they wanted with their food options. Health was number one but it didn't necessarily mean they were eating healthy all the time but it was top of mind.
Me: Is breakfast as important as it should be?
Ricardo: Yes, breakfast was in the top three list of important meals when we surveyed people… even when most of us don't have the time. People say they eat it on the run catching the train or in the car. I personally love breakfast. As a father, I think it's a great way of teaching our children. Breakfast is not a third zone meal—it's the first one. We all hear people tell us it's the most important one since it starts our day. It can put you in a good mood and give you energy. But I think it's also a good place to transfer knowledge to your children. It's often the first meal that kids learn to do for themselves or for mom and dad.
Me: True! I think about my own kids and it's a sense of accomplishment for them too to be able to get their own breakfast. They can "own it"
Ricardo: Yes, just think about how they like to make breakfast for mom and dad. It's a great first meal for them to start in the kitchen for themselves or for the family. So, to have the right options in the home is a good start. Canadians love quality and cooking with fresh ingredients. We're not like other countries where fast food or packaged food comes first according to our research. We don't need someone to tell us what to eat.
Me: Oh that's really interesting findings!
Ricardo: Yes, I'm bright enough to know what I like to eat but what I do is give you solutions for time, money and health and you can do whatever you like with the information. I have over 6000 recipes on my website. You can pick whatever you want , it's your choice but I'm happy that most of us think about the quality of what we eat and our preferences are different—that's good. Even when it comes to coffee. You may like a smooth, stronger coffee and that's your choice. There's nothing wrong with having choice. That to me is none of my business.
However, I love the concept of every little step, whatever you choose to consume, needs to be perfect even if you're in a rush and having breakfast in the car. Even my kids when they are in a rush to take the bus in the morning to school and they just grab what is ready and go, they can easily take a healthy meal with them if they don't have time to sit at the breakfast table.
Me: Like what?
Ricardo: I make a great breakfast burrito or a healthy tasty bar for them to take. Sometimes they just wake up too late and say they aren't hungry right away in the morning but of course we all know that we will that hungry feeling will kick in. So, instead of trying to force them to eat when they don't think they are hungry, they can take something along with them that I know is good. I don't argue with them anymore, I choose my battles. And I don't say "have you had breakfast yet?" but instead I say "do you have breakfast?"
Me: So, what about Father's Day?
Ricardo: Oh, thank you for recognizing that! No one ever talks about Father's Day with me. It's always about Mother's Day. (laughs) So for me, Father's Day is truly about the time spent with my family. It's not about getting things but the gift of time is precious for me. Hugs from our kids are the best. Since they were six years old they could make my coffee and they know I start my morning with a decaf. We have the Nespresso so it was easy for them to make me the perfect cup of espresso by pushing a button. It's nice when others take the time and thinks of you.
These bars are created by Chef Ricardo to start your morning off right.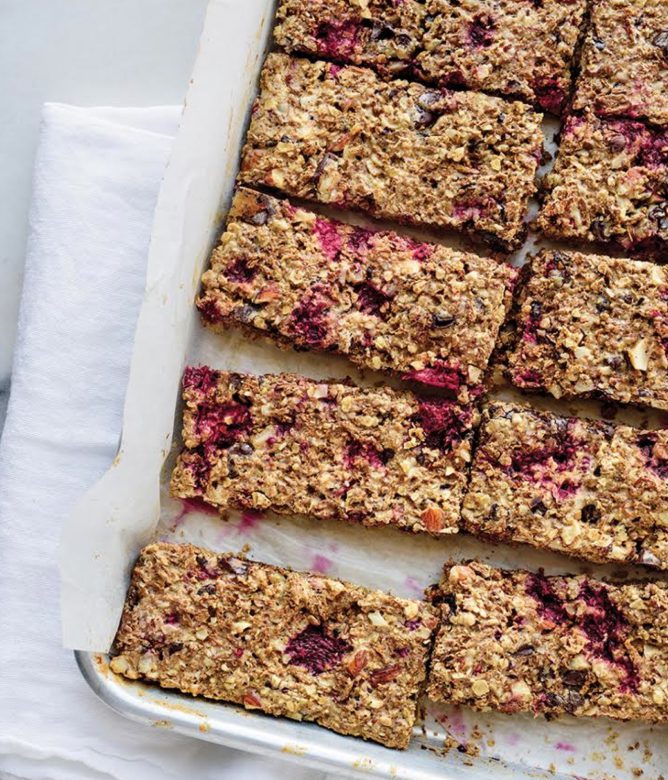 CHEF RICARDO'S BREAKFAST BAR WITH RASPBERRY AND DARK CHOCOLATE
Preparation 30 minutes
Cooking 30 minutes
Makes 24 bars
Freezes well
Ingredients:
2 1/2 cups (175 g) wheat bran cereal (All Bran style)
1 cup (100 g) quick-cooking rolled oats
3/4 cup (105 g) unbleached all-purpose flour
1 tsp baking powder
1/8 tsp ground cinnamon
1/8 tsp salt
1/4 cup (55 g) unsalted butter, softened
1/4 cup (60 ml) almond butter, at room temperature
1/3 cup (80 g) lightly packed brown sugar
2 eggs
1 cup (250 ml) milk
1 cup (170 g) toasted almonds, finely chopped
6 oz (170 g) dark chocolate, chopped
1 1/2 cups (190 g) frozen raspberries
Method:
With the rack in the middle position, preheat the oven to 350F (180C). Butter and line a 17 x 12-inch (43 x30cm) baking sheet with parchment paper let tin git hang over two sides.
In a bowl, combine the cereal, oats, flower, baking powder, cinnamon and salt. Set aside.
In another bowl, cream the butter, almond butter and brown sugar with an electric mixer. Add the eggs and beat until smooth. Add the dry ingredients alternately with the milk, until the batter is just moistened. With a spatula, stir in the almonds, chocolate and raspberries.
Spread and lightly press the batter in an even layer into the prepared pan. Bake for about 30 minutes or until lightly golden brown.
Let cool completely before cutting into bars.
Pair with a delicious new Nespresso Giornio coffee.
Enjoy!