Summer entertaining is meant to be easy. We'll have impromptu get-togethers after dinner with friends and neighbours. Who doesn't love to watch the sunset? Plus, lately the skies have been stunning at night. But we're not into fussing too much and since guests will often show up with wine in hand it's an easy way to mix things up by having a few cocktail recipes ready.
What you should always have handy:
Fresh fruits of the seasons (think blueberries, strawberries, peaches, and apples will be in soon)
Fresh herbs from your garden (thyme, basil, rosemary, and mint)
Lemons and limes (we keep a bowl filled all the time and they make a pretty centerpiece)
Club soda, or a SodaStream
Beer for those who prefer (we love Canada's Muskoka Brewery)
Non-alcoholic options
Here are five summer cocktail recipes we're loving right now:
THE MOSCALLINI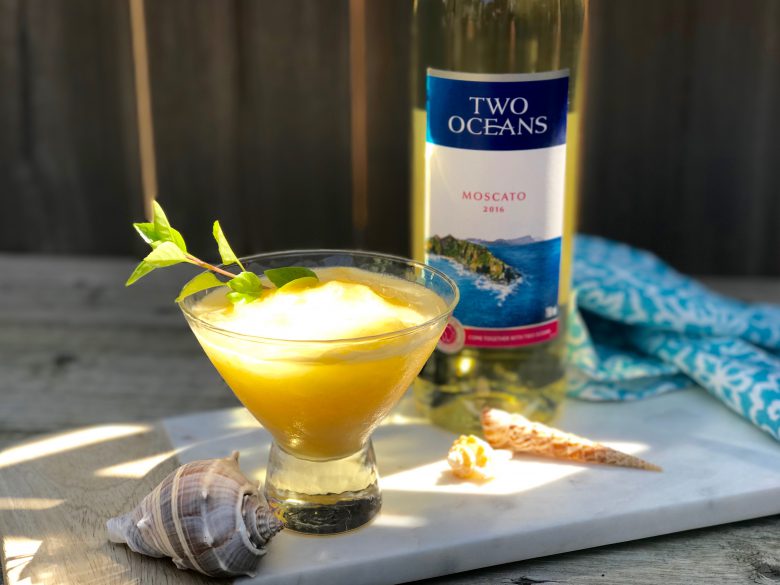 Here we chose to use Two Oceans Moscato for it's light and fruity notes.
Ingredients:
3 oz Two Oceans Moscato
1 ripe peach, cut into sections and frozen
1 oz Wildflower honey syrup*
1/2 oz lemon juice
2 basil leaves, plus one of garnish
*Wildflower Honey: dissolve together equal parts wildflower honey and water
Directions:
Combine all ingredients in a blender, and start on the lowest setting, gradually increasing the speed for about 30-45 seconds. Pour into a cocktail or wine glass, and garnish with basil.
Note: you can also substitute the peach with mango for another twist!
PINK ANGEL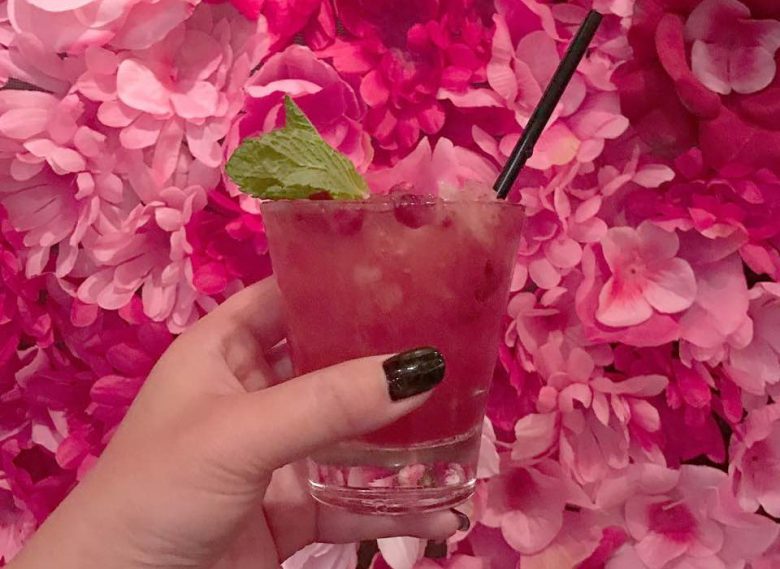 Ingredients:
1 oz. freshly squeezed pomegranate juice* or POM Wonderful 100% Pomegranate Juice
1 1/2 oz. Kurant Vodka (blackcurrant flavoured)
1 oz. triple sec liqueur
1/4 oz. fresh lime juice (or squeeze 2 lime wedges into the shaker and drop them in)
Orange peel, pomegranate seeds and/or mint leaf for garnish
Directions:
Shake the first four ingredients well with ice. Strain into a chilled glass. Garnish with an orange peel (or mint leaf) twisted over the top of the drink. Serve and enjoy!
PINA GRIGIO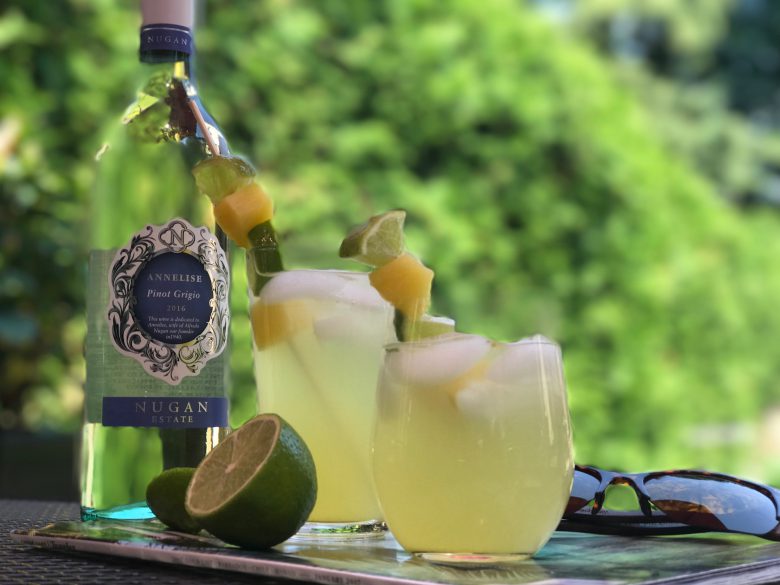 If you don't like your drink too sweet, Nugan Estate Annelise Pinot Grigio in this tropical splash may be more appealing.
Ingredients:
4 oz Pinot Grigio
1 oz Dole Premium Pineapple Juice
1/2 oz lime juice
1/2 oz simple syrup*
Lime wedges, quarters
pineapple wedges
Sprig of thyme
*simple syrup: dissolve together equal parts sugar and water
Directions:
Strip the thyme leaves into a tall glass, add simple syrup and gently muddle with the end of a wooden spoon to release the oils from the thyme. Fill glass with ice, then add lime juice, pineapple juice, and Pinot Grigio. Stir to combine. Garnish with a sprig of thyme and/or skewered lime wedges and pineapple.
FROSÉ COCKTAIL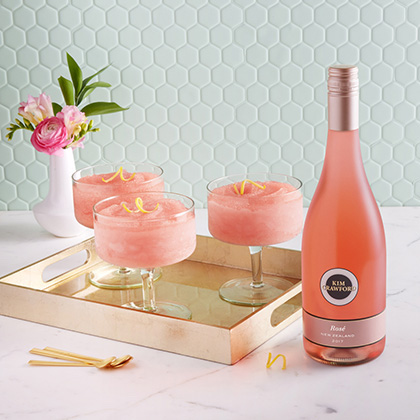 This is a great one to prep ahead of time with Kim Crawford Hawke's Bay Rosé. Its hints of watermelon and strawberries make this a fruity favourite amongst Rosé lovers.
Ingredients:
1 bottle Rosé
Frozen strawberries (optional)
Lemon twist to garnish
Directions:
Two days before serving, pour wine into a 9" x 13" pan or several ice cube trays and freeze, stirring occasionally if in a pan. When frozen solid, using a hand blender or food processor, blend frozen wine until smooth. (I also added frozen strawberries at this point) Serve directly or freeze again for up to 1 week, covered. Garnish with lemon twist.
Tip: Try blending the Rosé with a handful of fresh fruit and freeze in popsicle trays.
THE MAPLE REFRESHER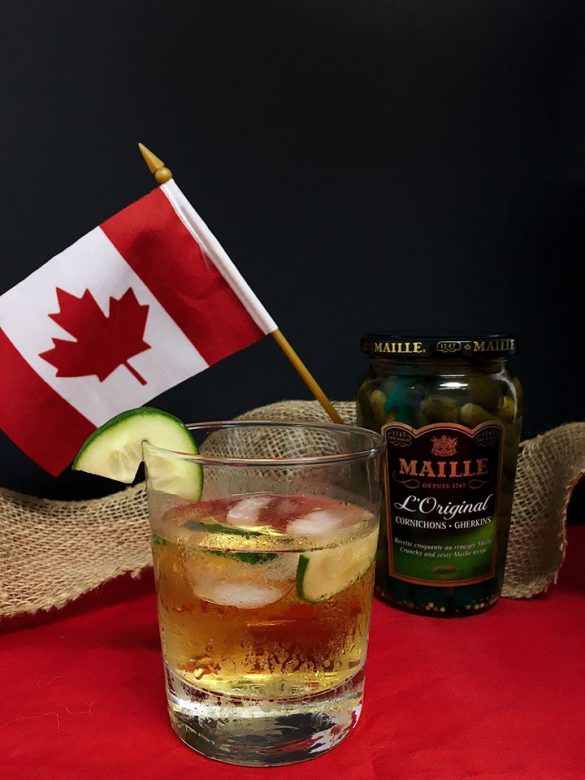 We had to share this delicious creation by Gabrielle F. Panaccio, Co-owner of Le Lab, Comptoir a Cocktails that uses some surprising ingredients and a nod to Canada.
Ingredients:
4 slices cucumber
2 tsp of Maille Original Cornichon brine
3 dashes of TABASCO Original Hot Sauce
1/2 tsp of pure maple syrup
4-5 tsp ICEBERG Vodka
1/2 cup of apple juice
Apple slices to garnish
Directions:
In an old-fashioned glass, crush the cucumbers gently. Combine Maille Original Cornichon brine with Tabasco. Pour in maple syrup and stir. Add ICEBERG Vodka and fill with ice. Top of with apple juice and garnish with cucumber, cornichon or apple slices.