Pinterest may be the definitive craft-inspiration resource online, but let's be real—some of the stuff on there is enough to break a sweat just by looking at it. That's why we sifted through and picked out five outdoor spring crafts you can do with kids, sweat-free. These crafts will help you make the most of your garden (even if it's relegated to a couple pots on a patio), the sunshine and warm(ish) breezes this month.
Garden wind chime via Sugar Spice & Glitter
This upside-down garden wind chime can be a totally kid-made craft, which will produce a satisfying result to have hanging around. It's easy to make but could get messy, (be warned – drip-painting is involved) so having a big tray on hand, and considering doing it outside, is key here.
You'll need:
An old gardening pot
Water-proof string or lace
Assorted beads
Paint
2 washers
A kitchen tray
Waterproof sealer spray, optional
Basic how-to:
Turn the pot over onto a tray and simply pour a layer of paint over top of it, and then pour a second layer of different coloured paint. Repeat with as many colours as you want. Once dry, tie several beaded strings to your first washer then poke the strings through the top of the garden pot and tie them securely around a second washer. Tie all of the strings into a knot toward the end, forming a loop to hang the wind chimes.
Tree suncatcher via How Wee Learn
This circular suncatcher sits in a window and catches the sun with it's clear crystal-looking beads. Wire-wrapping and beading is involved, so you'll need to help your kid here, but the result is a beaut – you'll totally want to hang this up in a window.
You'll need:
Embroidery hoops
Jewellery wire
Coloured glass beads
Basic how-to:
Use the jewelry wire to create a tree shape within the structure of the embroidery hoop – twist the wires together to form the trunk, twist around the hoop, then arrange the remaining wire to look like branches (this part will probably need to be done by you unless your kid is older). Thread beads onto the wire "branches" and fasten to the hoop. Hang in a window for sun-catching effects.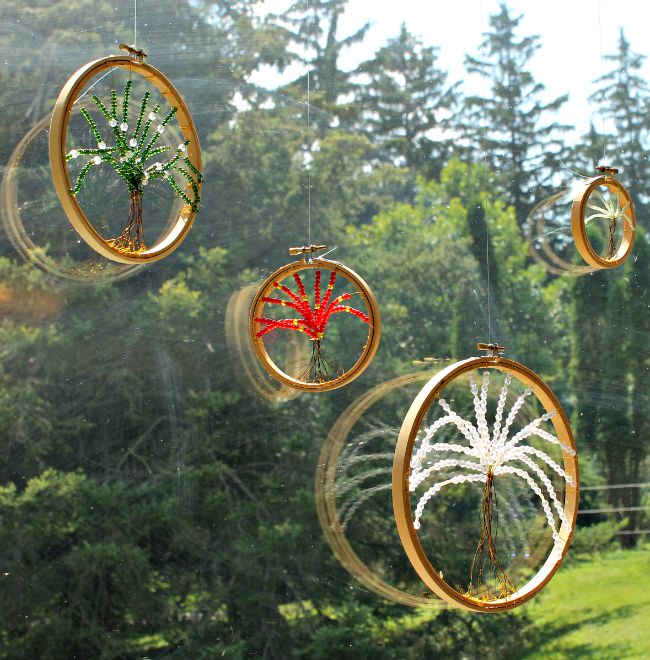 Painted rock garden markers via Crafts by Mama
Mark herbs in your garden (even if it's a potted herb garden on your window sill or patio) with these petit painted "nametag" rocks. You'll need to paint the fine lettering, but kids can choose and gather and paint the rocks.
You'll need:
Outdoor paint (Patio paint)
Smooth rocks
Sharpies
Basic how-to:
Hunt for some ideas rocks (you will need a longer or larger rock for herbs or plants with longer names). Use a piece of paper to map out what rocks will get what names. Paint the rocks in desired colors. Once dry, use a black paint pen or Sharpie marker to write the names of your plants on each rock. Decorate with a finer paintbrush.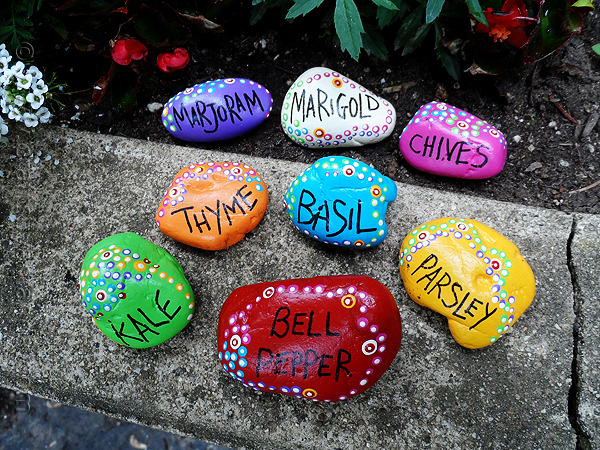 Bird food garland via HGTV 
If you don't mind an area of your yard or garden looking a little bohemian, this garland of hanging bird foods (apple rings, peanut butter pine cones, etc.) will bring all the birds to the yard.
You'll need:
Kitchen twine
Pine cones
Peanut butter
Bird seed mix
Lard or suet
Empty yogurt cups
Apple slices
Needle
Trail mix
Basic how-to:
Make and hang fruit and nut chains, peanut butter pine cones rolled in bird seed, slices apple rings, and suet cups (these require melting a pack of suet or lard in a saucepan and stir in some wild bird food mix), all from your garland hung between branches. If you don't have a yard, take this to a park nearby.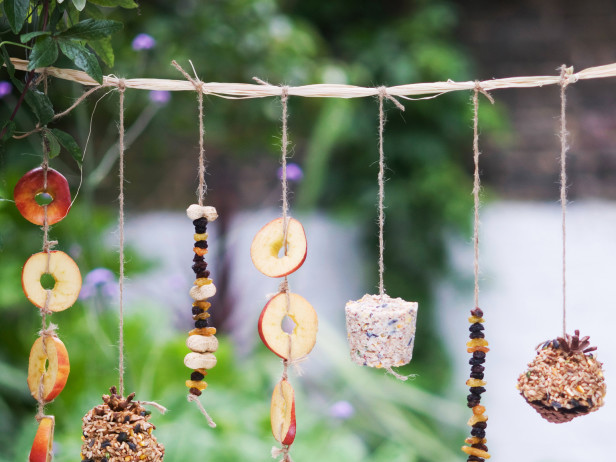 Giant bubble wands via Inner Child Fun
Save this one for a really nice day on the weekend when you can take this giant bubble wand for a spin outside.
You'll need:
2 wooden wowel rods (3/4″ thick, cut to 12″ pieces)
2 small eye hooks
1 large metal washer
Cotton string
Basic how-to:
Screw eye hooks to the tops of each of the dowel rods. Measure 2 lengths of string – one the length of one of your kids' arms, and one the length of your kids arm span. Tie the string to the eye hooks on the rods and add a weight to the longer one, to create a triangle – this is the "hoop" you'll stick in bubble solution.
Want more ideas for having a good time outside this spring? Have a look at our 25-item spring bucket list for families.