I miss Tracey's Urban Closet reports. I miss seeing how she would scoot around town looking effortlessly cool. I miss stories about her adorable kids and the fun she'd get into with "her foxes". I remember her words and take them to heart, and think of her when I do a half-tuck, add some sparkle to an outfit or put on ridiculously high heels to do a little dancing.
I did all three with this outfit for a night out…with my foxes.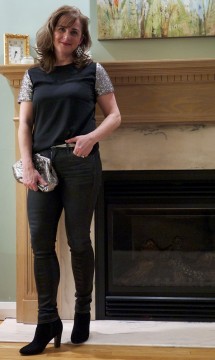 Great sequin t-shirt (bought on sale at Banana Republic from their lovely Heritage line), Fun silver sparkly belt that gets pulled out much more often than I'd have expected when I bought it years ago at J.Crew, Amazing new jeans that I splurged for from Citizens for Humanity, and cheapie boots I bought at my local Sears store mere hours before it went out of business.