The flurry of "back to school" shopping for the kids is settling down just in time for me to get excited about my own fall shopping. I don't think any other time of year makes me so giddy about strolling malls, popping into stores and hanging out in dressing rooms. The change of season has me ready to put away my summer dresses and sandals and embrace warm sweaters and boots.
Last week I was invited to attend a fashion show at Sears Toronto Eaton Centre to launch the Nevada 2013 Fall line. The highlight was an appearance by Bar Refaeli who graces the cover of the Sears' Fall Look! report.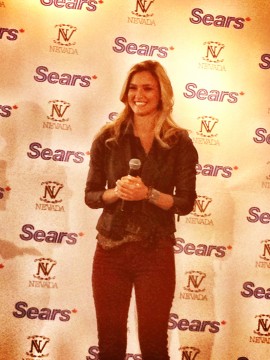 Bar was as gorgeous and gracious as could be, and the outfits in the show were equally gorgeous. Hot trends included camouflage pants, faux-leather vests, flowing blouses and Navajo print sweaters…all great for our cooler days and brisker weather.
The line is designed by Buffalo Group, one of the world's renowned denim brands, and the collaboration is evident in the casually sophisticated style and quality pieces.
After the fashion show I did a little shopping myself and picked up this great black faux-leather jacket, which I plan to throw over floral dresses and t-shirts now, and sweaters and jeans later.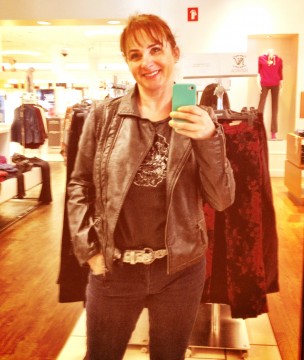 I also got the same blouse that Bar's wearing on the cover of the Look! report because if it's good enough for a supermodel, it's good enough for me!
The best part? These two key pieces for fall's fashion trends won't break the bank. The jacket's just $59 and the blouse is $49.
So now that you're done buying pencils, binders, indoor and outdoor shoes for your kids, be sure to check out Sears for your own fall shopping. But first, do your homework and check out the Sears Look! report and Sears on Pinterest.

This post was sponsored by Sears Canada. All opinions are my own.