It is becoming increasingly apparent that this will be the last summer for our dog Alice.
In October of 1999, my wife Stephanie, in her maddening impetuous way, called me from a pet store in Bellville, Ontario two months after our wedding, letting me know she was holding a dog that was impossible to put down.  I was at work, likely in between issues, or bites of sandwich, and she was blathering on that if she let go of this dog, this beautiful puppy, the lady behind her was ready to scoop her up and check her out like a bag of food or a rawhide chew toy.
I said go for it, get the dog, a bit peeved that a decision so swarmed with responsibility had to be made with such haste.  Later on that night, when I got home a bit tipsy (hey I was 30, post working drinking was my sport of choice) I proceeded to roll on the front lawn of our apartment building with this wee little scamp of a dog, her milk teeth piercing my skin and her sweet breath melting my heart.
The next day she stole our potential first born's name and became our sweet sweet Alice.
Now, 14 years later, I look down at her stoically sad but happy eyes at the bottom of the stairs, knowing she wants to come upstairs and sleep on her old brown pillow next to Steph, but her legs, and her hips, just don't let her anymore. Yes I can pick her up, like I do to put her in the car every weekend, but Alice was never a lap dog and never liked to be picked up and grunts to let me know she still doesn't.  At the cottage she stays on the main floor, not able to manage the wooden stairs with no riser, recent slips adding fear to the physical disability.
Even the lake, one of her favourite places in the world has become more effort as the gap between rock and dock gets further and further with every passing weekend.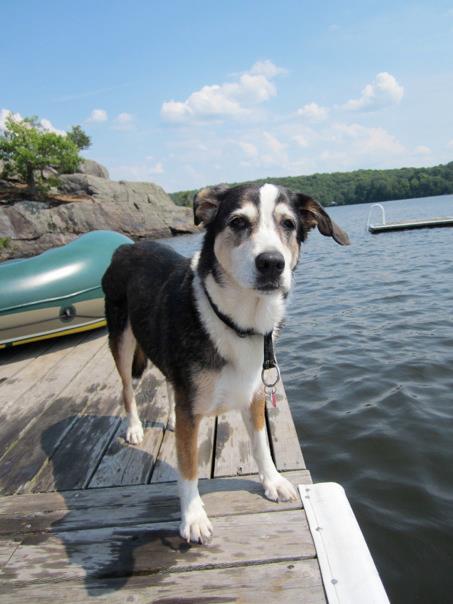 I lie down on the ground with her more often than I used to. Ironically, it's also a position that takes me longer to get up from.  But I lie there, scratching her water bottle belly and sniffing her nacho cheese feet.
We have no illusions about the ultimate demise of our beloved family dog.  We will not let her linger on, incontinence shaming her into corners, pain rippling through her aching joints.  We will not prolong the inevitable for one last tennis ball retrieval, one last stinky cuddle.  It's accelerating faster than we thought though, these last months the very obvious ticking of the dog clock. The boys can't see it, but we can.
14 is 98 after all and each day I spend a bit more time feeling grateful for what a perfect dog she has been in our life.