When I was growing up, my father would always tell me that everyone has a story to tell. We would walk down the street to where his office was and I would have to hang out every weekend as mom needed to sleep (or maybe it was because she needed a break from me, now that I think about it). When dad finished his work day, he would close up shop and we would pass by many people on the street. "Everyone has a story," he would always say. He would mention that the old man that was hanging out on the park bench was once an inventor or the woman selling vegetables on the street corner was a singer with the opera. This went on for years and even to this day my dad would say "everyone has a story."
Whether those people were who he claimed them to be didn't matter in the outcome because overall, dad has taught me to also be creative in my thinking. Thinking beyond what you think and see — to go beyond the obvious.
Today, as a mom, I love seeing my kids stretch their imaginations. Taking things that seems so simple and making it into something more. When they were younger I didn't mind if they took their time exploring even their food. I remember pouring out the letters from a box of Alpha-Bits cereal onto the table and making up words. They may not have been real words necessarily but that was okay…we'd make up the meaning behind the words too!
I still love playing that game when I'm babysitting my little nephew. Oh, the stories he can come up with! His imagination is pretty robust and we've got a story in every bowl.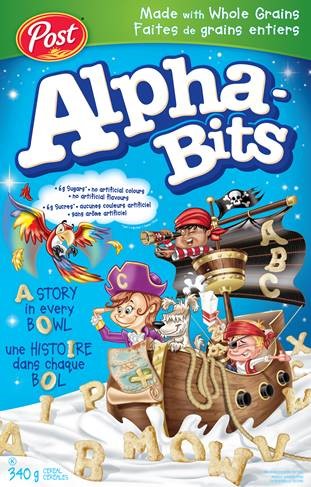 Now I've learned that Post Alpha-Bits is more than just fun and games — it also provides a source of 9 essential nutrients (and an excellent source of Iron and Thiamin) to get families off to a good start. We all know that breakfast is an important part of the day but we're concerned about what we feed our families and looking for better options.
I was happy to learn that Post Foods Canada Inc. is listening to families by recently revamped its Alpha-Bits cereal with 40 per cent less sugars than the original Alpha-Bits. The product now has 6g of sugars per 1 cup (30g) serving size, down from 10g in the original and is still made with whole grain.  The new Alpha-Bits cereal will now have LESS sugars per serving than any other leading competitive Sweet Kids cereal*. Artificial colours have also been removed. Starting this September you can start finding the new Alpha-Bits cereal on store shelves nationally. To find out more you can visit postfoods.ca. Full nutritional information and recipes are available.
*New Alpha-Bits cereal has 6 g of sugars per 1 cup (30g) serving vs. 9g of sugars or more per stated serving size in the leading competitive brands in the Sweet Kids segment based on top 10 Franchise $ Share ranking in the L52weeks to August 22, 2015.
This post has been brought to you by Post Alpha-Bits Cereal, but the opinions are my own.