When we were invited to the unveiling of the 2014 Entrepreneur Barbie this week, attendees were sharing their personal Barbie stories. There were several who mentioned that Barbie is where aspiring hair stylists had experimented with their dolls and others who fondly remembered Barbie for endless hours of role play and imaginary play. Many grew up with Barbie and for the record, I have now just received my first very own Barbie. Ever. My sister, on the other hand, had a few Barbies that I happily played with whenever I could get my hands on them.
I was amazed to also discover that Barbie has had an illustrious career spanning 150 different roles in her lifetime so far. Ruth Handler, founder of Barbie had created the first doll for her daughter back in 1959 to encourage her to play out her dreams. In 1959, Barbie was unveiled as a fashion model and over the years she has been a nurse, politician, doctor, police officer and more. An interesting fact: in 1965 Barbie became an astronaut, four years before man walked on the moon! Talk about progressive!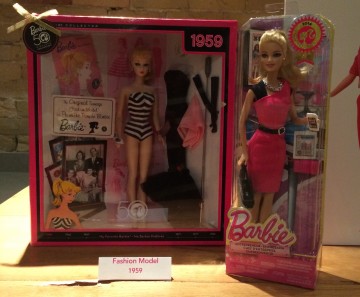 This week, Entrepreneur Barbie was unveiled celebrating all women entrepreneurs to inspire kids to follow their dreams. Alongside the launch of the 150th Career Doll, the first-ever Barbie Business Bursary program was announced — a national search for Canada's next young entrepreneurs.
The Barbie Business Bursary encourages Canadians to nominate a budding entrepreneur — yourself, children, siblings, cousins, students or friends — under the age of 18, who demonstrates true entrepreneurial spirit, from now until September 1, 2014. To enter the national competition, simply visit the www.barbie.com/mydreams and share your or your nominee's entrepreneurial dream.
Barbie will select ten amazing nominees and post their video profiles on Barbie My Dreams; and a jury panel will then select three winners to receive a $2500 Barbie Business Bursary to fund their big ideas.
"Barbie strives to empower  children to imagine themselves in a variety of roles from pilot to president," says Alicia Sumar, Brand Manager, Barbie – Mattel Canada Inc. "We know from research that play is a positive force that encourages a child's creativity and imagination. Playing with Barbie fosters the belief that anything is possible. We are proud to launch this Canadian Barbie Business Bursary initiative to help make children's' dreams and aspirations come true."