(Sara – you probably won't want to read this.)
Ok so I don't like autumn, but I do like what it leads to. If you don't already know, I am A BIG fan of the holidays.
Thanksgiving leads into Halloween, which leads into November which leads to the Santa Claus parade.
The day after the Santa Claus parade is the day I put my tree up. Every year.
It's early – yes. My logic is that if Santa Claus is at the mall, then I can have my tree up.
It seems that my daughter has that same love of Christmas that I have. She got a jump start and made her list weeks ago.
It's a simple list:
a hobby horse
a tea set
a pink iPod
I may or may not have found the most perfect hobby horse unicorn already and it may or may not be hidden away.
I also may or may not have found the most adorable porcelain tea set for only $5.99 that also may or may not be hidden away.
There is also a Rainbow Loom hidden away. I'm hoping I can wait that long to give it to her.
As far as the iPod…that's a pretty big ticket item for a 6 year old, so we'll have to see about that.
Essentially she is done gift-wise.
I guess my girl got impatient which led to some creative thinking. I found this in her room earlier in the week.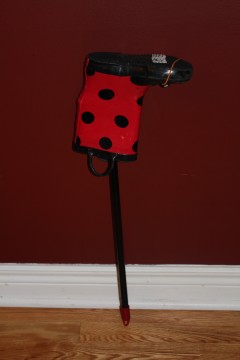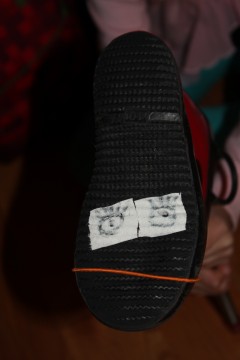 She just could NOT wait for Christmas. She needed a hobby horse much sooner than that. She needed one immediately so she made one. She took an old toy broom, and old rubber boot and 2 pieces of hockey tape.
Voila! She has a hobby horse and she has named her Dots.
Adorable.