So, has spring arrived yet in your parts of the country? Mr. Winter still has a grip on us here in Toronto but I'm still sending good vibes in hopes that Mother Nature will ease up soon and grant us some warmth. It's been dragging this winter and I'm getting getting antsy about having some "me time" soon!
You know, getting ready for the warmer weather and change of seasons is a perfect time to get into a spa. I know us moms don't often think about doing stuff for ourselves. I had tea with a friend the other day and we were dreaming about the idea of hitting a spa even if it's just for a couple of hours. Wouldn't that be nice? In big cities there are lots of spas to visit from a local spa to a more luxurious one. I definitely have a few favourites and I save my pennies.
But here's an incentive that really caught my attention. Did you know that SPA WEEK is coming? From April 21 to 27 there are fabulous spas participating in this celebration with $50 package offers right across the country! *rubs eyes* WHAT?
I couldn't believe it so I had gone to the official website WaySpa.com to see for myself. I was surprised to see the savings that can be had! I quickly booked myself in to a spot that I've been meaning to check out but just never got around to. This was a great reminder! Well, faster than you can say Spaaaaah! I had booked in a "Taste of Luxury" package that included a 30 massage, a 20 minute facial boost and hand massage. At the same spa I could have also booked a full facial or mani/pedi …actually I many just go back and do that!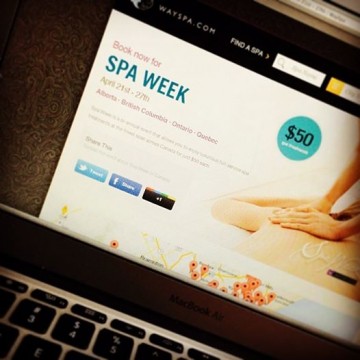 But the word is starting to spread and fast! So, don't even think twice! Here's what you need to do…
1. Visit the WaySpa.com website for complete listing of participating cities and spas. When you jump onto the homepage you'll see that directions for SpaWeek bookings. Here is where you can see what treatments are offered with this promotion and how much you'll be saving!
2. Purchase your $50 Spa Week voucher.
3. Book an appointment with the spa of your choice.
The Spa Week event is a great opportunity to experience some of your favourite spas or experience a new one. There are many treatments available from beauty to healing and therapeutic at this crazy price. WaySpa.com is the world's fastest growing online spa marketplace. In partnerships with spas around the world, WaySpa.com offers choices from local neighbourhood spas to romantic getaways.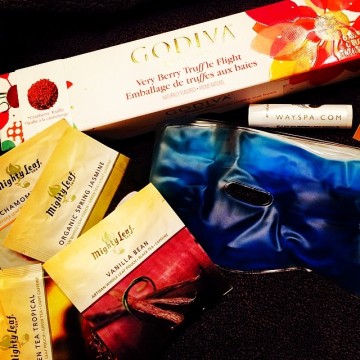 As if you needed any further nudging, I heard that Godiva Chocolatier and The Mighty Leaf Tea Company will have some treats  for guests during Spa Week!
No excuses! Time for you, hon!