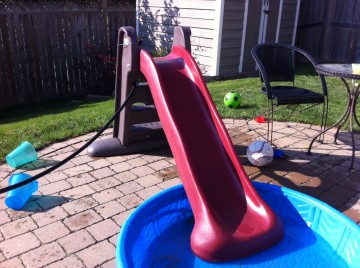 Around my house when it comes to figuring things out or putting things together my wife is the champ. I swear she can do anything when it comes to that kind of stuff. If she had to, she could build the Taj Mahal with nothing but a glass of wine and an Allen key. She's very handy; it's why I keep her around. I found in our 10 years together, she has two very important traits that you need for this sort of thing, talent and patience. I have neither of those. She also has something else I don't have which helps and that is a tool-box. My wife does this odd thing when putting together a piece of furniture, she reads the instructions. (Instructions is a foreign word to me. Supposedly it means the act of furnishing with authoritative directions.) The only downside of working with these "instructions" is you're never left with any extra, screws, nails and shelves.
With all that being said, the one thing I'm good at is constructing toys from random items found round the house. I watched a lot of MacGyver growing up and some of it stuck. Remember that show? That dude was awesome; he could make a defibrillator out of a candlestick, microphone cord, and a rubber mat. I love doing that sort of stuff, it gets my creative juices flowing. I thought I'd share some of the things I have made over the last couple of years that are perfect for the summer. Some I made up, some I found online, regardless, all of them are awesome.
Homemade sprinkler: All you have to do with this one is take a 2 litre plastic bottle, poke holes in it, and attach it to a hose. You have to tape the hose and bottle together but it works great. Eventually it gets pretty beat up. When it does, empty another 2 litre bottle of pop into 1 litre of your favourite adult beverage. Voila, a new sprinkler, and your favourite drink. Your kids play while you, ahem, enjoy a cold delicious beverage and everybody is happy.
Homemade slip n' slide: Grab a tarp or old pool cover, lay it on a slight hill, soak it with water and have fun.
Frozen treasure: Freeze your kids toys in a long shallow bin, have them dig it out.
Sandbox: One time we had a plastic pool that had a hole in it, so we switched the water for sand.
Washers: Grab 2 wooden boxes (same size), secure some pvc tube in the middle of both boxes so it's like a mini-well. Throw metal washers into it from 18 feet away. Each teams get 3 washers, you get 3 points if you get it in the well and 1 point if it's in the box. First one to 21 wins.
Water slide: This is the kids favourite. We have a slide and we put a small pool at the bottom for the kids to land in. But, we also run the garden hose up the slide and make it a water slide. I just attach it with an elastic band. It's simple and they love it.
I would love to know if you have tried any of these or have suggestions. I have a blast doing this sort of thing and the kids have a blast playing with them. Summertime has made me realize that you don't need a lot to have fun. As long as you have your loved ones around, and some sort of homemade sprinkler device or water slide in, life is good.
I gotta go, my wife is off to fix something with her screwdriver, and I'm off to go drink mine.