Over the years, I've amassed an arsenal of cleaning products, both of the green and not-so-green varieties. The only thing I hate more than cleaning is the plethora of artificial scents and harsh chemicals that come in typical cleaning products. So-called 'green' products are slightly better, but damn, those can get expensive. And with both, mountains of waste pile up as you finish one bottle and buy another. I also have a moderate scent sensitivity, fake chemical smells are the worst offenders for me, especially the kinds that make cleaning products smell 'pretty'. To me, they just smell gross. So, I have decided to cut myself off cleaners. I've been using the standard 50/50 vinegar & water mix for a while, and it works great for light cleaning. But lately I've found that I need something a little stronger, so I went off in search of other all-purpose cleaner recipes. Twitter did not steer me wrong – when I polled my followers, I got several replies to my query.
This recipe is an adaptation – I changed it a bit after reading others that had different ratios of soap, borax & vinegar. And of course, since I'm a bit of an aromatherapy nut, I added some essential oils – tea tree oil for a little extra cleansing power, and lemon just because. I used Dr. Bronner's almond castile soap as well since it's what I had on hand, but you could just as easily use another scent (peppermint would probably be great!), or a liquid dish soap of choice, preferably something 'green' like Seventh Generation or Nature Clean. I've found this stuff works pretty well, a spray and a light scrub with a rag took off a couple weeks' worth of filthy fingerprints on my front door, tomato sauce splatter on the stove top, and toothpaste residue in the sink. It picked up the dried-on stuff with less elbow grease than just vinegar & water, and didn't leave filmy residue behind. And bonus? It smells good! Not chemically and fake, but actually good. And since I keep all the necessary ingredients for this cleaner on hand anyway, my cleaning supply arsenal just got a little bit smaller. Score!
Just a note, good spray bottles can be hard to find.  I happened across good ones at Home Depot in the cleaning section, and they're nice and big with a good spray nozzle. If you can only find smaller (~500mL ones), just cut this recipe in half.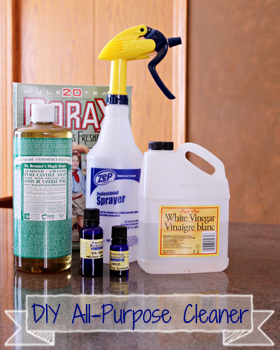 Guilt-Free All-Purpose Cleaner
(Adapted from Different Shades of Green)
– 950mL spray bottle (~ 1 quart)
– 1/4 cup vinegar
– 1 tsp borax
– warm water
– 2 Tbsp castile soap or dish soap
– essential oils, optional (I used tea tree & lemon)
In the spray bottle, mix together vinegar and borax. Swirl until borax is dissolved.
Fill bottle mostly full with warm water, and give it a shake to mix.
Add castile soap, and 10-15 drops of essential oil, if desired. Swirl to mix, and get cleaning!
~~~
Do you have a favourite DIY cleaning solution? Share and I'll test it out!

(c) Can Stock Photo