Tiffany Pratt is one of the fun hosts of HGTV Canada's new series Buy It! Fix It! Sell It! — a show that follows design experts to auctions who fight over second hand crap. Their mission is to buy low and then restore or repurpose their items to sell high to shops, collectors and clients.
Tiffany grew up in her father's auction house and spent years in the New York fashion world and is known for finding items to style for photoshoots, weddings and staging homes for clients.  She has a line coming out for kids and a lifestyle book in the works. I recently had the chance to chat with Tiffany about the show and her love for auction finds.
Auctions can be exciting… but as an avid participant do you have any special tips or strategies for bidding?
Tiffany: Auctions are exciting! Because of this excitement, sometimes you get carried away within the moment and you end up spending more than you should.  It is always best to keep your cool, know how much you want to spend and try not to fall in love to quick.  If you lose, you have to believe something better will come along.
When do you know when it's time to cut your losses and walk away from a bidding war?
Tiffany: I walk away when I know that the cost of the item will supersede my love for it.  If I end up spending too much, I will not get my money's worth from the project or get my everyday finders high.
Do you have any recent buyer's regrets?
Tiffany: I generally do not have regrets.  What I have is over-buying issues.  I always end up selling or finding a home for the items I find—but the surplus at times is too much.  I get on a roll at times appreciating the deals and not taking into consideration the space I have to store what I find or the time I will need to make it sellable.
Where are some of the best auctions you've been to?
TIffany: In my opinion there are no "best auctions" because you can always find a nugget of design gold at every stop. You just have to keep an eye and a creative heart.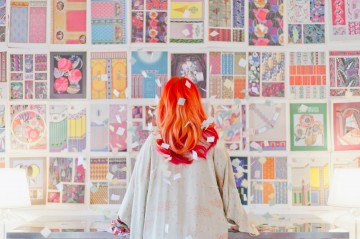 For someone new to auctions… what should do you need to know?
Tiffany: Consider your time at an auction as an adventure.  Know that within that ocean of things, you will possibly not find what you are looking for if you have a specific item in mind.  Likely, an auction will open your mind to greater possibilities and creative potential in other items you would have never considered.  Have a budget.  Be decisive.  Have fun.
I love this whole repurposing movement, what are some examples of cool stuff you've created?
Tiffany: This repurposing movement has been my whole life.  I am so happy that now it is hip, because I have place to put my design work where it has a stronger appreciation.
Re-painting paintings, over-dying carpets, reupholstering trunks with blankets, recovering furniture with fabric, making chandeliers out of junk, strange planter boxes, installations and so much more…..I love to reimagine a life for the treasures I find throughout life.
Buy It! Fix It! Sell It! Airs Fridays at 10 PM ET/PT on on HGTV Canada.
Here's a quick trailer!
[youtube id="v8XgIB5ekE0″]