The next time you find yourself off on the sidelines while the littles are climbing, sliding and digging away, pull this handy workout up & get your sweat on! Steal these fab moves from Belly Bootcamp. All you need is a bench!
Love bootcamp moves? Join Belly Bootcamp founder Dara Bergeron on June 7 at Canada's only boot camp fundraiser, Kick It Up for Kidney Cancer! Get your sweat on with 3 of Toronto's top trainers, be entertained by Canada's R&B Queen, Jully Black, and help fund research for kidney cancer. It's a day that will be great for your body and soul.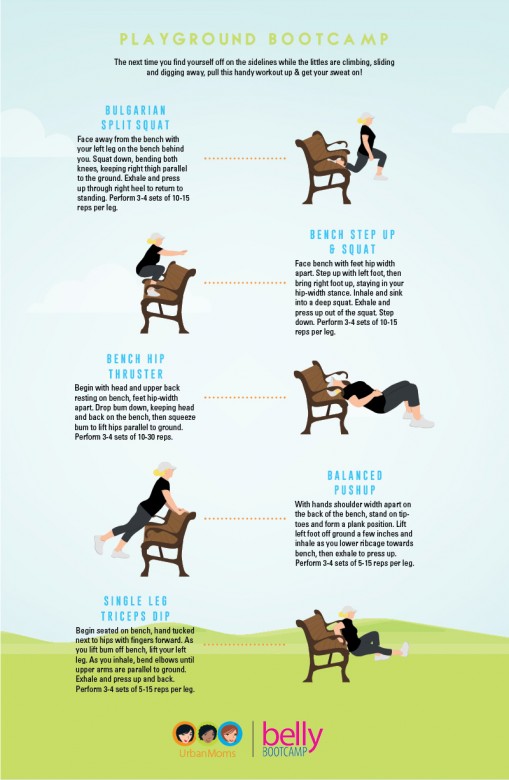 Bulgarian Split Squat
Begin facing away from the bench, L foot elevated behind you. Inhale as you sink down into a squat, bending both knees and keeping chest lifted. Aim to get your right thigh parallel to the ground as you push your bum back. Exhale and press up through your right heel, squeezing your bum to return to standing. Perform 10-15 reps per leg.
Bench Hip Thruster
Begin with head and upper back resting on bench and feet hip-width. Drop your bum a few inches, keeping back on bench, then squeeze your bum to lift hips parallel to ground. Don't excessively arch your low back or thrust your ribs up; keep your core tight and move only through the hips and legs. Perform 10-30 reps.
Balanced Pushup
Begin with hands shoulder width on the back of the bench (beginner) or the seat of the bench (advanced). Stand on tip-toes and form a plank position with bum tucked and chest lifted. Lift left foot a few inches off the ground without arching low back, keeping abs contracted. Inhale as you lower ribcage toward bench, then exhale to press up, keeping hips stable and left foot lifted. Perform 5-15 reps, then switch legs.
Single Leg Triceps Dip
Begin seated on the bench, hands tucked next to hips and fingers forward. Lift left leg and extend in air as you lift bum off bench. Keep shoulder blades back and chest lifted as you inhale, bending elbows until upper arms are parallel to ground. Exhale and press up and back, so shoulders return over wrists. Keep bum close to bench and abs tight. Perform 5-15 reps, then switch legs.
Bench Step Up & Squat
Begin facing bench, feet hip width. Step left foot up, ensuring heel and entire foot is on bench, and press up to standing. Bring right foot up and plant heel so feet are in a wide stance. Inhale as you sink down into a deep squat. Aim to squat thighs to parallel with ground, or deeper. Exhale to press up out of squat, tucking bum under at top. Step down. Perform 10-15 reps per leg.
Rest as little as possible between moves (except to wipe a nose here or push a swing there…) and aim for 3-4 circuits of this routine. Want an extra challenge? Throw in some foot races or a game of tag with your little ones between circuits for some cardio interval training and family fun.