Twenty years ago, bullying wasn't as much of a hot topic as it is in our society today. There weren't countless programs to teach kids why they shouldn't bully, organizations whose only aim is to help kids who are bullied or social media hashtags like #stopbullying, #noh8 and #wearedamo bringing awareness to the issue.
Instead, there were just kids who may not have been fully aware of the pain they were causing when they slung hate at one another. Not that I mean to dismiss their behaviour as acceptable or excuse it any way, just to contextualize why ChadMichael Morrisette's story is so great.
Morrisette is now a 34-year-old brand consultant and visual designer. But when he was a teen in small-town Alaska, he was tormented by the entire football team. "It wasn't one guy," Morrisette told Yahoo Parenting. "It was six or seven guys who would follow me in the hallways, harassing me, insulting me, threatening my life."
Morrisette's life didn't get better until he left home at 15 and since, he hasn't given his tumultuous childhood much thought.
But on May 5th, Morrisette woke up to an unexpected blast from the past on Facebook.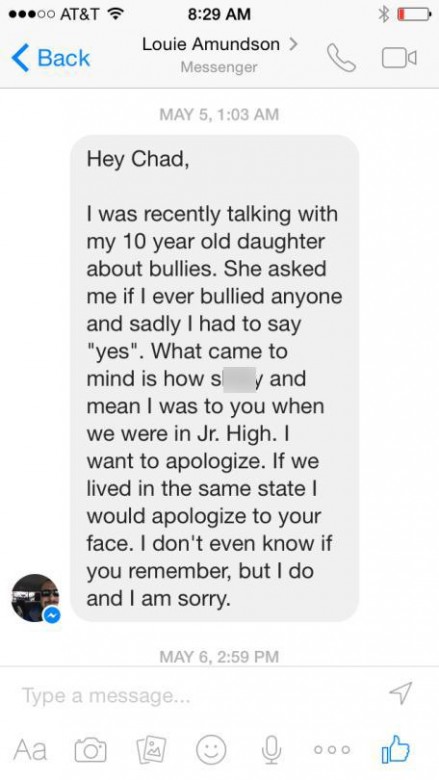 He received a message from Louie Amundson, one of the boys who bullied him in school. "It unlocked something in me I didn't realized I'd been holding onto," Morrisette said. "I cried a bit. It was moving." Morrisette wrote back a few days later.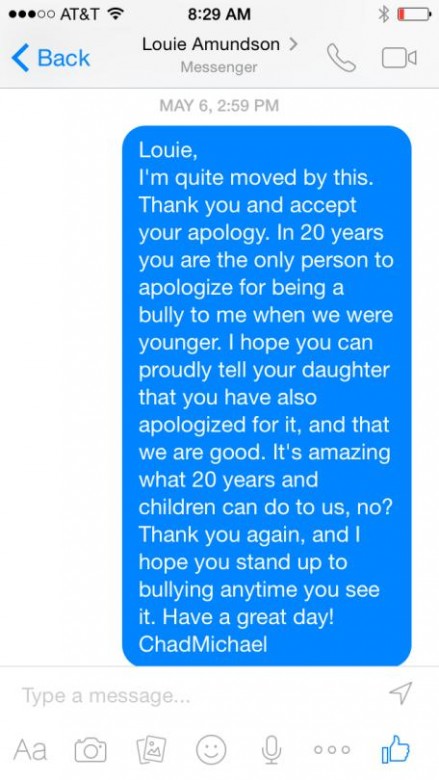 Amundson wrote back: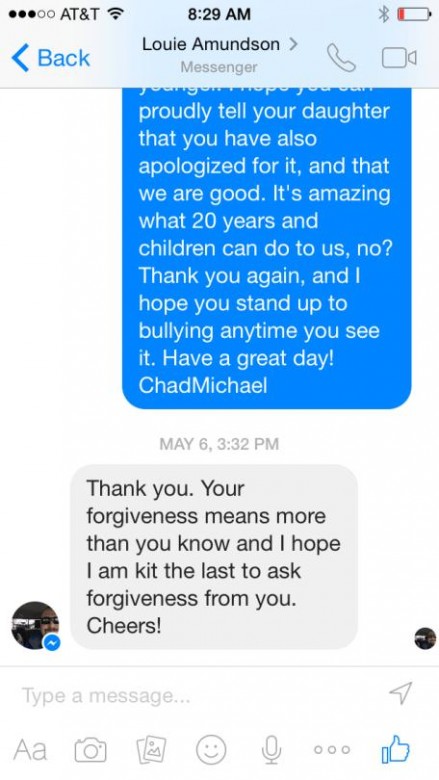 Amundson spoke with Yahoo Parenting about what he felt was his duty to apologize. "You can't change your past, but you do still own it. I can't take back the names I called him, and the threats I made toward him, but I can apologize," he said. "It doesn't excuse my behaviour as a child in any way, but as an adult it's the best I can do to try to make it up to him."
It was a conversation with his daughter that inspired Amundson to reach out to Morrisette to make amends. His ten-year-old daughter was working on a skit in class about bullying and when she asked her father if he had ever bullied anyone, he as honest with her.
Amundson, who never thought this message would be seen by anyone but Morrisette, says he felt "humbled and ashamed and relieved all at once" when Morrisette offered him his forgiveness.
"I owed him that apology, he did not owe me his forgiveness."
Morrisette hopes that this exchange can be a beacon of hope for those that have been bullied and those that bullied in the past. Above all else, Morrisette wants people to take away that even 20 years later an apology can make a difference. "It's never too late."