I'm always up for a challenge to whip up something that is unforgettable for Halloween. I know it's easy to just order pizza…but I've learned that EVERYONE orders pizza on Halloween night and if your little ghosts, goblins, and Pikachus are racing to get out the door, then it's better to have dinner ready.
Last year we had mummy wrap-dogs and a pumpkin barfing fresh veggies. They were both real hits.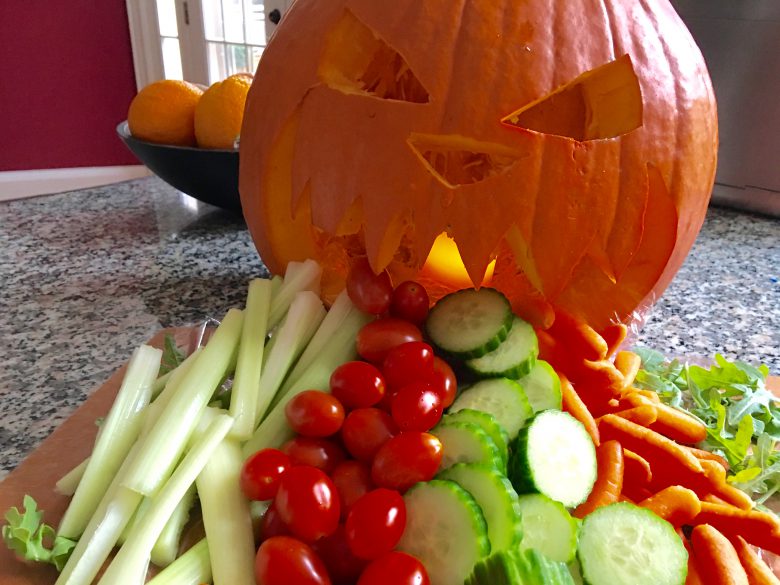 This year, I'm including critter cupcakes. It's not for the squeamish.
Ready? Yes, I've intentionally included bugs in these cupcakes. What? Before you turn away,  I've been learning a lot over the past few months about nutrient rich edible insects.  There are over 2000 species that are edible and part of many normal diets around the world. But it's not the garden variety. I've sourced them from Entomo Farms after researching them since they did some sampling at the Ontario Science Centre and at the Royal Agricultural Winter Fair here in Toronto. Here in North America, they are the largest supplier of products like Cricket Powder, Roasted Crickets, and Mealworms and I've found them in gourmet and organic  food shops. They are not only an incredible source of protein and other vitamins, they are also sustainable and healthy. You'll be hearing more about edible insects in the coming years as more chefs globally are including them for meals catering to high-end restaurant patrons.
What do they taste like? Roasted crickets don't taste like much but there are flavoured ones mixed with spices. Often people who consume them use them on salads for protein. Cricket powder can easily be added to pasta sauces, salsa and even in baking.
But I thought I'd actually start here. Given that we'll be having fun with Halloween, I'll be including these in our festivities. Hey, don't think about it… It certainly makes for great conversation at any party, and when you think about it… there are plenty of foods we consume that are not healthy and don't even think twice about.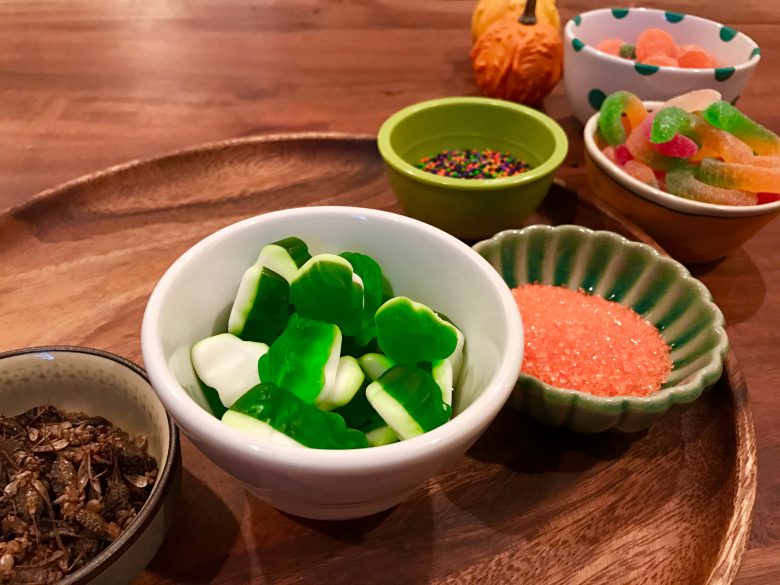 Here's a recipe for you to try. Alternatively, use your favourite cupcake recipe and Entomo Farms tells us to only replace 10 per cent of the flour with the cricket powder. It's not meant to be a one for one ratio replacement as it doesn't have the properties of flour.
Or if you're not ready to commit that far (we understand) …simply put a bowl of roasted crickets for your guests to add to their own cupcakes.
Unforgettable Halloween Cricket Cupcakes
Ingredients:
1 box cake mix of red velvet or chocolate for Halloween!
1/4 cup (40g) Entomo Farms cricket powder
Orange Icing (see recipe below)
Halloween sprinkles, candies, roasted crickets for decorating
Directions:
Line muffin pan with 12 paper cupcake liners.
Whisk 1/4 cup (40g) cricket powder with dry cake mix contents.
Follow the recipe on your chosen cake mix.
Fill muffin tins and bake according to mix packaging.
Cool completely before icing and decorating.
For Orange Icing: combine 3 cups of confectioner's sugar and 1 cup of butter with a mixer set to low, and mix for an additional three minutes on medium speed. Add 1 teaspoon of vanilla and 1 to 2 tablespoons of whipping cream and mix for one additional minute. Add orange food colouring if desired.
For Chocolate Icing: add in 1/2 cup cocoa powder to the recipe above and omit the orange food colouring.
Curious to learn more about edible insects? Here's more info and link to  other tasty recipes.