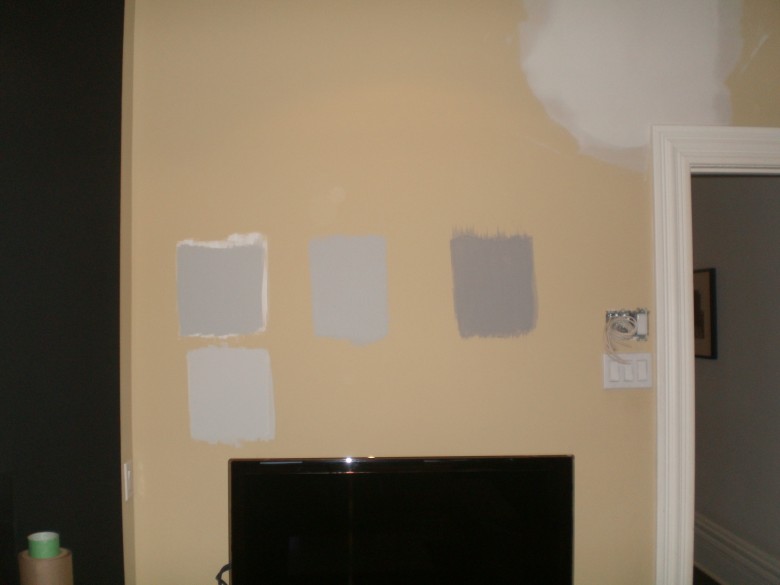 Choosing just the right shade of paint for a room can almost paralyze a person. There are SO MANY CHOICES!
And there are other things to consider besides just colour — like whether or not your space is an open-concept, or if your space is compartmentalized room by time. Ideally, there would be a cohesive scheme one way or another, where colour choices, though entirely different from one another, still seem to go together as one wanders from room to room… but really, it's your space – choose the colours you enjoy the most!
You might see the perfect shade of paint in a magazine, but buyer be ware – though there are APPs for capturing and matching paint hues you admire, the one you love in particular might not render the same way inside your house. Natural light, halogens bulbs, and ambient lighting can drastically change the look of a paint colour. One minute you think you've selected the perfect shade of taupe, but once the lights go on, you're looking something more akin to… peanut butter. (Some light bulbs cast a red tone, like whoa.) This may not be a bad thing, but if it's not what you wanted, every time you walk into that room, you'll slump your shoulders, and groan with dismay, like Olympia Dukakis in Moonstruck. You might even cry a little. (Don't ask me how I know.)
Choosing just the right shade of paint for a room can almost paralyze a person. There are so many choices!
Our kitchen is about to get a fresh coat of paint, and we've been deliberating as to a tone of grey. (There are well over 50 shades, as you may know.) It's a big room, with three windows in it, and a lot of white cabinetry and furnishings, so I'm leaning towards dark and dramatic. Much like myself, I guess. *snort* I find the selection process daunting though – I hate making mistakes. And I hate feeling like I wasted my time and money even more.
The cure for this? Acquire paint samples. Generally, these small pots of pigment can be purchased for under ten dollars each, and though it might seem like an extra expense, if you're uncertain about your colour, this could save you an even bigger, and more costly mistake.
The quickest way to find out you don't want *that* blue in your bedroom is to paint a few samples on the wall. Give yourself a few days to look at the tones in all the light sources that hit it – during the morning light, see how it changes in the afternoon, and again in the evening, with bedside lamps and overhead lights both on and off. Sometimes the colour on the chip is just too intense for a space so large (or so small!) and your pale shade of blue might read as near-white in the evening. Try your colours on for size first. As per Jen's recent renovation, she opted for a colour by Para Paints called Lunch At Tiffany's, which is a warm neutral for her open-concept space. I'll bet in person it reads an cooler during the daylight, and warm and inviting during the evening, which can be ideal for both optimizing a grand space in a really seamless way, and for making family and friends feel cozy at the same time. That colour is tres chic and modern, too. Gorgeous, gorgeous…
Paint in a matte finish tends to make lower-traffic areas feel warm and inviting, such as dining rooms, living rooms, and bedrooms. And if your walls are imperfect, pocked by age and bad paint jobs of yore, though a good sanding and primer can help, in the end choosing a flat or matte finish for your walls is best. The upside is how well the wonkiness will be absorbed, and they'll appear smoother. The downside is it's not as easy a surface to wipe clean. If you have kids and/or pets, eggshell finish might be better. (Flat paint is best for ceilings.)
For rooms and areas you need to wipe often, such as kitchens, bathrooms, opts for a more durable finish like pearl or satin. Semi-gloss or high-gloss finishes should be reserved for smooth surfaces, since they reflect light, thus showing off  every pit and pock mark. It's not what you want highlighted in a run of hallway, for example.
If it's not what you wanted, you'll slump your shoulders and groan with dismay, like Olympia Dukakis in Moonstruck.
Paints have come a long way though – and unless you've got serious grime issues, chances are your walls can be cleaned with some ease, as long as nothing too abrasive is used to scrub the paint right off the wall. I mean, really.
But in the end of it all, the best bit of advice I have to offer here, is to ask your paint dealer for help. A useful person in the trade, like the experts at Para Paints can help guide you towards an apt choice – sometimes moving up or down a shade on your colour-match stick is all you need to get the right hue for your room. A knowledgeable person can help you select the right amount, and the right finish for your job. It's worth asking – it can save you time, money, and sanity. Not to mention all the moaning you won't have to do… you can just watch Moonstruck and commiserate with Rose Castorini, but not look or sound anything like her.
Enjoy your new walls!!
This post is sponsored by Para Paints. All experiences and opinions are my own.