Written by Kait Fowlie
Dressing up for Halloween is fun that shouldn't be reserved for kids, we say. But that doesn't mean that finding the right costume comes easy. If you don't feel like splurging on a bare-all, glam as all get-out getup — but want something more inventive than cutting eyeholes out of a white sheet and being a "ghost" — it can end up taking time and money.
Solution: one of these 5 DIY costume ideas, which are classier than the average store-bought number, and can be put together cheaply, quickly and easily, in an afternoon or two.
Cruella Deville
Channel your inner eccentric for this sinister and stylish character. Cruella De Vil wins most fashionable villain of all Disney movies, made distinct by her two toned hair, long fur coat, and wicked attitude.
Costume strategy: Now's your chance to break out the mink coat you've inherited from your mother. Or, if you don't do the fur thing, head to VV Boutique or a thrift shop and splurge on a cheap fur coat. The longer, the better. A little black dress underneath the coat, long red gloves, and hair sprayed black /white (find temporary colour spray at a Halloween store), parted in the middle and outrageously teased. Lots of hairspray required.
Morticia Addams
Whether or not you're partnered up/can convince said partner to play Gomez, Morticia makes a big impression. This goth mama was described by her original creator, cartoonist Charles Addams, as "the real head of the family… low-voiced, incisive and subtle, smiles are rare… ruined beauty."
…if you can figure out what that means, or if it just resonates with you anyway, we say go for the gold.
Costume strategy: Use Anjelica Houston circa the '91 Addams Family movie for inspiration. Long black drapey gown with billowy sleeves, long black hair parted in the middle, dark liner, white powdery face, red lips, long red nails and big silver rings. If it's cold, add a black cape to drape over yourself.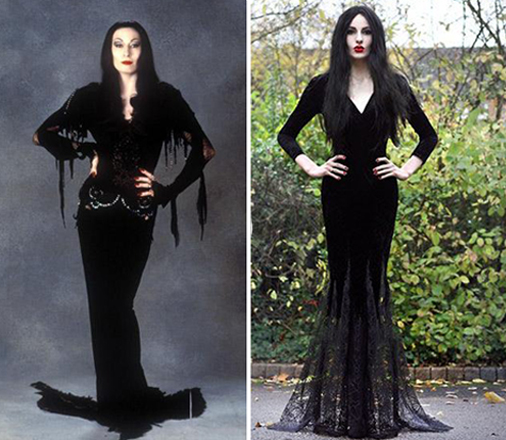 Glinda the Good Witch
Who says your days of dressing like a princess have to be over? Glinda is the good witch of the south and guiding light to Dorothy in the Wizard of Oz. She may don a pink sparkly dress and puffed sleeves, but this magical lady ain't no princes in distress, she's the most powerful sorceress of Oz.
Costume strategy: Start with the tall crown, which you can make one with plastic cutting mats and rhinestones. From there, the puffiest, sparkliest, biggest tutu you can find and pink long sleeved top – or look for a cheap pink prom dress at a thrift shop. Finish with a wand topped with a silver star, pink makeup, soft curls, pink lips, and glitter everywhere possible.
Rosie the Rivetter
This iconic lady represented American women who worked in factories during WW2 in the states, symbolizing economic power. If you want to make a statement this Halloween (and do it in a really, really easy way), represent Rosie!
Costume strategy: A red and white polka dot handkerchief tied around the head with a knot in the front, rolled-up sleeves blue collared shirt tucked into jeans, and some liberal flexing should do it for this one. If you're crafty, make a button to wear on your lapel that says her slogan: "we can do it!" Word to the wise: you may want to brush up on your push-ups for this one.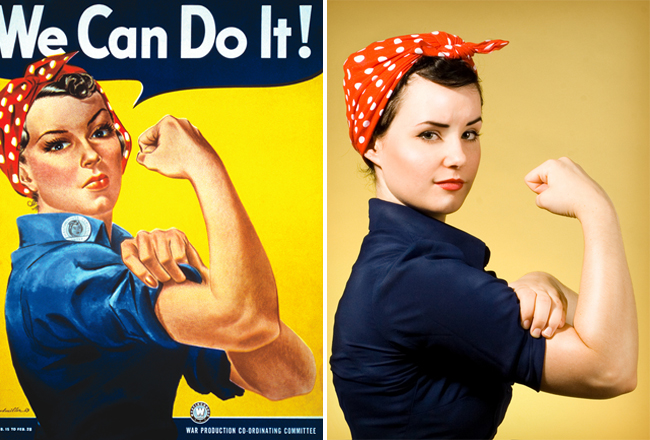 Carmen Sandiego
This mysterious character from the 1985 video game is a symbol of jet setting. Stylish and subtly sexy, the cartoon brunette with who showed barely any skin — and only half her face — was described as, "an agent, double agent, triple agent, and quadruple agent for so many countries that even she has forgotten which one she is working for."
Costume strategy: First and foremost, you'll need a red floppy hat and long red trench coat. Add the signature tall black boots, black shirt and gloves and yellow scarf around the neck. Stuff a rolled-up map in your pocket and adopt an air of mystery.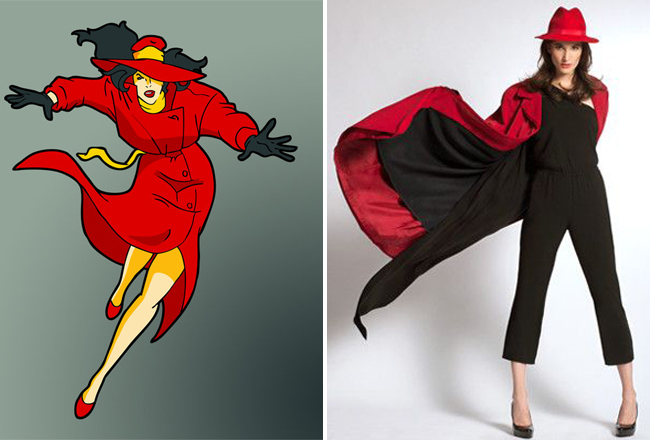 Don't see anything you like here? Get some inspiration from these spooktacular (and slightly outrageous) celeb Halloween costumes! Or steal some inspiration from your favourite show!