The month of June puts me into panic mode. I like to make a big deal out of Father's Day because our family is big on "holidays". Mother's Day is always a big deal, so for the dads in our lives we want to make it special. It also happens to be hubby's birthday AND our anniversary.
This year poses a triple threat bigger than others. Hubby is turning 45! Yikes! And we're celebrating our 20th anniversary. Milestone years. No pressure. Haha!
I know that my friend Jennifer who blogs for us here as TRENDWATCH has compiled her own Father's Day gift guide so be sure to check out her suggestions as well!
But here are a few more ideas that have come across my desk lately. I've also asked some of my "city daddy" friends as to what they REALLY want for Father's Day….besides to chill out and watch the baseball game with a nice cold beer.
FOR THE ECO-FRIENDLY DAD:
Dad doesn't need to sacrifice style when it comes to living an eco-friendly lifestyle! NB MAN by Canadian company NELLA BELLA offers some urban stylish items that will take dad from the office to the weekend getaway! All of the products are designed with the highest quality materials that are easy on the environment while driven by fashion and function. Shown here is the Stockholm Nu Nylon Messenger Bag ($125). Available online at www.nella-bella.com
FOR THE SOCIAL CONSCIOUS DAD:
The WEWOOD Square Metis Watch collection are timepieces made of 100% natural wood using state-of-the-art Miyota movement. One tree is planted for each watch sold.  The WEWOOD collection is part of the H Project – a collection of products that highlight culture, craft and artisans from around the world. Watch is available at Holt Renfrew ($120) www.holtrenfrew.com

FOR THE ESCAPE TO THE COTTAGE DAD:
Getting back to the basics means unplugging and spending real time with friends and family. If dad enjoys board games, check out the newest game to hit the shelves. BEEZI: THE SPELLING GAME is addictive! If he loves word games like Scrabble this spelling bee type of challenge combined with the competition to race to the finish line is perfect! It's meant for adults …and grandpa will love this one too! Tuck the little kiddies in to bed though because some of the  2000 words are challenging! Available at Chapters Indigo. ($32.95) www.beezibeez.com
FOR THE STYLISH DAD:
Casual summer days and nights need the cool styling, right? The  makers of the highly popular SWIMS have created the SWIMS loafers that are taking dads from Bay Street to   weekend BBQ with ease. The highly versatile loafer can easiily be dressed up or down and are lightweight making them perfect summer getaway shoes. They are anti-slip, non-marking and offer great breathability. They can even be tossed in the washing machine!  The shoes come in a variety of classic colours like black, brown and navy but they also come in fun, vibrant colours such as reds, yellows, bright blues and purple! The SWIMS loafers are exclusive to Harry Rosen nation wide. ($159-$189) www.harryrosen.com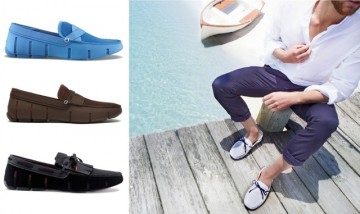 FOR NAUTICAL DAD:
Dad may not want "stuff" so here's a cool place the kids can take him if you're in the Toronto area. The fleet's in and everyone's heading to the waterfront for the annual Redpath Waterfront Festival, June 20-23, 2013. Welcoming over 15 Tall Ships® to the waterfront, Toronto is the only port on this summer's TALL SHIPS® 1812 Tour to host the entire fleet. 
The Festival will span over two kilometers from Sherbourne to Spadina and will feature War of 1812 interactive theatre, Flyboard® demonstrations, music, children's programming, a spectacular after-dark water and multimedia show as well as food, entertainment and, of course, the tall ships!
The Opening Ceremonies take place Thursday, June 20 and visitors can take advantage of ship deck tours throughout the four-day weekend. The Grande Finale Parade of Sail, presented by the City of Toronto, takes place on Sunday June 23 at 4:00 pm.
The Tall Ships® deck tour would be a great gift for dad and something the whole family can enjoy!  Visit http://towaterfrontfest.com/ for ticket information and buy online before heading down and you won't need to wait in line!
FOR THE URBAN DAD:
My friend Dan says that a leather dopp kit is what he's after. The perfect toiletry bag made of leather, vinyl or cloth is perfect  for the stylish travelling dad. There are some great options out there at various price points. I'm a big fan of the Montreal company RUDSAK with their timeless and effortless chic. ($125) www.rudsak.com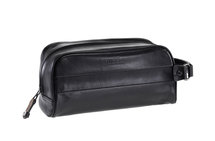 RUDSAK Newton SS2013 Travel Dopp Kit
FOR THE SPORTY DAD:
He loves to work out. He plays hockey and he's joined the local squash team? Maybe he's the soccer coach? Molton Brown has dad keeping on top of his game! This body NEW Men's SPORT Collection is available at Holt Renfrew. ($25-$30) www.holtrenfrew.com
By the way, if you're in Toronto on Father's Day be sure to check out the Bloor Yorkville Exotic Car Show! Bloor Street will be lined with fancy cars and the public can get up close! My boys love checking them out every year!
So, tell me, do your kids get dad a Father's Day Gift? Or is beer enough?