Turn up the volume! I'm discreetly learning my salsa steps as Cheryl Burke danced her way into the city recently to meet with beauty media at the launch of her line of DIY designer nails with Kiss & imPRESS Press-On Manicure by Broadway Nails. You may have heard of them? Press on nails for those days when you don't have time to get to a salon and you want a quick professional looking manicure! The kits are impressive as the nails themselves last for up to 2 weeks…and the beauty of it all? No one will know you did them yourself!
Dancing with the Stars, Cheryl Burke offered a quick lesson to the coordinated set and I had a chance to ask her a few questions!
Have any of the stars on the show made you "star struck"?
When I was younger I wasn't really into TV and film so fortunately for me I've never really been star struck on the show.
Which celebrity needed the most coaxing to be on the show?
Funny enough, Rob Kardashian.  I think he was a very reluctant participant at first but when he actually started to concentrate he realized how much fun it was.  I think he really surprised us all but coming in second because of all the hard work he put in.
Who surprised you the most?
Rob Kardashian
Which celebrity was a toe-stepper?
I think DL Hughley would agree that he's better as a comic than he is as a dancer.
Who had natural ability from the get go?
Emmitt Smith
Who is your dream partner?
Bill Clinton, definitely!
Do you think a hockey player would do well on DWTS?
I've always said a hockey player would be great on DWTS.  Look how well the figure skaters do.  There's something about being able to skate on thin blades that belies itself to being able to make your feet do what you're telling them to.
What are your favourite songs to dance to?
Anything latin! La Vida Es Una Carnaval by Celia Cruz and Rebelion by Joe Arroyo are two that I really love.
What songs would you recommend for salsa beginners – so we can embarass ourselves at home?
Suavemente by Elvis Crespo and El Cantante by Mark Anthony are both great beginner salsa songs.
As part of most dance competitions, you need to pull together a whole look. Now, you've created a limited edition line for imPRESS Nails by Broadway Nails that is coming out this fall. How did this partnership happen?
We have an incredibly talented team at Dancing with the Stars that creates different looks for us every week. I love how quickly I can change my look with imPRESS Press-On Manicure by Broadway Nails and how easily I can customize my look with my new collection! I was actually initially introduced to the line by Nicole Scherzinger.  She was a spokesperson for the brand at the time and shared some of the nails with me, I have been a fan ever since!
Knowing that your mother is Filipino but she lives in the U.S., did you grow up with a lot of influence/liking in the Philippine ways and traditions, culture, food, and beliefs? Have you visited the Philippines yet?
We visit the Philippines often as a family.  I was raised knowing and appreciating my roots!
Kiss Colour Gel is a line of nail polish that you can do at home and it lasts for up to 2 weeks. The imPRESS Nail Designer Kits by Broadway Nails comes in a variety of colours and styles to suit any need. Easy enough to apply on your own for a professional looking manicure! The Limited Edition Cheryl Burke Signature Series  will be available this fall. There are four limited edition styles. Each pack comes with 24 solid-coloured imPRESS nails and 2 sheets of pre-cut Nail Dress stickers that allows you to customize each nail to your liking. Available at major drug stores and retail chains in the beauty aisles.
For more information and to check out the complete line of nail products, check out impressmanicure.com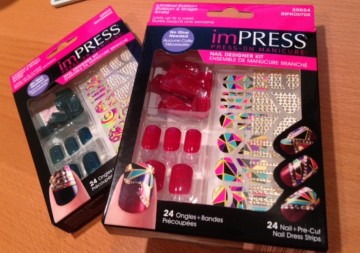 Thanks to Cheryl Burke for taking the time out to answer our questions and to keep us coordinated!