Just breathe. Holiday entertaining can seem very overwhelming when you are faced with this heavy season of having friends and family over.
I like to think I'm pretty organized when it comes to dinner parties. I tend to be pretty cool until the guests arrive and then it's like all of the sudden my kitchen explodes while I try to appear totally together. By the end of the night, I'm whipped and praying that some fairy godmother would just wave some pixie dust and make the mess go away.
So, how do we keep on top of things and remain calm? I had the chance to speak with Charles MacPherson aka Charles the Butler! Since early 2010, Charles has been a regular contributor on The Marilyn Dennis Show and has a weekly column in Metro newspapers across Canada. He offers the answer to all of our everyday etiquette questions and shares great tips on how to keep our  households running a bit smoother.
I had the opportunity to catch him to see what tips he can offer us for the entertaining season!
I usually feel like I'm prepared when I entertain until it comes to the final two hours before my guests arrive. How do we keep calm and under control when we entertain at home?
Well, in order to stay in control, and to have a successful event as the hostess, the most important thing is to put a list together. You need to put all the jobs down and don't be afraid to have your family members help out. Don't be afraid to give Aunt Sally or Uncle Jim a job and let them know they are responsible for something that evening. Uncle Jim may love being the bartender for the evening. Even kids, you can make them responsible for taking the dishes off the table, if they are old enough. Just put a little plan together for yourself and schedule accordingly. Otherwise, it's all in your head and sometimes things don't happen as quickly as they should or how you envision them to be. Then you'll be tired and resent everyone and you just want the whole thing over with. With a list you can assure that you'll have everything you want done and dealt with.
How do you get people away from hanging around the kitchen? Everyone seems to like to be in mine.
At the end of the day, people are going to be where you are.
So, they don't always entertain themselves like I thought!
If you plan the menu, so that you don't need to be in the kitchen the whole time, and have things that are made ahead of time that you can just pop into the oven or toss your salad at the last second, you'll be okay. Then you'll be able to spend more time in the living room or party room with your guests.
So, like, wash and prep your lettuce for salads and store in the fridge? My mother-in-law does that with paper towels and then assembles at the last minute.
Yes! Every good host, or hostess, should have an emergency kit that includes a good roll of paper towel, like Viva Paper Towels (my favourite brand and I'm not just say that. I run a butler school and we're very particular about what we use and this product is great and super absorbent. But what I love about having an emergency kit because often we're working quickly and spills happen even when your guests are there. There's no reason to panic. If you have your emergency kit within reach, no one needs to panic. I prefer using paper towels over cloth towels as cloth holds bacteria so you're not really cleaning things up but just spreading things around. So, with paper towels you'll always clean with something fresh.
So, what are your thoughts on the shoes-no-shoes policy?
When it comes to wearing shoes in someone's home, guests really need to follow the lead of the host. Sometimes it's clear but some people just don't want shoes worn all over the city in their house. Bring a pair of indoor shoes but pay attention what the host is wearing. If she/he is wearing shoes that a quick change of shoes is fine. Keep in mind that it can also be a cultural preference. Many asian cultures do not wear shoes in the house often because it's considered bad hygiene.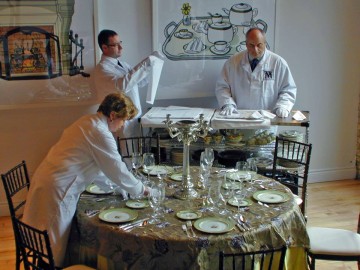 Here are a few other quick and handy  entertaining tips from Charles….
Tips on table setting:
Keep your dish pattern simple (ideally white) and have a multitude of different colour table clothes. This allows you to change your look inexpensively with just the table cloth colour or pattern.
Cloth napkins are nice but if you're going for a budget friendly party you can always dress up a paper towel with a lovely napkin ring. The new Viva towels will stretch your expectations of what a paper towel could do!
Remember with the Continental place setting, you always have two pieces of cutlery i.e. salad has a fork and knife, dessert has a spoon and fork always no matter what is being served, the only exception is soup, it is the only course with just one utensil.
You no longer have to sit man/woman/man at your dinner table, but do always try to seat your guests beside someone you think they will enjoy talking to and have something in common! This makes the meal much more pleasant.
Remember don't have your flowers too high as this stops you from seeing people on the other side of the table and chose flowers with no scent as this interferes with food and wine.
It is always nice to have the water poured, and bread at each place setting to speed up the start of the meal, but wine is never pre-poured, it is always offered to guests.
If you have a left handed guest, the cutlery is still always set in the normal right handed fashion.